Main content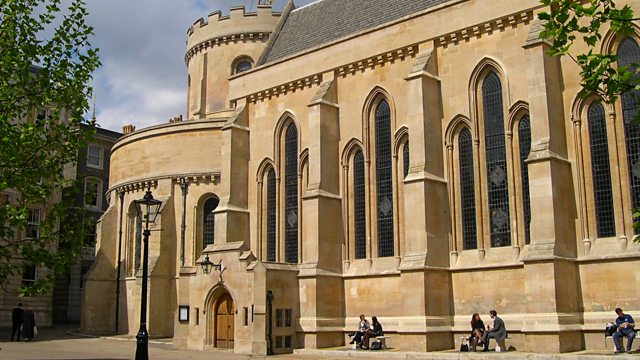 Live from the Temple Church, London, Sara Mohr-Pietsch presents a performance of Handel's oratorio Messiah, with leading soloists, St James's Baroque and the BBC Singers.
Temple Winter Festival
Live from the Temple Church, London
Presented by Sara Mohr-Pietsch
Concluding this week of concerts from London's Temple Church, the choral work which - for many listeners - sums up the Christmas message best of all: Handel's great oratorio 'Messiah'.
Handel: Messiah (part 1)
8.00 Interval: in a final conversation with the Reverend Robin Griffith-Jones, Master of The Temple, Sara Mohr-Pietsch finds out about the buildings and the institution in our own times.
5. The Temple and its Church Today
8.20
Handel: Messiah (parts 2 and 3)
Ruby Hughes (soprano)
David Allsopp (countertenor)
Robin Tritschler (tenor)
Neal Davies (bass)
BBC Singers
St James's Baroque
David Hill (conductor)
Composed, in a white-hot burst of creative inspiration, in just 24 days, Handel's Messiah has become, since its first performance in 1741, perhaps the best known of all sacred choral works. The piece re-tells the Biblical prophecies of Christ's coming, birth, death and resurrection, depicted with such power, passion and expressive warmth that Handel's music never fails to stir and move. "He is the master of us all" said Josef Haydn, on first hearing the Hallelujah Chorus, and listeners since can only agree.
Tonight's performance brings together a brilliant team of soloists, a leading period-instrument orchestra and the BBC Singers for a rare complete performance of the work - uncut, and presented just as Handel wrote it.
The Temple Winter Festival series of concerts is promoted by BBC Radio 3 in association with the Temple Church and Hazard Chase Ltd.
More episodes
Next
You are at the last episode