Main content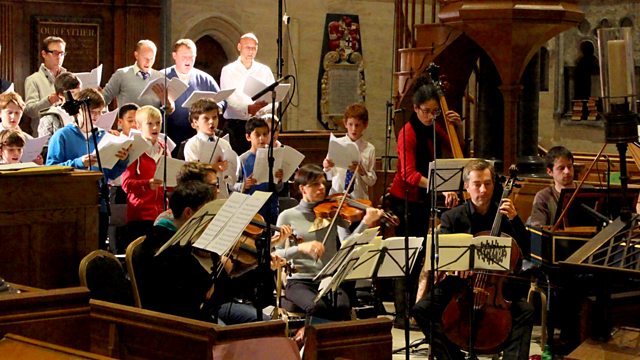 Choir of the Temple Church - Plainchant, Bach, Weelkes, Gibbons, Bach, Byrd, Vivaldi
The Temple Church Choir and Temple Players perform Vivaldi's Gloria and Concerto, RV535, plus sacred works from the medieval to the baroque, by Bach, Weelkes, Gibbons and Byrd.
Temple Winter Festival
Live from the Temple Church, London
Presented by Sara Mohr-Pietsch
Continuing a week of concerts from one of London's most historic and atmospheric churches, the Temple's own choir is joined by the Temple Players for a Christmas-themed programme of Vivaldi's Gloria plus sacred pieces from medieval times to the Baroque.
Plainchant: Creator of the stars
Bach: Chorale Prelude 'Nun komm, der Heiden Heiland', BWV 661
Weelkes: Hosanna to the son of David
Gibbons: This is the record of John
Bach: Chorale Prelude 'Nun komm, der Heiden Heiland', BWV 659
Byrd: Vigilate
Bach: Nun komm, der Heiden Heiland (Advent Cantata), BWV 62
8.15 Interval: Sara Mohr-Pietsch talks to the Reverend Robin Griffith-Jones, Master of The Temple, about the Temple Church and its history.
4: Music at the Temple: from John Stanley to Ernest Lough
8.35: part two
Vivaldi: Concerto in D minor for two oboes, RV 535 (soloists Hannah McLaughlin and Leo Duarte)
Vivaldi: Gloria in D, RV 589
The Choir of The Temple Church, London
The Temple Players
Greg Morris (organ)
Roger Sayer (director)
The Temple Church dates from the 12th century, built as the headquarters of the Knights Templar. The church has had a full-time choir since 1842, and it became world famous for its classic 1927 recording of "O for the Wings of a Dove". More recently, the choir commissioned John Tavener's epic all-night music vigil 'The Veil of the Temple'. Threaded through the first half is Bach's 'Nun komm, der Heiden Heiland' (Come now, Saviour of the Heathen), heard as organ chorale preludes and a cantata, contrasted with some of the great choral pieces of renaissance England. The second half is devoted to Vivaldi, his triumphant Gloria, celebrating the season.
The Temple Winter Festival series of concerts is promoted by BBC Radio 3 in association with the Temple Church and Hazard Chase Ltd.