Main content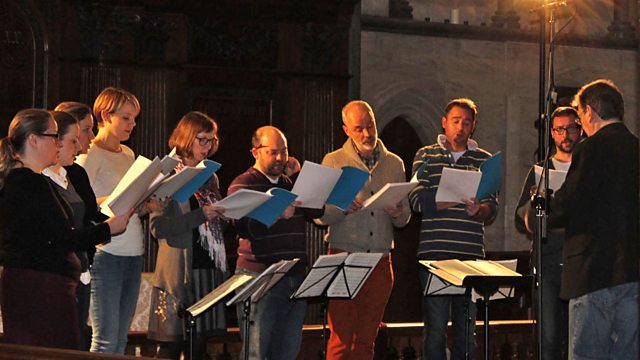 Tallis Scholars - Part, Praetorius, Hassler, Schutz
The Tallis Scholars perform choral music for Advent and Christmas at the Temple Church in London. Including works by Lassus, Hassler, Schutz, Part and Praetorius.
Temple Winter Festival
Live from the Temple Church, London
Presented by Sara Mohr-Pietsch
For the second concert in this week of music-making from London's Temple Church, the award-winning Tallis Scholars present a programme of choral music for the season of Advent and Christmas.
Orlandus Lassus: Omnes de Saba
Hans-Leo Hassler: Missa Octava
Heinrich Schütz: Deutsches Magnificat
8.15 Interval: the Reverend Robin Griffith-Jones, Master of The Temple, uncovers more of the history of this extraordinary church, in conversation with Sara Mohr-Pietsch.
2: Magna Carta, London's Temple and the Road to the Rule of Law
8.35
Arvo Pärt: Magnificat Antiphons
Arvo Pärt: Magnificat
Hieronymous Praetorius: Magnificat V
Tallis Scholars
Peter Phillips (director)
Lying at the heart of this typically creative Tallis Scholars programme is the Magnificat - the words uttered by the Virgin Mary upon being told by the Angel Gabriel that she is to bear the Son of God. Magnificat settings by the contemporary composer Arvo Pärt, whose serene and contemplative music has brought him many admirers, are paired with 17th-century German settings by the early baroque masters Heinrich Schütz and Hieronymous Praetorius - whose festive Christmas Magnificat incorporates the traditional German carols 'Joseph Lieber' and 'In dulci jubilo'.
Completing the programme, a lavish double-choir mass setting by Hassler, and a striking motet telling of the coming of the Three Kings by Orlandus Lassus.
The Temple Winter Festival series of concerts is promoted by BBC Radio 3 in association with the Temple Church and Hazard Chase Ltd.
Music Played
Tallis Scholars part 1

Tallis Scholars part 2

Post-concert music