Main content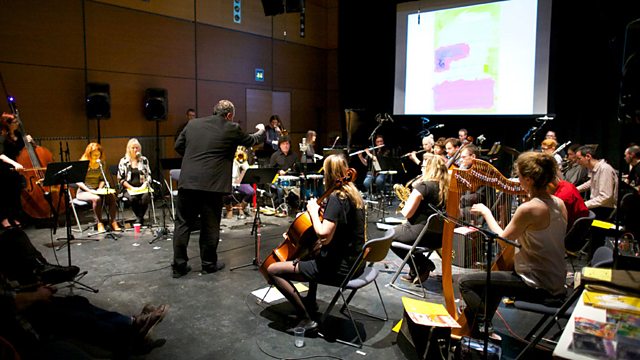 Glasgow Improvisers Orchestra, Stan Tracey Interview
The Glasgow Improvisers Orchestra and pianist Marilyn Crispell in a new work with six short movements and varied motifs and techniques. Plus an archive interview with Stan Tracey.
The Glasgow Improvisers Orchestra and pianist Marilyn Crispell perform a new piece commissioned by BBC Radio 3.
The 20-strong Glasgow Improvisers Orchestra, or GIO for short, has a track record of performing exciting new commissions: in past years they've worked with American avant-garde composer Jim O'Rourke and Britain's own Barry Guy. This new piece is by GIO founding member and saxophonist Raymond MacDonald. Exploring the borderland between improvisation and composition, the piece plays to the talents of the orchestra itself - jazz, folk, free improvisation, experimental, performance art - and those of one of the world's most respected improvising pianists, Marilyn Crispell. "Hearing her play solo piano?is like monitoring an active volcano", according to the New York Times.
The composition is designed to mine the fertile imaginations of the ensemble: fragments of jazz standards, loops, graphic notation and extended conduction will all have their place. Expect the unexpected!
We begin the programme with an interview from the Jazz on 3 archive with pianist and composer Stan Tracey, who died earlier this month at the age of 86. Often referred to as the 'godfather of British jazz', through his long and varied career Tracey helped forge a distinctively British jazz sound. He released his latest acclaimed recording just a few months ago. In this interview, recorded in 2006, Tracey discusses a less well-known aspect of his musical output - his explorations of free improvisation. We'll also hear from two of his collaborators: reeds player John Surman and pianist Keith Tippett.
Producers: Peggy Sutton and Chris Elcombe.
Music Played
Stan Tracey Tribute

Stan Tracey, John Surman and Keith Tippett discussing free music

(Archive Interviews)

Raymond MacDonald and Marilyn Crispell in conversation with journalist Brian Morton

Glasgow Improvisers Orchestra recorded at Centre for Contemporary Arts, Glasgow on 30 November 2013