Main content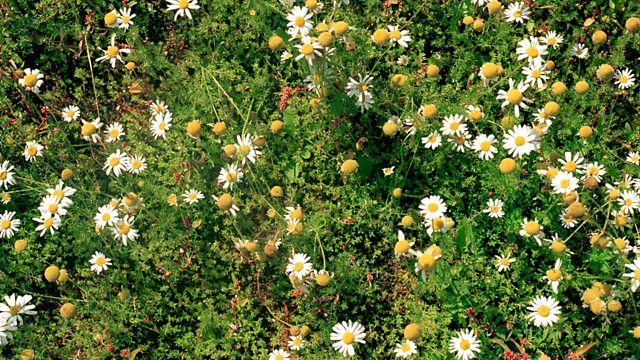 No Stronger than a Flower
Emilia Fox and Jamie Glover read poetry and rose inspired by flowers. With music by Schumann, Delibes, Vaughan Williams, Richard Strauss, Robert Chilcott and Fats Waller.
Emilia Fox and Jamie Glover are the readers in this edition of Words and Music inspired by flowers, which despite their seeming frailty, or perhaps because of it, are a potent symbol of both transience and rebirth.
There are readings from Shakespeare, John Clare, William and Dorothy Wordsworth, Robert Frost, Michael Longley and a book of Victorian Flower Etiquette and music by Schumann, Delibes, Vaughan Williams, Richard Strauss, Robert Chilcott and Fats Waller.
Produced by Philippa Ritchie.
Music Played
Timings (where shown) are from the start of the programme in hours and minutes
Producer's Note
My inspiration for this programme was two lines from Shakespeare's Sonnet 65:
How with this rage shall beauty hold a plea,
Whose action is no stronger than a flower?
It struck me that it's the frailty of flowers that gives their beauty its poignancy.  Flowers may be fragile, but they are a potent symbol for us and we surround ourselves with them to mark all the major transitions in life - birth, marriage and death.  Poets and composers have always been inspired by flowers.  They represent not only the transience of life but also its rebirth every Spring.
I started this sequence of words and music with William Alwyn's music Snowdrops as they are the first flower to brave the cold of January and bring promise of Spring.  Daffodils come a little bit later and are the subjects of two of the most famous poems in the English language - Robert Herrick's To Daffodils and William Wordsworth's Daffodils.  I've used Ralph Vaughan Williams' beautiful setting of the Herrick and Jamie Glover reads the Wordsworth.  I've also included an entry from Dorothy Wordsworth's Journal in which she describes the walk in April 1802 when she and her brother came across that famous host of golden daffodils.
Shakespeare is said to have been a keen gardener and his plays are scattered with descriptions of herbs and flowers.  He was preoccupied by the brevity of life and time's destruction of beauty, and he often combines the idea of beauty and transience in his use of flower imagery.   I have included Emilia Fox reading Gertrude's description of Ophelia's death with its list of meadow flowers and the incomparable Alfred Deller singing Oberon's speech 'I know a bank where the wild thyme blows' in Benjamin Britten's opera of A Midsummer Night's Dream.
The eighteenth century preacher and historian Thomas Fuller wrote a charming treatise which he titled Antheologia or The Speech of Flowers (published in 1660) in which a gathering of herbs and blooms takes place in a garden in Thessaly.  They take it in turns to speak out and get things off their flowery chests.  In the extract I've used, a rose gives vent to her spleen at the amount of attention a new upstart flower called 'a toolip' is garnering while she, who has 'the precedency of all flowers', is neglected. She points out that not only is this 'toolip' a 'well-complexioned stink' (despite the tulip being generally acknowledged to have no scent) but it is not even any use to physicians and as an ingredient and therefore, unlike her, does not even have a Greek or Latin name.
Another delightful piece of floral personification is the whimsical Les Fleurs Animees, written and illustrated by the nineteenth century French cartoonist J. J. Grandville.  I have chosen a passage in which the flowers on a young lady's dressing-table plead with her not to use them to adorn her hair for that evening's ball as they will wilt and die 'take us not young lady to the ball'.
The Victorians had a passion for flowers, using them to decorate their clothes, furniture, hair, wallpaper, writing paper and china.  Flowers have always been ascribed meanings by human beings, but during the 19th century floral craze many books, or 'floriographies', were published which ascribed precise meanings to flowers so they could be used to signify love or dislike and to convey quite complex romantic messages, according to how they were held, whether they were inclined to the left or right, how many tendrils were present and, in the case of roses, even whether or not the thorns were stripped off.  Many dictionaries of flower meanings were published and I have chosen extracts from a primer by Henry Phillips entitled Floral Emblems.
Roses usually symbolise love, but for Christians the rose had a more particular meaning: it symbolised not only the love of Christ, but his passion and it came to represent the Virgin Mary.  The lily too was an important Christian symbol of purity, which usually signified Mary.  Scholars continue to debate the meaning of the haunting medieval poem 'Maiden in the Moor Lay' which was found in a fragment of a fourteenth century manuscript.  Joseph Harris has argued that it depicts Mary Magdalene in the desert, living on nothing but spiritual food.  He suggests the primrose stands for her zeal, the violet for her humility, the rose for her constancy as a martyr and the lily for her purity - despite her earlier life as a prostitute. Other scholars, though, see the poem as secular and even pagan.
The rose symbolism is again central in the anonymous fifteenth century poem 'Of a Rose is All My Song'.  I have used a choral setting of it by Kenneth Leighton to underscore Emilia and Jamie's reading of Maiden in the Moor Lay.  
An equally enigmatic medieval lyric is The Lily, The Rose, The Rose I Lay and I have found several interesting interpretations of it online, though it remains mysterious to me.  I have ended the programme with Bob Chilcott's ravishing setting of the poem for children's choir. But who is 'the bailey'? What is the bell he bears away?  I would love to hear from any listener who can explain what it might mean.  Here are the words:
The maidens came
When I was in my mother's bower;
I had all that I would.
The bailey beareth the bell away;
The lily, the rose, the rose I lay.
The silver is white, red is the gold;
The robes they lay in fold.
The bailey beareth the bell away;
The lily, the rose, the rose I lay.
And through the glass window shines the sun.
How should I love, and I so young?
The bailey beareth the bell away;
The lily, the rose, the rose I lay.
The hidden history of plant-based diets