Main content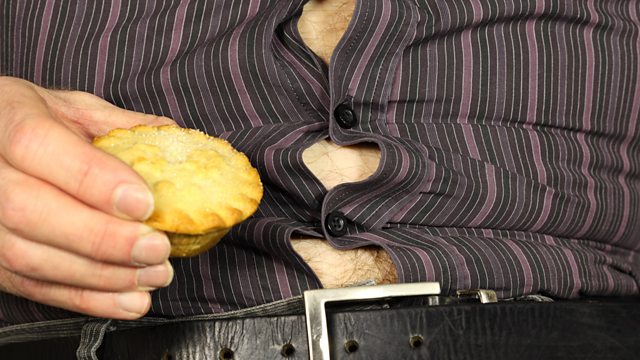 Fit to Burst
Drama by Tim Loane in which a man discovers that pathological eating mixed with plummeting self esteem is an explosive combination.
By Tim Loane
Andy has hit a mid-life crisis. His career is a mess, his relationship is falling apart and despite, or perhaps because of this, he seems intent on eating himself into an early grave. The Voice in his head has warned him, clearly, and a nightmarish tour of his inner organs has left him in no doubt that he is headed for, at best, a coronary arrest; at worst, something that he can't bear to think about it.
And yet he persists. Drowning in despair he grasps at crumbs of comfort, ingesting enough food to support a small country and doubling his waist and his weight in just one month, terrifying his wife and his work colleagues and rendering the average doorway inadequate for his desperate attempts at escape.
The Writer:
A writer, director and actor, Tim Loane's screenwriting credits include the comedy films 'Out of The Deep Pan' (BBC), 'Reversals' (ITV) and he was creator and lead writer of the Bafta-nominated 'Teachers' for Channel 4. He wrote the four-part conspiracy thriller 'Proof 2' (RTE), the three-part family drama serial 'Little Devil' (ITV) and the 2009 updating of 80's television classic 'Minder' (Channel 5). A co-founder of Northern Ireland's Tinderbox Theatre Company, his stage plays include 'Caught Red Handed' and 'To Be Sure' while he also directed the 1997 Oscar nominated short film 'Dance Lexie Dance'. For radio he was written the inner-city thriller 'The Tunnel' and the post-ceasefire ensemble comedy 'I Can See Clearly'.
Credits
| Role | Contributor |
| --- | --- |
| Writer | Tim Loane |
| Andy | Richard Dormer |
| Penny | Andrea Irvine |
| Heart | Alexandra Ford |
| Kidneys | Ali White |
| Pancreas | Miche Doherty |
| Liver | Patrick Fitzsymons |
| The Voice | Colin Murphy |
| Producer | Eoin O'Callaghan |