Main content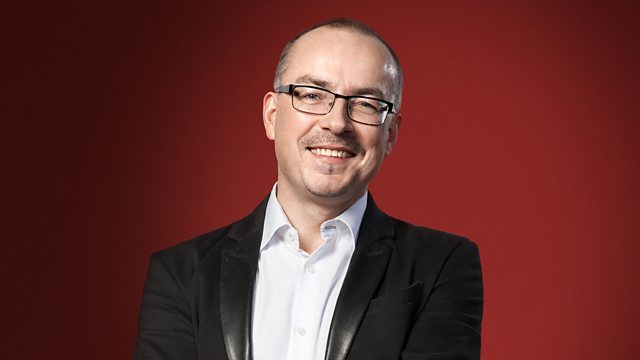 Wagner 200 Building a Library: Parsifal
With Andrew McGregor. Wagner 200 Building a Library: Wagner: Parsifal; critics Harriet Smith, Sarah Lenton and Stephen Johnson join Andrew to discuss 2013's best new recordings.
CD Review with Andrew McGregor, including:
9.05 Wagner 200 Building a Library: David Nice with a personal recommendation for Wagner's final opera, Parsifal
9.50 Andrew is joined by fellow critics Harriet Smith, Sarah Lenton and Stephen Johnson to argue the case for what they consider the best new recordings of 2013.
9.05am Building a Library
David Nice surveys recordings of Wagner's Parsifal and makes a recommendation:
WAGNER: Parsifal
Kurt Moll (Gurnemanz), James King (Parsifal), Yvonne Minton (Kundry), Bernd Weikl (Amfortas), Franz Mazura (Klingsor), Matti Salminen (Titural), Chor des Bayerischen Rundfunks, Tolzer Knabenchor, Symphonieorchester des Bayerischen Rundfunks, Rafael Kubelik (conductor)
ARTS ARCHIVES 430272 (4CD mid-price)
10.00am Critics' choice edition
Sarah Lenton, Stephen Johnson and Harriet Smith introduce and discuss their favourite recordings of 2013
Brahms - The Symphonies
BRAHMS: Symphonies Nos. 1-4 (Complete); Tragic Overture; Intermezzo Op. 116 No. 4; Intermezzo Op. 117 No. 1; Haydn Variations; Liebeslieder-Walzer; Symphony No. 1 – Andante; Academic Festival Overture; Hungarian Dances
Gewandhausorchester, Riccardo Chailly (conductor)
DECCA 4785344 (3CD mid-price)
SCHUBERT: Winterreise D911
Alice Coote (mezzo-soprano), Julius Drake (piano)
WIGMORE HALL LIVE WHLIVE0057 (CD mid-price)
STRAVINSKY: Violin Concerto in D
PROKOFIEV: Violin Concerto No. 2 in G minor Op. 63
Patricia Kopatchinskaja (violin), London Philharmonic Orchestra, Vladimir Jurowski (conductor)
NAIVE V5352 (CD)
Stravinsky - Complete music for piano & orchestra
STRAVINSKY: Song of the Volga Boatmen; Concerto for Piano and Wind Instruments; Capriccio; Movements; Concerto in D; Canon (on a Russian Popular Tune)
Steven Osborne (piano), BBC Scottish Symphony Orchestra, Ilan Volkov (conductor)
HYPERION CDA67870 (CD)
John Passion - JS Bach, Reconstruction of Bach's Passion Liturgy
BACH: Chorale Prelude BWV621; Chorale - Da Jesus an dem Kreuze Stund; Organ Prelude to the Passion - Praeludium in F-sharp minor BuxWV 146 (extract); Johannes-Passion BWV 245; Choral Prelude BWV 618; Chorale - O Lamm Gottes unschuldig; Chorale Prelude BWV 620; Motet - Ecce quomodo moritur; Responsory; Collect; Blessing; Response to Blessing; Choral Prelude BWV 657; Chorale - Nun danket alle Gott
Joanne Lunn (soprano), Clare Wilkinson (alto), Nicholas Mulroy (tenor), Matthew Brook (baritone), Robert Davies (baritone), Dunedin Consort, John Butt (director, harpsichord and organ)
LINN CKD419 (2Hybrid SACD mid-price)
Volodos plays Mompou
MOMPOU: Prelude VII (Palmier d'etoiles); Damunt de tu nomes les flors; Scenes d'enfants; Hoy la tierra y los cielos me sonrien; El Lago (Le Lac); Pour appeler la joie; Prelude XII; Dialogues; Musica callada I-XXVIII
Arcadi Volodos (piano)
SONY 88765433262 (CD)
Beethoven - The Late Piano Sonatas
BEETHOVEN: Piano Sonata No. 28 in A; Piano Sonata No. 29 in Bb; Piano Sonata No. 30 in E; Piano Sonata No. 31 in Ab; Piano Sonata No. 32 in C minor
Igor Levit (piano)
SONY 88883703872 (2CD mid-price)
HANDEL: Serse
Anna Stephany (Serse), Rosemary Joshua (Romilda), David Daniels (Arsamene), Hilary Summers (Amastre), Joelle Harvey (Atalanta), Andreas Wolf (Elviro), Brindley Sherratt (Ariodate), Early Opera Company, Christian Curnyn (conductor)
CHANDOS CHAN0797(3) (3CD mid-price)
Schubert: Death and The Maiden and String Quintet In C Major
SCHUBERT: String Quartet No. 14 in D minor 'Death and the Maiden' D810; String Quintet in C D956*
Pavel Haas Quartet with Danjulo Ishizaka (cello)*
SUPRAPHON SU41102 (2CD mid-price)
Featured in...
A collection of Wagner programmes and clips from Radio 3 and the 2013 Proms season.