Main content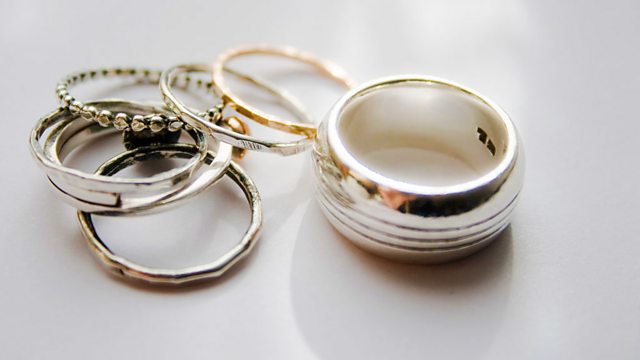 Precious Metal
Martin Ellis explores how modern makers continue the ancient tradition of making beautiful objects in silver. From 2013.
The skills of the silversmith are some of the oldest known to man. The creation of beautiful objects in precious metal is an endlessly versatile art form; objects can be tactile, weighty or beguilingly delicate. Their making is spectacular and violent –bashing with hammers, filing, cutting, heating red hot and polishing to perfection. The art of the silversmith is a hard-won product of skill, passion and patience. It produces unique objects of beauty, utility and mystery.
It's also a strange world that brings together ancient and modern –with fiercely guarded craft skills, solitary makers, workshops filled with traditional tools and the latest in digital technologies and precision engineering.
SIlversmithing is also one of this country's quiet success stories. We are now the global centre for contemporary metalwork, attracting students and skilled silversmiths from all over the world. Awareness of this new mood in metalworking is growing: museums are developing collections; British metalworkers are achieving ever-greater international accolades; independent training centres are committed to growing the craft.
Martin Ellis explores the world and work of a number of leading contemporary silversmiths working in this country to see how they work the precious metal to express their vision and tell their stories, from sacred chalices raised out of flat sheets of silver, to intricate objects reflecting back the life of rock pools; fabulously be-jewelled ceremonial scabbards to mysterious silver spoons. He investigates how new generations of silversmiths are learning ancient techniques and how processes like Computer Aided Design and 3D printing offer new opportunities and new challenges to the modern silversmith.
Presenter Martin Ellis
The music was composed by Michael Burdett and Richard Cottle - with sounds from the silversmiths workshops and performed by Little Death Orchestra.
Producer: Mike Greenwood
A Pier production for BBC Radio 4