Main content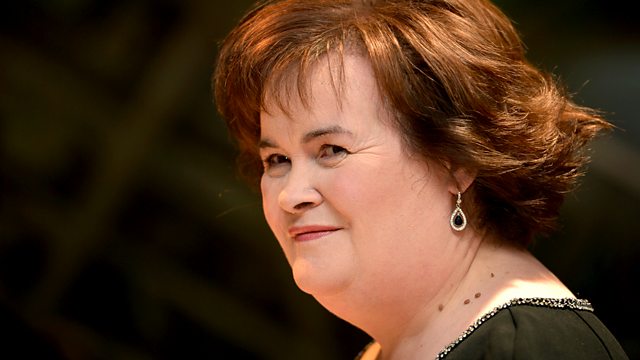 Susan Boyle's Aspergers diagnosis; Sara Thornton; Birgitte Hjort Sørensen
Jenni Murray discusses Susan Boyle's Aspergers diagnosis. Plus Borgen's Birgitte Hjort Sørensen, Thames Valley chief constable Sara Thornton, and childcare in Fiji.
Singer Susan Boyle has revealed she has Aspergers, a form of Autism. Why is the condition so hard to diagnose in women and what is the impact of finding out later in life? Birgitte Hjort Sørensen, talks about playing Katrine Fonsmark in the BAFTA Award winning cult drama Borgen and her new part in Shakespeare's Coriolanus. Powerlister Sara Thornton, Chief Constable of Thames Valley Police. And our series looking at childcare around the world begins in Fiji where communal child rearing has been at the centre of traditional village life for centuries.
Environmental thriller set in Denmark, a radio spin-off of the political TV drama.
Chapters
Power Lister Sara Thornton

Chief Constable of Thames Valley Police on women in the Police at all levels.

Duration: 09:20

Asperger's in Women

Why is the condition regularly diagnosed late in women?

Duration: 08:25

Childcare in Fiji

Our series looking at childcare around the world begins in Fiji.

Duration: 13:37

Birgitte Hjort Sørensen

Sørensen talks to Jenni about playing Katrine in the cult drama Borgen.

Duration: 08:41

Asperger Syndrome in Women

Susan Boyle has revealed aged 52 that she has Asperger Syndrome a form of autism. It's estimated that one in five people with autism is over 60, according to the National Autistic Society. We look at the particular difficulties of identifying the condition in women and whether the services they're offered following diagnosis are geared up for meeting their needs.

 

More information and advice can be found through Autism Network Scotland.

Birgitte Hjort Sørensen: Katrine in Borgen

Sørensen plays ambitious reporter Katrine Fonsmark in Borgen, BBC4's hit Danish TV series that follows the life of Denmark's fictional first female prime minister. She also takes on the role of Virgilia in Coriolanus at the Donmar Warehouse in London this month. So how much is the real life Sorensen like her characters? And what's it like being part of such a successful Danish export?

 

Starting next Monday and running all week on Radio 4 is Borgen: Outside the Castle, a radio spinoff from the popular TV series. Read more about the drama series here.

Power Lister Sara Thornton

And Power Lister Sara Thornton, Chief Constable of Thames Valley Police joins Jenni to talk about women in the Police at all levels, her commitment to building public confidence in the force and the unrelenting pressures of a 24/7 senior role.

Childcare Around The World: Fiji

What's the best form of childcare for the under 5s if parents need, or want, to work? Our reporter Madeline Morris lives and works in Melbourne and has been looking at how other cultures look after their children. First she travelled to Fiji where communal child rearing has been at the centre of traditional village life for centuries. She looks at how this is changing as more parents need to leave their homes and their children for long periods to find work.

 

On Monday's programme we will be looking at childcare in the UK and we'd like to hear your experiences. How were you cared for as a child – by your mother at home?  By your extended family? By a nanny? In a nursery? How do you think it affected you? If you have children, what choices have been available to you and how did you decide what was the best option for you and your family? 

 

Listen to more on alternative childcare from the World Service.

 

Credits

| Role | Contributor |
| --- | --- |
| Presenter | Jenni Murray |
| Interviewed Guest | Birgitte Hjort Sorensen |
| Interviewed Guest | Sarah Thornton |
| Producer | Emma Wallace |