Main content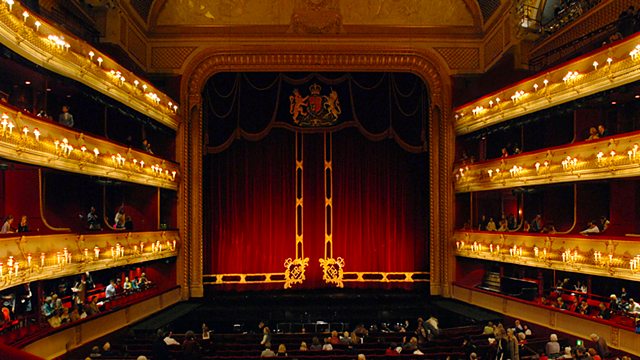 Wagner's Parsifal
Live from the Royal Opera House, Covent Garden, a new production by Stephen Langridge of Wagner's opera Parsifal. With Simon O'Neill, Rene Pape, Gerald Finley and Angela Denoke.
Wagner's Parsifal, in a new production by Stephen Langridge, live from the Royal Opera House Covent Garden. With Simon O'Neill, Rene Pape, Angela Denoke and Gerald Finley conducted by Antonio Pappano. Presented by Martin Handley with guest, Wagner scholar Nicholas Baragwanath. With contributions from cast, conductor and director.
Wagner's final music drama presents a religious community in decay, whose rituals have become empty and meaningless. One of their leaders, Gurnemanz, is searching for "a pure fool made wise through compassion." According to a prophecy the pure fool will redeem the order and give them a new lease of life. Parsifal is the young thug who bursts in on the scene in Act one, goes through trials of sexual temptation and compassion in the middle act only to return as the redeemer of the community at the end. Combining the Christian grail legend with elements of Buddhism and the pessimistic philosophy of Schopenhauer, this artwork about religion is for many people a religious experience in itself and it was the only one of Wagner's operas written for performance in the Festspielhaus at Bayreuth.
Parsifal.....Simon O'Neill (tenor)
Kundry.....Angela Denoke (soprano)
Gurnemanz.....Rene Pape (bass)
Amfortas.....Gerald Finley (baritone)
Klingsor.....Willard W. White (bass)
Titurel.....Robert Lloyd (bass)
First Knight.....David Butt Philip (tenor)
Second Knight.....Charbel Mattar (bass)
First Esquire.....Dusica Bijelic (soprano)
Second Esquire.....Rachel Kelly (mezzo-soprano)
Third Esquire.....Sipho Fubesi (tenor)
Fourth Esquire.....Luis Gomes (tenor)
First Flowermaiden.....Celine Byrne (soprano)
Second Flowermaiden.....Kiandra Howarth (soprano)
Third Flowermaiden.....Anna Patalong (soprano)
Fourth Flowermaiden.....Anna Devin (soprano)
Fifth Flowermaiden.....Ana James (soprano)
Sixth Flowermaiden.....Justina Gringyte (mezzo-soprano)
Chorus Royal Opera Chorus
Orchestra Orchestra of the Royal Opera House
Conducted by Antonio Pappano
*1700 Act 1
*1850 Interval 1
*1930 Act 2
*2040 Interval 2
*2110 Act 3.
Synopsis
Kundry laughed at a man's extreme suffering. For this cruelty she is condemned to an eternal cycle of lives of pain and depravity, from which she craves release. Titurel was entrusted with two sacred relics, which represent the ultimate suffering and sacrifice: the Grail and the Spear. To guard them he founded an all-male religious community. All community members must take a vow of celibacy. 
Klingsor wanted to belong to the Grail community, but was refused entry because he couldn't control his lustful nature. Desperate, Klingsor castrated himself to rid himself of his desires permanently. For this  blasphemy, Titurel refused him entry again. From that moment Klingsor aimed to bring down the Grail community, exposing them as hypocrites, as much driven by lust as he. He lures them with beautiful women.
Titurel grew old and handed his role as leader to his son, Amfortas. Amfortas decided to attack Klingsor and destroy his venal world, which has trapped and seduced so many of the community's men. But in the attack he too fell foul of his own desires, and in the throes of sexual passion he lost the spear to Klingsor. He was severely wounded in the process. Amfortas has heard a prophecy that his suffering can only be ended by a person who is innocent and pure, and who learns wisdom through compassion.
Act I
Scene 1: The realm of the Grail community
Gurnemanz, a senior member of the Grail community, rouses two junior members who are sleeping when they should be working. They pray together. Gurnemanz orders them to prepare a restorative bath for their ruler Amfortas, to help ease his extreme suffering. Kundry, a wild woman, arrives with Arabian balsam to help soothe Amfortas in his pain. Amfortas is brought in. He is in constant agony, and hopes only that the prophecy that he
will be saved by a 'pure fool made wise by compassion' proves true. He suspects that the prophecy indicates release through death, which he would welcome.
Young community members taunt Kundry, and Gurnemanz reprimands them. He tells them how Amfortas came to be wounded and how he lost the sacred spear to Klingsor. Klingsor longed to be accepted into the brotherhood of the Grail, but was forbidden due to his uncontrollable lust. In frustration he castrated himself, but was still refused. To avenge himself he created a garden of delights, filled with beautiful women who lie in wait to seduce the chaste Knights of the Grail. Amfortas had tried  to destroy Klingsor's seductive realm, but was himself seduced by a beautiful woman (Kundry, in fact), and in the throes of passion he allowed Klingsor to wound him and steal the spear.
A young man caught shooting a swan is dragged in by knights of the Grail. Gurnemanz rebukes him for his senseless act. Gurnemanz questions the young man, who appears to know almost nothing, not even his own name, though he does remember the name of his mother, Herzeleide (heart's sorrow). Kundry, who has been listening, tells the young man that his mother has died. The young man has to be restrained from attacking her.
Scene 2: The hall of the Grail
Gurnemanz offers to take the young man to witness the ceremony of the Grail. Amfortas must officiate at the ceremony, but it increases his agony and guilt unbearably. His father, Titurel, orders him to do his duty. The ceremony restores the strength of the aged Titurel, and builds the courage and strength the community needs for their continued battle with the forces of impurity and lust. Parsifal is stunned by what he has seen, but unable to tell Gurnemanz what any of it means. Gurnemanz gruffly orders him to leave, and throws him out. A voice is heard intoning the prophecy that salvation will come through the 'pure fool, enlightened by compassion'.
Act II
Scene 1: Klingsor's realm
Klingsor knows that now is the moment for the most important battle against the toughest opponent: Parsifal, the foolish boy. To achieve his goal he needs Kundry to seduce the boy. He summons her. At first she refuses to do what he says, and ridicules Klingsor's self-enforced chastity. Klingsor reminds Kundry that she can attain release only when a man manages to resist her sexual advances. Kundry despairs as she realizes that she will once again work for Klingsor. Klingsor unleashes his guards, and watches as the young man defeats them all.
Scene 2: Klingsor's magic garden
Flowermaidens rush in, describing the arrival of the savage young man who has slaughtered their lovers. When he appears, and assures them he means no harm to them, they tease and caress him. As the young man frees himself, he hears a woman call his forgotten name – Parsifal. It is Kundry. She orders the Flowermaidens to leave her alone with Parsifal.
Kundry tells Parsifal how she has known him since he was a baby in his mother's arms. She describes how his mother raised him alone after the death of his father Gamuret, and remembers Herzeleide's grief when Parsifal finally disappeared, a grief that killed her.
Parsifal is deeply moved and distressed. Kundry consoles him, inviting him to taste the bliss his mother and father knew. She kisses him. Parsifal suddenly experiences the suffering of Amfortas and his wound. Kundry begs Parsifal to save her through his love.
She tells him of her terrible destiny: she mocked the Saviour, and has wandered the world ever since. Parsifal recoils from Kundry's advances: he knows that she and he will only find salvation if he resists her. Kundry calls out to Klingsor, who tries to kill Parsifal with the spear. As Parsifal seizes it, Klingsor's realm is destroyed.
Act III
Scene 1: A forest in the realm of the Grail
Years have passed. On a spring morning, Gurnemanz discovers Kundry lying in the forest in the Realm of the Grail. She begs to serve, but Gurnemanz tells her there is little to do, as the brotherhood of the Grail is in disarray. He notes Kundry's changed, calm manner. A stranger approaches – Gurnemanz welcomes him, then recognizes him as Parsifal, and summons Kundry. Parsifal tells Gurnemanz of his troubled wanderings, through which he guarded the sacred spear, which he now returns to the Grail realm.
Gurnemanz hails the return of the spear, and describes the current misery of the Grail kingdom: Amfortas now refuses to perform his sacred duty, which means that his father has died, and the community is in despair. Parsifal is overcome with remorse and compassion.
Kundry brings water and bathes Parsifal's feet, while Gurnemanz anoints his head. Parsifal then gently baptizes Kundry. He revels in the beauty of the day. When Gurnemanz reminds him that it is Good Friday, Parsifal asks why the whole world is not in mourning. Gurnemanz tells him that Good Friday is in fact a day of rejoicing – the repentant praise the sacrifice of the Saviour, and even nature gives thanks.
Scene 2: The hall of the Grail
The knights bear in the dead body of Titurel for burial, and urge Amfortas to perform once more his role at the centre of the ceremony of the Grail. In agony, Amfortas urges the enraged community to kill him and end his pain. Parsifal, Gurnemanz and Kundry enter. Parsifal returns the spear to the community, and so brings healing and comfort to Amfortas. Kundry also finds redemption in this moment. Parsifal declares that the mysteries will no longer be hidden away, but open to all.
Stephen Langridge