Main content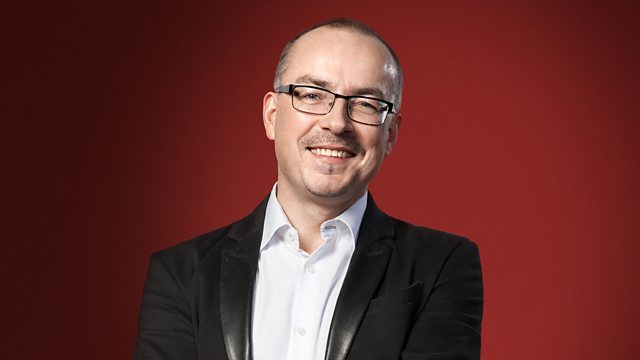 Building a Library: Bach: Cantata No 21
With Andrew McGregor. Including Building a Library: Bach: Cantata No 21 (Ich hatte viel Bekummernis); Sarah Walker on recent orchestral releases; Disc of the Week: Lully: Phaeton.
9.05am
MORALES: O Magnum Mysterium; Christmas Motets
Weser-Renaissance Bremen, Manfred Cordes (conductor)
CPO 7778202 (CD)
BERLIOZ: L'Enfance du Christ Op. 25
Yann Beuron (Narrator), Veronique Gens (Virgin Mary), Stephan Loges (Joseph), Alastair Miles (Father of the family), Swedish Radio Symphony Orchestra, Swedish Radio Symphony Chorus, Robin Ticciati (conductor)
LINN (2 Hybrid SACD mid-price)
Bernat Vivancos - Blanc (Choral Works)
VIVANCOS: Obriu-me els llavis Senyor; Messe aux sons des cloches; El cant dels ocells; Bubbles; A Child is Born; Nigra sum; Salve d'ecos; Le cri des bergers; Nigra es pulchra sum
Latvian Radio Choir, Sigvards Klava (conductor)
NEU RECORDS NEUMCHCD001 (2CD mid-price)
Incarnation
MARTIN: Adam lay ybounden; Veni veni Emanual
HOWELLS: Long Long Ago
POTT: Balulalow; Qui creavit celum
DOVE: The three Kings; This endere nyghth I saw a syghth
LEIGHTON: A Hymn of the Nativity; Letabundus
BRITTEN: A Boy was Born Op. 3
Gabrieli Consort, Trebles of Copenhagen Royal Chapel Choir, Paul McCreesh (conductor)
SIGNUM SIGCD346 (CD)
Surrounded by Angels
For full details see www.sonoluminus.com/p-368-surrounded-by-angels-blu-ray-cd.aspx
Ensemble Galilei
DORIAN SONO LUMINUS DSL92173 (CD + Bluray audio, mid-price)
9.30am Building a Library
Nicholas Anderson surveys recordings of Bach's Cantata no.21 Ich hatte viel Bekummernis and makes a recommendation:
BACH: Cantata BWV21 Ich hatte viel Bekummernis
c/w Magnificat in D major BWV243
Greta de Reyghere (soprano), Rene Jacobs (alto), Christoph Pregardien (tenor), Peter Lika (bass), Nederland Kamerkoor, La Petite Bande, Sigiswald Kuijken (conductor)
VIRGIN CLASSICS (ERATO / WARNER CLASSICS) 3632992 (CD mid-price)
10.20am
BACH: Christmas Oratorio BWV248
Katherine Watson (soprano), Iestyn Davies (countertenor), James Gilchrist (tenor), Matthew Brook (bass), Orchestra of the Age of Enlightenment, Trinity College Choir Cambridge, Stephen Layton (conductor)
HYPERION CDA68031/2 (2CD mid-price)
HERTEL: Die Geburt Jesu Christi
Berit Solset and Alexandra Rawohl (sopranos), Marcus Ullmann (tenor), Wolf-Mathais Friedrich (bass), Koelner Akademie, Michael Alexander Willens (conductor)
CPO 7778092 (CD)
RIAS Kammerchor – Noel! Christmas! Weihnachten!
MENDELSSOHN: Frohlocket  ihr Volker auf Erden
GRONOSTAY: Die Nacht ist vorgedrungen
ECCARD: Ich lag in tiefer Todesnacht; Nun liebe Seel, nun ist es Zeit; Ubers Gebirg Maria geht
BRUCH: In der Christnacht Op. 60 No. 1
BRAHMS: O Heiland reiss die Himmel auf Op. 74 No. 2
PART: Magnificat
BRUCKNER: Ave Maria; Virga Jesse floruit
POULENC: Quatre motets pour le temps de Noel; Salve Regina
GRIEG: Ave Maris Stella
SWEELINCK: Hodie Christus natus est
PRAETORIUS, M: In dulci jubilo; Es ist ein Ros' entsprungen
MANDYCZEWSKI: Stille Nacht, heilige Nacht
RIAS Kammerchor, Hans-Christoph Rademann (conductor)
HARMONIA MUNDI HMC902170 (CD)
Britten - Saint Nicolas
BRITTEN: St Nicolas Op. 42; Hymn to St Cecilia Op. 27; Rejoice in the Lamb Op. 30
Andrew Kennedy (tenor), The Choir of King's College Cambridge, Britten Sinfonia, Sawston Village College Choir, CUMS Chorus, Stephen Cleobury (conductor)
KINGS COLLEGE KGS003 (CD + SACD)
10.40am New Releases
Sarah Walker joins Andrew to discuss recent recordings of symphonic music
Tasmin Little - The Lark Ascending
MOERAN: Concerto for Violin and Orchestra
DELIUS: Legende
HOLST: A Song of the Night Op. 19 No. 1 H.74
ELGAR: Chanson de Nuit Op. 15 No. 1; Salut d'amour Op. 12; Chanson de Matin Op. 15 No. 2
VAUGHAN WILLIAMS: The Lark Ascending
Tasmin Little (violin), BBC Philharmonic, Sir Andrew Davis (conductor)
CHANDOS CHAN10796 (CD)
MUSSORGSKY orch. BREINER: Pictures at an Exhibition; Songs and Dances of Death; The Nursery
New Zealand Symphony Orchestra, Peter Breiner (conductor)
NAXOS 8573016 (CD budget)
TCHAIKOVSKY: Piano Concerto No. 2 in G Op. 44; Theme and Variations Op. 19 no.6; Piano pieces Op. 40 (extracts); Valse sentimentale Op. 51 No. 6; Andante Cantabile from String Quartet Op. 11
Boris Berezovsky (piano), Henri Demarquette (cello), Sinfonia Varsovia, Alexander Vedernikov (conductor)
MIRARE MIR200 (CD)
SHOSTAKOVICH orch. BARSHAI: Chamber Symphony in C minor Op. 110a; Chamber Symphony in Ab Op. 118a
WEINBERG: Concertino Op. 42
Amsterdam Sinfonietta, Candida Thompson (artistic director)
CHANNEL CCSSA34313 (Hybrid SACD)
ENESCU: Concert Overture on Popular Romanian themes Op. 32; Symphony No. 3 Op. 21
Tampere Philharmonic Orchestra, Tampere Philharmonic Choir, Hannu Lintu (conductor)
ONDINE ODE11972 (CD)
11.45am Disc of the Week
LULLY: Phaeton
Emiliano Gonzalez Toro (Phaeton), Ingrid Perruche (Clymene), Isabelle Druet (Theone, Astree), Gaelle Arquez (Libye), Andrew Foster-Williams (Epaphus), Frederic Caton (Merops, Automne, Jupiter), Benoit Arnould (Protee, Saturne), Cyril Auvity (Triton, le Soleil), Les Talens Lyriques, Christophe Rousset (conductor)
APARTE AP061 (2CD mid-price)