Main content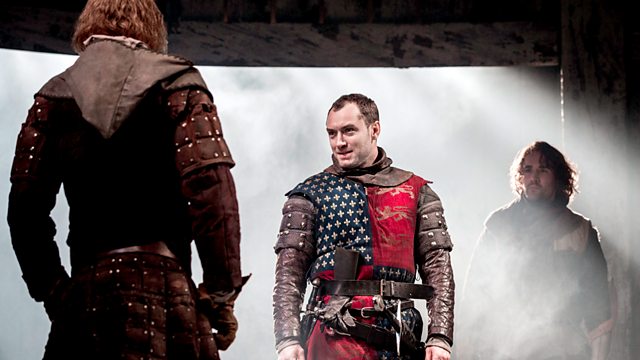 Henry V, The Sea, Black Nativity
Presented by Matthew Sweet. With a review of Michael Grandage's production of Henry V, starring Jude Law, a debate on governing the sea and a film musical of Black Nativity.
Jude Law plays Henry V in the West End directed by Michael Grandage. Matthew Sweet has a first night review from Susannah Clapp.
Are we nearing the end of the Grotian Consensus? Turner's maritime paintings are for many the nearest they'll ever get to understanding the sea and the insights they offer are opaque and mysterious. In the 21st century the sea's realities are most often painted as a flat blue space on the map but we turn our faces away from the sea at our peril. Globalisation is encapsulated by the vast freighters which move goods around the world, piracy is on the increase, international maritime boundaries are disputed from the east China Sea to the Arctic, fish stocks are depleted, there is no conservation body exclusively concerned with the health and well being of the oceans and it's predicted that the oceans are ripe for industrialisation. Matthew Sweet talks to maritime geographer Phil Steinberg and expert in international public law , Steve Haines, about what the Freedom of the Seas means now and how maritime governance may develop this century.
Langston Hughes' 1961 retelling of the nativity story has now been the inspiration for a musical film starring Forest Whitaker, Angela Bassett and Jennifer Hudson with a solo from Mary J Blige. Hughes biographer Bonnie Greer and the writer Fred D'Aguiar have seen the film and talk to Matthew Sweet about Langston Hughes' enduring legacy.
Producer: Natalie Steed.
Chapters
Henry V

Matthew Sweet has a first night review from Susannah Clapp of Jude Law as Henry V

Duration: 08:49

Maritime

Phil Steinberg and Steve Haines discuss what the Freedom of the Seas means now

Duration: 16:37

Langston Hughes

Bonnie Greer and Fred D'Aiguiar review Black Nativity and discuss Langston Hughes' legacy

Duration: 18:42

Black Nativity

Black Nativity from Fox Searchlight Pictures is released in UK cinemas on Friday 6 December 2013, certificate PG.

 

Image: Jacob Latimore, Angela Bassett, Jennifer Hudson & Forest Whitaker

Henry V

Henry V starring Jude Law is on at the Noël Coward Theatre, London currently booking through until Saturday 15 February 2014.

Bonnie Greer

Langston Hughes: The Value of Contradiction written by Bonnie Greer is published by Arcadia Books.

Fred D'Aguiar

Children of Paradise written by Fred D'Aguiar is published by Granta Books on Thursday 6 February 2014.

Credits

| Role | Contributor |
| --- | --- |
| Presenter | Matthew Sweet |
| Interviewed Guest | Susannah Clapp |
| Interviewed Guest | Phil Steinberg |
| Interviewed Guest | Steve Haines |
| Interviewed Guest | Bonnie Greer |
| Interviewed Guest | Fred D'Aguiar |
| Producer | Natalie Steed |