Main content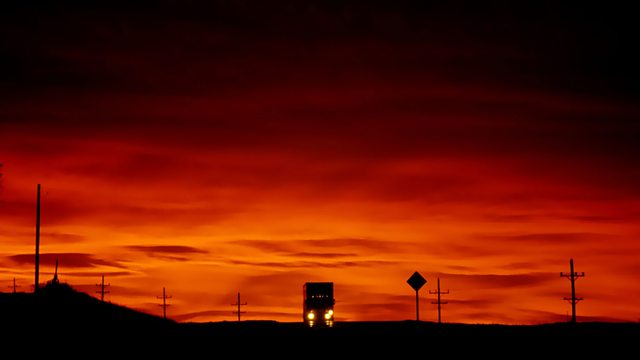 BBC Proms 2012: Strauss and Sibelius
Catriona Young presents a concert given at the 2012 Proms, with the BBC Philharmonic under Juanjo Mena in Strauss's Also sprach Zarathustra and Sibelius's Seventh Symphony.
BBC Proms 2012. Strauss's Also sprach Zarathustra and Sibelius's 7th Symphony from the BBC Philharmonic and Juanjo Mena. With Catriona Young.
12:31 AM
Strauss, Richard [1864-1949]
Also sprach Zarathustra (Op.30)
BBC Philharmonic, Juanjo Mena (conductor)
1:05 AM
Sibelius, Jean [1865-1957]
Symphony no.7 (Op.105) in C major
BBC Philharmonic, Juanjo Mena (conductor)
1:26 AM
Kreisler, Fritz (1875-1962)
String Quartet in A minor (1919)
String Quartet: Tobias Ringborg and Christian Bergqvist (violins), Ingegerd Kierkegaard (viola), John Ehde (cello)
1:58 AM
Mozart, Wolfgang Amadeus (1756-1791) arr. Agnieszka Duczmal
Clarinet Quintet in A major (K.581) arranged for clarinet and string orchestra
Wojciech Mrozek (clarinet), The Amadeus Polish Radio Chamber Orchestra in Poznan, Agnieszka Duczmal (conductor)
2:31 AM
Weber, Carl Maria von (1786-1826)
Missa sancta No.1 in E flat major, (J.224) 'Freischutzmesse' for soli, chorus and orchestra
Norwegian Soloist Choir, Norwegian Radio Orchestra, Grete Pedersen Helgerød (conductor)
3:04 AM
Tchaikovsky, Pyotr Il'yich (1840-1893)
Serenade in C major for strings (Op.48)
The Radio Bratislava Symphony Orchestra, Ludovít Rajter (conductor)
3:38 AM
Chopin, Fryderyk [1810-1849]
Nocturne in C sharp minor Op. posth for piano
Janusz Olejniczak (piano)
3:42 AM
Heinichen, Johann David (1683-1729)
Concerto for flute, bassoon, cello, double bass and harpsichord
Vladislav Brunner (flute), Jozef Martinkovic (bassoon), Juraj Alexander (cello), Juraj Schoffer (double bass), Miloš Starosta (harpsichord)
3:52 AM
Ravel, Maurice (1875-1937)
Boléro
Bergen Philharmonic Orchestra, Rafael Frühbeck de Burgos (conductor)
4:06 AM
Mozart, Wolfgang Amadeus (1756-1791)
Fantasy and fugue for piano in C major, (K.394) (Vienna 1782)
Wolfgang Brunner (fortepiano)
4:17 AM
Falla, Manuel de (1876-1946)
No.5 Nana; No.7 Polo; No.4 Jota - from Canciones populares espanolas
Moshe Hammer (violin), William Beauvais (guitar)
4:24 AM
Handel, Georg Frideric [1685-1759]
Lascia la spina - from Il Trionfo del Tempo e del Disinganno
Anna Reinhold (mezzo-soprano), Les Ambassadeurs, Alexis Kossenko (director)
4:31 AM
Albicastro, Henricus (fl.1700-06)
Concerto à 4 (Op.7 No.2)
Ensemble 415, Chiara Banchini (violin/director)
4:40 AM
Lassus, Orlande de (1532-1594)
Magnificat 'Praeter rerum seriem'
The King's Singers -- Jeremy Jackson and Alastair Hume (countertenors), Robert Chilcott (tenor), Colin Mason and Simon Carrington (baritones), Stephen Connolly (bass)
4:48 AM
Sibelius, Jean (1865-1957)
Serenade No.2 in G minor for violin and orchestra (Op.69b)
Judy Kang (violin), Orchestre Symphonique de Laval, Jean-François Rivest (conductor)
4:58 AM
Schubert, Franz (1797-1828)
Notturno (D.897) for piano and strings in E flat major
Vadim Repin (violin), Jan-Erik Gustafsson (cello), Leif Ove Andsnes (piano)
5:07 AM
Marcello, Alessandro (1669-1747)
Concerto in D minor
Jonathan Freeman-Attwood (trumpet), Colm Carey (organ of the Dutch Church, Austin Friars, London)
5:16 AM
Bach, Johann Sebastian (1685-1750)
Concerto for violin and string orchestra No.1 in A minor (BWV.1041)
Musica Antiqua Köln, Reinhard Goebel (violin and conductor)
5:27 AM
Chopin, Fryderyk [1810-1849]
Ballade for piano No.4 (Op.52) in F minor
Khatia Buniatishvili (piano)
5:38 AM
Beethoven, Ludwig van [1770 -1827]
Sonata for cello and piano (Op.5'1) in F major
Danjulo Ishizaka (cello); Shai Wosner (piano)
6:02 AM
Suk, Josef (1874-1935)
Serenade for String Orchestra in E flat (Op.6)
Virtuosi di Kuhmo, Peter Csaba (conductor).