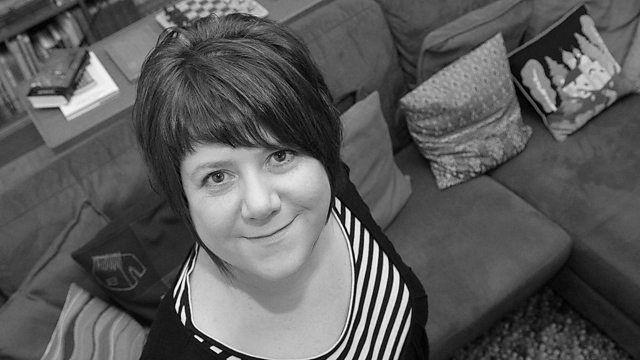 Episode 1
Louise Welsh explores some of the most famous tales of murder and the medieval Scots Kings and asks how modern writers might tell them today. This week, the filthy, gory and shocking murder of James I down a sewer in Perth, plus the story of Sir Robert Graham, the brave knight who crossed the king and tried to arrest him in parliament before he went too far. Novelist James Robertson joins Louise Welsh to give his version of the tale. Historians Michael Brown, Roland Tanner and Fiona Watson clue Louise in on the King's part in his own downfall and archaeologists Mark and Derek Hall help Louise find the medieval murder scene in modern Perth.
Last on
More episodes
Previous
You are at the first episode
A King Under a Block of Flats - Blog from programme producer, Louise Yeoman
A King under a Block of Flats? 
You'll have heard of Richard III being found buried under a car park in Leicester, but one Scottish city can boast a King and Queen who're probably under a block of flats. You'll meet them in our first episode of 'Tales of a Crimewriter' where Louise Welsh goes to Perth to start her journey investigating some of the most tellable tales of Scottish medieval murder.
The city was the site of a gruesome murder when the unpopular James I was trapped down a monastery sewer  'amid the ordure of the privy' and stabbed to death by conspirators in 1437. The stabbing took place in the Blackfriars monastery, the remains of which are now partially under a sheltered housing complex, but after the murder James's Queen, the courageous (and not a little ruthless!) Englishwoman Joan Beaufort leapt into action to secure the Stewart dynasty. She took power in Perth, displayed James's body, and forced the visiting papal nuncio to kiss its wounds and declare him a martyr for the kingdom. Joan secured the custody of her infant son James II and rounded up and executed the assassins in scenes which make Quentin Tarantino movies look like Milly Molly Mandy. Even seasoned crimewriter Louise Welsh reckoned she'd cut away from the action at that point.
The widowed queen saw to it that her murdered husband's bloody shirt was preserved as a relic, that he was buried in a magnificent tomb in the Carthusian monastery in Perth and that when the time came, she was buried there herself. But the royal couple were not allowed to rest easy even in death. When the Reformation took hold in Perth, the Carthusian monastery was destroyed along with the others, and the site became the original King James VI hospital, only for that to get pulled down too by Oliver Cromwell. Later rebuilt in the 18th century, the hospital was converted into flats in the 1970s, but are its old royal residents still there? There's not only James and Joan, but Queen Margaret Tudor, Henry VIII's sister and James IV's queen. Alas geophysics hasn't given any clues as to exactly where the church of the monastery might have been and the archaeologists rarely get the opportunity to dig in the area, so nobody's been able to check, but the chances are that if you live there, you have some distinguished company under the floorboards or in the garden somewhere…