Main content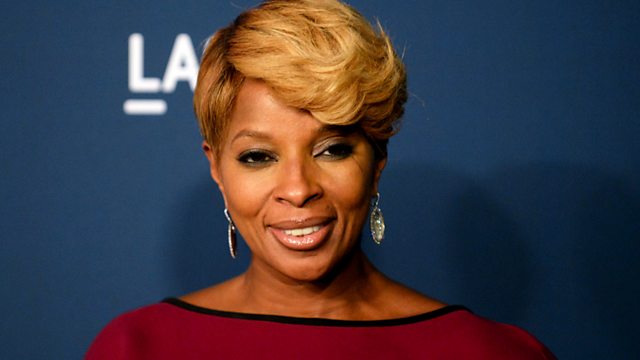 Weekend Woman's Hour; Mary J Blige; Baroness Hale
Highlights from the Woman's Hour week. Grammy-winner Mary J Blige, Supreme Court deputy president Baroness Brenda Hale, 'Bipolar Blogger' Charlotte Walker, and music from Birdy.
Grammy Award winner Mary J Blige on how she got started in the music business. Baroness Brenda Hale deputy president of the Supreme Court who's Number 4 on the Woman's Hour Powerlist. Charlotte Walker - known as the Bipolar Blogger - talks about why she decided to open up about her condition on a blog. The impact of cuts in the legal aid system on couples divorcing. Plus after a recent survey found that 76% of women had never asked for a pay rise - we discuss how best to ask for more money. A look at how women's sexual behaviour has changed in the last ten years. Why are there so few women cyclists on the road? And live music from 17 year old new comer Birdy who performs her new single "No Angel"
Presented by Jane Garvey
Editor: Beverley Purcell.
Last on
Mary J Blige
When she first emerged in 1992, Mary J Blige was labelled the Queen of Hip Hop with her unique look and hip-hop soul sound. She's since sold over 50 million albums, won nine Grammy Awards, been named by Billboard in 2010 as the most successful female R&B artist of the past 25 years, and as one of the world's most influential people by Time magazine. Yet behind all this success lies a tough past – a difficult upbringing and a previous life of abuse, drink, and drugs. She's worked hard to overcome that past - and to inspire and help other women - through her music and through the women's charities she's founded. And now, with a happy family life of her own, she's back with a new album - A Mary Christmas - an album of new songs and festive favourites. She joined Jane Garvey to talk about Christmas in the projects, working to overcome drink, drugs and abuse, how marriage and Whitney Houston's death inspired her to change, and finding happiness and success.
Mary J Blige's new album, A Mary Christmas, is out now on Decca.
Negotiating a pay rise
Women, on average earn 9% less than men – and they're more reluctant to ask for a salary increase.  According to a recent poll by YouGov 76% of women had never raised the subject of more money with their employer. So what's holding women back?  Carole Fossey, Non-executive Director at Greater Manchester Chamber of Commerce and a member of the Women in Business group and Heather Jackson, founder of The Women's Business Forum joined Jenni to discuss the best way to approach the boss, and what you should do if you get turned down.
Power Lister Baroness Brenda Hale
Lady Hale is Deputy President of the Supreme Court. Her role makes her the most senior female judge in British legal history and she remains the first and only woman to sit on the UK's highest court. Educated in the state school system, she won a state scholarship to Cambridge. The first woman to be appointed to the Law Commission, she spent ten years re-defining the face of family law – an area she specialised in. She has been an outspoken critic of the lack of women and diversity in the judiciary, particularly at the highest levels.
Women and their Changing Sexual Behaviour
According to the latest National Survey of Sexual Attitudes and Lifestyles the changes in sexual behaviour  that have taken place over the last ten years have mostly taken place within the lives of women. We are continuing to have sex in later life but less than half of women aged 65 to 74 have a sexual partner. Women have almost as many partners as men now but overall we are having less sex, and a significant rise in women having same-sex partners. To discuss why, Jenni was joined by Professor Dame Anne Johnson of University College London who was a lead on this survey, psychotherapist and writer Susie Orbach and Guardian columnist Ellie Mae O'Hagan.
Domestic Violence and Accessing Legal Aid
Changes to the civil legal aid system were introduced in April this year which means that there are now fewer cases for which people can get funding.  These include private family law such as divorce and custody battles and personal injury cases. People who experience domestic violence can still apply for legal aid to help with the cost of legal advice and court proceedings, but must provide evidence to prove it. Tamsin Smith speaks to one woman who suffered years of domestic abuse and after one particularly violent incident was advised to leave the family home with her children to seek safety in a refuge. She describes her experience of trying to provide evidence in order to access legal aid.
The Bipolar Blogger
Charlotte Walker writes about her life with mental health issues as @BipolarBlogger and on the Purple Persuasion blog. The honesty, accuracy and wit of her blog has just won her the Mark Hanson Digital Media Award at the 2013 MIND Mental Health Awards. She joined Jenni to talk about living with bipolar disorder, her choice to blog about some very personal issues and the importance of breaking taboos around mental health.
Women Cyclists
Why aren't there more women cyclists on the roads? Jane talked to Dr Rachel Aldred, Senior Lecturer in Transport at the University of Westminister, and Kirsteen Torrance, Chair of Scotland's first women only national cycling club, Filles a Velo.
Birdy
Singer-songwriter and pianist Birdy first emerged at 15 with her album of covers, like Bon Iver's Skinny Love, which found her huge success, both here and abroad. Her debut album went gold in the UK, and to number one elsewhere, and her videos have had more than 138 million views online. She was discovered at the age of 12, but comes from a family of performers – her mother's a concert pianist, and her great uncle was Dirk Bogarde. Now, at 17, and with a new album of self-penned songs, on Wednesday she played her track No Angel for us, live in the Woman's Hour studio.
Birdy's new single Light Me Up, and her second album, Fire Within, are both out now on 14th Floor/Atlantic Records.
Credits
| Role | Contributor |
| --- | --- |
| Presenter | Jane Garvey |
| Interviewed Guest | Mary J Blige |
| Interviewed Guest | Heather Jackson |
| Interviewed Guest | Carole Fossey |
| Interviewed Guest | Brenda Hale |
| Interviewed Guest | Ellie Mae O'Hagan |
| Interviewed Guest | Susie Orbach |
| Interviewed Guest | Anne Johnson |
| Interviewed Guest | Charlotte Walker |
| Interviewed Guest | Kirsteen Torrance |
| Interviewed Guest | Rachel Aldred |
| Interviewed Guest | Birdy |
| Editor | Beverley Purcell |
| Producer | Kirsty Starkey |
Broadcast

Podcast
Women's voices and women's lives - topical conversations to inform, challenge and inspire.