Bradford-on-Avon
Eric Robson hosts GQT from Bradford-on-Avon with Matt Biggs, Matthew Wilson and Christine Walkden taking the local audience's questions. This week the team explores the variety of plants along our highways, and Matt Biggs goes in search of Bath Asparagus.
Produced by Howard Shannon.
A Somethin' Else production for BBC Radio 4.
This week's questions:
Q. Could the panel make some suggestions for plants that could be grown on top of a canal boat, preferably providing a crop of some sort?
A. You will need plants that can cope with a limited depth of soil and can be cropped quite quickly. Herbs would grow well such as prostrate thymes or coriander. Tomatoes or strawberries would also work. You could even attempt to plant apple trees in buckets. Do not try planting anything substantial or perennial. Certainly don't use water from the canal.
Q. My roses are still in bloom and I am concerned that this will have an affect on their flowering period next year.
A. The cold spring retarded growth this year and everything came into flower at once in early summer. Roses keep going until there is a hard frost. It is best to follow your normal routine and prune them now. Make the decision for them and take the head back by about a third. Prune again early next year.
Q. I have a narrow, shady bed measuring 20ft(6m) by 1ft(30cm). It is bordered either side by tarmac and hedgerow. Could the panel suggest something that would add interest but also disguise any weeds?
A. Lamium Orvala is a beautiful dead nettle with flower spikes about 15inches(38cm) tall. Alchemillas and Francoa Sonchifolia would cope well on this site. Tiarellas and Mitellas would also work.
It is important to remember that less is more, as there is a risk that it could look fragmented. To create a matrix use something like Hakonechloa Macra, the variegated Japanese grass. Some of the Begenias or Pachysandra Terminalis are very beautiful. Perhaps add some structure using ferns and add something striking like Jeffosonia Dubia or Pulmonarias. Try punctuating the bed using taller structures or even topiary.
Q. Could the panel suggest some annuals or perennials that would extend the cut flower season?
A. Think about using flowers that you can dry such as Molucellas and Zinnias. Sowing later will allow for an extended period. Try Cornflowers or Hesperantha Coccinea. Schizanthus are late flowering and one particular variety called Jennifer produces a beautiful pink colour.
Q. Why would onions start to rot after they had been thoroughly dried and stored in the correct manner?
A. This is probably a case of Botrytis and will be a skin-based problem. If you have a particularly wet spell the water travels down the leaf blades and congregates on the leaf sheaths. Turn the bulbs over when drying them so to remove a high proportion of water.
Q. I have a Nordland Fir Tree in a 16inch (40cm) pot with ericaceous compost. It is now about 5ft (1.5m) tall. Should I repot it, and if I were to chop off the leading spur would it sprout at the bottom?
A. Don't take out the top because it will become squat and won't sprout. Pruning it too much can change its habits. You could repot the fir and remove the top few inches. However, it will require a lot of aftercare.
Last on
Roadside Conservation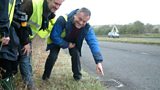 Matthew Wilson and Matt Biggs explore the variety of vegetation along our highways.