Main content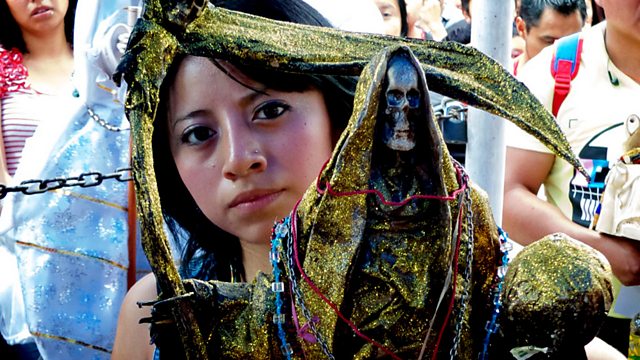 Mexico: Exorcising Evil
Vladimir Hernandez meets the Mexican Catholic priests who believe the country's drug wars are evidence that Mexico is in the grip of the devil and are fighting it through exorcism.
Vladimir Hernandez follows the Mexican priests who believe they can fight the evil of drug trafficking through the ancient Catholic practice of exorcism.
It is estimated that 60,000 people have died in Mexico in the "drug wars" linked to the narco-traffickers, who are among the most vicious criminals in the world. To some Catholic priests and believers, this is clear evidence that the Devil has taken hold among much of the population. They also point to the popularity of cults like that of "Santa Muerte", the saint of death, who is a figure of popular veneration among some of the narco-gangs. The priests are responding by practicing exorcisms, both in private and public, as they seek to expunge this evil. Vladimir watches dramatic individual and mass exorcisms, hears from those who have been through the rite and talks to critics and supporters of the practice.
Producers: Keith Morris and Mark Savage.
Day of the dead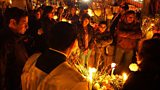 The cult of Santa Muerte's biggest ceremony of the year coincides with the traditional Day of the Dead festivities in Mexico. This event is said to be as ancient as the Aztecs, and is even recognised by the Catholic Church, which calls it 'The Day to Remember the Deceased'. This tradition shows how Mexicans have had a long-standing cultural fascination with death for centuries.
Saint Death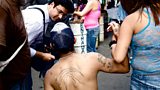 Many followers of Santa Muerte or 'Saint Death' arrive on their knees to the main shrine in Mexico City as a way of saying thank you to the folk figure, dressed as a skeleton in a long dress. Some call Santa Muerte the "Godmother", "the Skinny one" or just "the little girl". Many people who have been in prison, like this young man, become fervent followers, asking Santa Muerte to help them survive imprisonment and regain their freedom.