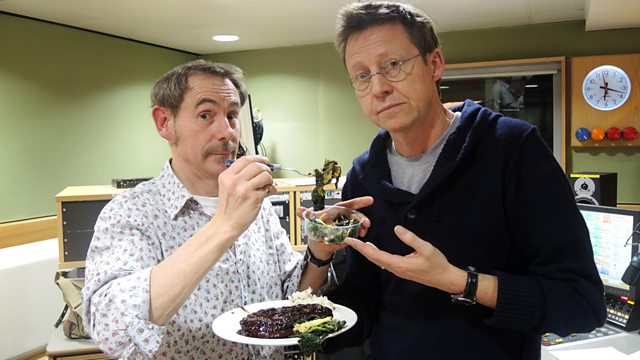 Foodie Thursday
Simon Mayo is joined by our resident chef Nigel Barden for another Foodie Thursday! Plus there's a brand new listener confession for the team to consider - but will they forgive?
Matt has the sports news, Rebecca is on the money and Sally updates the travel.
Plus a play from another BBC Radio 2 Folk Awards 2014 'Best Album' nominee.
Last on
Braised Leg of Mutton with Zesty Greens
By Simon Boyle of Brigade Restaurant, The Fire Station, Tooley Street, London SE1
Preparation time: less than 30mins
Cooking time: 1 to 2 hours
Serves 4
Ingredients
1 leg of mutton, or four lamb leg steaks 180g each
2 tbsp olive oil
plain flour, for dusting
salt & pepper
30g/1oz butter
1 small onion, chopped very finely
1/2 celery stick, chopped finely
2 cloves of garlic, chopped
1 sprig of rosemary
1 sprig of thyme
1 tsp tomato puree
150ml/5fl oz dry white wine
290ml/10fl oz good hot lamb stock
Salt & freshly ground pepper
For the winter leaves
320-400g of leaves (e.g. kale, spinach, cavalo nero) & cabbage, thick stalks removed & remainder cut into chunky pieces & blanched (or don't if you want more crunch)
1 garlic clove, thinly chopped
2 tbsp olive oil
30g/1oz butter
1 lemon, zest only, grated
1 tbsp finely chopped parsley
1 tbsp lemon juice
Salt & black pepper
Method
1. Choose a sauté pan large enough to fit all the mutton slices in one layer.
2. Heat the oil & brown the seasoned mutton on both sides after lightly dusting them with flour. Remove them from the pan & reserve.
3. Add the butter to the pan & add the chopped celery, onions, garlic & herb sprigs with a pinch of salt to cook them gently without burning for a few minutes. When the vegetables are soft, stir in the tomato puree & then return the meat to the pan & add the wine. Cook gently until the moisture is almost completely dried out.
4. Add the hot lamb stock, turn the heat down & cover with a tight lid. Cook gently in a 160C/140C fan/Gas Mark 3 for 1& a half hours or until the meat is coming off the bone, turning them every 20 minutes or so. When turning the mutton make sure that you lift them gently with a spatula so that they stay in one piece & the marrow is not lost.
5. When cooked place the mutton on to the serving dish & keep them warm. 
6. Mix all the leaves & cabbage together, season with S&P,  stir-fry in hot olive oil & butter until ¾s cooked, then add garlic & lemon zest.  
7. When just cooked, stir in lemon juice & chopped parsley.  Spread the leaves around the mutton.