Main content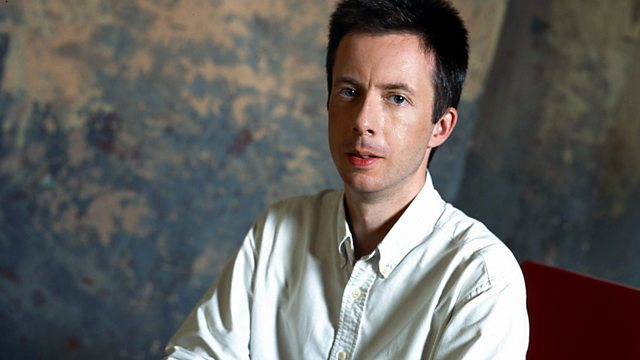 27/11/2013
John Shea's selection including pianist Lukas Geniusas performing both sets of Chopin's Etudes, as well as Liszt's B minor Sonata.
12:31 AM
Chopin, Fryderyk [1810-1849]
12 Studies Op.10 for piano
Lukas Geniusas (piano)
1:02 AM
Chopin, Fryderyk [1810-1849]
12 Studies Op.25 for piano
Lukas Geniusas (piano)
1:34 AM
Liszt, Franz [1811-1886]
Sonata in B minor S.178 for piano
Lukas Geniusas (piano)
2:05 AM
Schubert, Franz [1797-1828]
Waltz no.6 in B minor
Lukas Geniusas (piano)
2:07 AM
Glenn Gould [1932-1982]
Cadenza for Concerto no. 1 in C major Op.15 for piano and orchestra by Beethoven, Ludwig van
Lukas Geniusas (piano)
2:10 AM
Rachmaninov, Sergey [1873-1943]
Prelude no.13 in D flat major
Lukas Geniusas (piano)
2:16 AM
Mozart, Wolfgang Amadeus [1756-1791]
Symphony no.4 (K.19) in D major
BBC Scottish Symphony Orchestra, Osmo Vanska (conductor)
2:31 AM
Brahms, Johannes (1833-1897)
Trio for viola, cello and piano (Op.114) in A minor
Maxim Rysanov (viola); Ekaterina Apekisheva (piano); Kristina Blaumane (cello)
2:57 AM
Schumann, Clara (1819-1896)
Variations on a Theme of Robert Schumann in F sharp minor (Op.20)
Angela Cheng (piano)
3:07 AM
Schumann, Robert (1810-1856)
Faschingsschwank aus Wien (Op.26)
Leif Ove Andsnes (piano)
3:28 AM
Holland, Jan David (1746-1827) [libretto by Fürst Maciel Radziwill]
Agatka, Czyli Przyjazd Pana (Agatha, or the Arrival of the Master) Singspiel 1784) - Overture
Concerto Polacco, Marek Toporowski (director)
3:34 AM
Strauss, Richard [1864-1949]
Till Eulenspiegels lustige Streiche (Op.28)
Warsaw Philharmonic Orchestra, Miguel Gomez Martinez (conductor)
3:49 AM
Locatelli, Pietro Antonio (1695-1764)
Violin Concerto in E flat (Op.7 No.6) "Il Pianto d'Arianna"
Europa Galante, Fabio Biondi (violin/director)
4:04 AM
Kyurkchiyski, Krassimir [1936-]
Bulgarian Madonna from 2 works after paintings of Vladimir Dimitrov - the Master
Simfonieta' Orchestra of the Bulgarian National Radio, Kamen Goleminov
4:09 AM
Tippett, Michael (1905-1998)
Five Spirituals from 'A Child of our Time' for chorus
BBC Singers, Stephen Cleobury (conductor)
4:21 AM
Beethoven, Ludwig van (1770 -1827)
Finale from the ballet music to "Prometheus"
Slovak Radio Symphony Orchestra in Bratislava (orchestra),
Ludovít Rajter (conductor)
4:31 AM
Svendsen, Johan (1840-1911)
Norsk kunstnerkarneval (Op.14)
Norwegian Radio Orchestra, Ari Rasilainen (conductor)
4:38 AM
Hurlebusch, Conrad Friedrich (1696-1765)
Concerto in A minor for two oboes, solo violin, strings and basso continuo
Paul van de Linden and Kristine Linde (oboes), Manfred Kraemer (violin), Musica ad Rhenum
4:50 AM
Handel, Georg Frideric (1685-1759)
Aria with variations from Piano Suite No.5 in E major (HWV.430) "The harmonious blacksmith"
Marián Pivka (piano)
4:56 AM
Szymanowski, Karol (1882-1937) arranged by Wilkomirski, Kazimierz (1900-1995)
Variations in B flat minor (Op.3) originally for piano and arranged for orchestra
Polish Radio National Symphony Orchestra in Katowice, Marek Pijarowski (conductor)
5:10 AM
Mendelssohn, Felix (1809-1847)
Symphony no. 4 (Op.90) in A major "Italian"
BBC Symphony Orchestra, Jirí Belohlávek (conductor)
5:39 AM
Uccellini, Marco [c.1603-1680]
Violin Sonata no. 7 from 'Opera V'
Davide Monti (violin)
5:45 AM
Reutter, Johann Georg (1708-1772)
Ecce quomodo moritur justus
Capella Nova Graz, Otto Kargl (conductor)
5:52 AM
Sibelius, Jean [1865-1957]
5 Esquisses for piano (Op.114)
Raija Kerppo (piano)
6:01 AM
Mozart, Wolfgang Amadeus [1756-1791]
Serenade in E flat major K.375 vers. for wind octet
Diamond Ensemble
6:25 AM
Anonymous early C.17th
Hanacpachap cussicuinin
Villancico, Peter Pontvik (conductor).