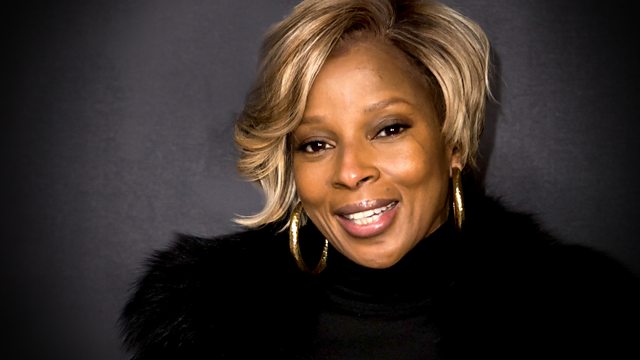 Mary J Blige; Louise Casey; Women on Bikes
Mary J Blige. Social isolation among the elderly - Sam Nicklin, Age UK and Jill Shaw Ruddock, founder of the Second Half Foundation give their ideas on how best to avoid it. Louise Casey, Director General of the Troubled Families scheme. We talk to Bristol historian, Jim McNeil about The Lady Tenor, Ruby Helder who died 75 years ago. Why are there so few women cyclists on the road? We discuss with Dr Rachel Aldred and Kirsteen Torrance.
Presented by Jane Garvey
Produced by Kirsty Starkey.
Last on
Mary J Blige
When she first emerged in 1992, Mary J Blige was labelled the Queen of Hip Hop with her unique look and hip-hop soul sound. She's since sold over 50 million albums, won nine Grammy Awards, been named by Billboard in 2010 as the most successful female R&B artist of the past 25 years, and as one of the world's most influential people by Time magazine. Yet behind all this success lies a tough past – a difficult upbringing and a previous life of abuse, drink, and drugs. She's worked hard to overcome that past - and to inspire and help other women - through her music and through the women's charities she's founded. And now, with a happy family life of her own, she's back with a new album - A Mary Christmas – an album of new songs and festive favourites. She joined Jane Garvey to talk about Christmas in the projects, working to overcome drink, drugs and abuse, how marriage and Whitney Houston's death inspired her to change, and finding happiness and success.
Mary J Blige's new album, A Mary Christmas, is out now on Decca
Isolation and the Elderly
Today is the launch of the Silver Line Helpline - the first confidential service for older people who need information, advice and protection from abuse or neglect. It's the most recent step to tackle the problem of loneliness amongst the elderly which the Health Secretary Jeremy Hunt has described as "our national shame". We discuss whether enough is being done to help.
Powerlister Louise Casey
The Woman's Hour Powerlister and Director General of the Department for Communities and Local Government's Troubled Families Programme talks to Jane.
Ruby Helder
She was known as The Lady Tenor because of her deep and powerful singing voice and many people, when they heard her recordings, refused to believe that it was actually a woman singing. Born in Bristol in 1890, Ruby Helder crossed the Atlantic in 1913 and enjoyed great success in The States. The famous tenor - Enrico Caruso - was one of her greatest fans and for years she toured America and was known to millions through her radio broadcasts. And yet, she is almost unknown in the country of her birth. 75 years since her death in Hollywood, Jane takes a look at Ruby Helder's life and music with Bristol local historian Jim McNeil.
Women Cyclists
Why aren't there more women cyclists on the roads? Jane talks to Dr Rachel Aldred, Senior Lecturer in Transport at the University of Westminister, and Kirsteen Torrance, Chair of Scotland's first women only national cycling club, Filles a Velo.
Credits
| Role | Contributor |
| --- | --- |
| Presenter | Jane Garvey |
| Producer | Kirsty Starkey |
| Interviewed Guest | Mary J Blige |
| Interviewed Guest | Sam Nicklin |
| Interviewed Guest | Jill Shaw Ruddock |
| Interviewed Guest | Louise Casey |
| Interviewed Guest | Jim McNeil |
| Interviewed Guest | Rachel Aldred |
| Interviewed Guest | Kirsteen Torrance |