Main content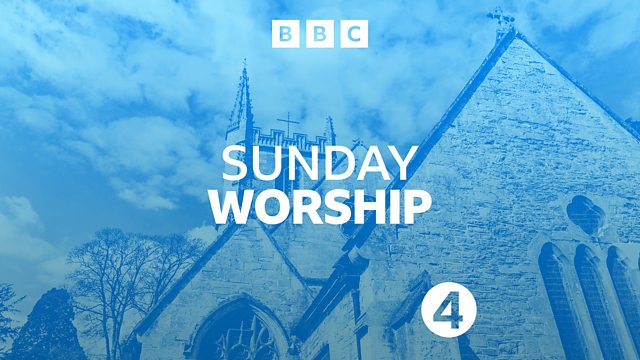 24/11/2013
From the Holy Name in Manchester, Fr Tim Byron SJ explores how serving the student community of Manchester enables the church to move from optimism to hope.
A service from the Holy Name in Manchester for the feast of Christ the King.
Situated on Oxford Road at the heart of the campus for the University of Manchester, the famous Holy Name Church is now the Church serving the University community in Manchester - one of the largest in Europe. Built and served by members of the Society of Jesus (Jesuits). On the feast of Christ the King, which celebrates the kingship of Christ over all Creation, Fr Tim Byron SJ explores how serving the student community of Manchester enables the church to move from optimism to hope.
With the RSCM Millennium Youth Choir directed by David Ogden
Leader: Fr William Pearsall SJ
Preacher: Fr Tim Byron SJ
Organist: Daniel Moult
Producer: Mark O'Brien.
Last on
Holy Name Church, Manchester
Sunday Worship – BBC Radio 4, 24th November 2013<?xml:namespace prefix = o ns = "urn:schemas-microsoft-com:office:office" />
Feast of Christ the Universal King
R4 opening anno:
BBC Radio 4, time now for this morning's Sunday Worship which comes live from the church of the Holy Name in Manchester. It's led by Father William Pearsall and begins with the anthem – 'Rejoice the Lord is King' sung by the Royal School of Church Music's Millennium Youth Choir.
CHOIR – Rejoice the Lord is King (Kelly)
Fr William Pearsall
In the Name of the Father and of the Son and of the Holy Spirit 
R:Amen
The Lord be with You
R: And with your spirit
Good morning and welcome Holy Name Church, home to the Jesuit community and University Chaplaincy in Manchester. This Sunday in the calendar of the western Church we celebrate the Feast of Christ the King. Today marks the end of the Church's liturgical year, that great cycle of holy days and seasons through which we relive the Christian story. Next Sunday will be the beginning of Advent and the Church's new year.  In celebrating Christ as King, we acknowledge his triumph over sin and death.  We affirm the universality of his saving message. We enthrone him once more in our hearts as our personal Lord and Saviour.  As a people of Faith, we are not only looking back to the deeds of the past. We look for God's work among us now. And we look to the future: to the coming in fullness of the Kingdom announced by Christ. This is our great hope.  Surrounded as we are by so many temptations to despair, we turn in faith to our one unfailing source of strength and courage. That hope is made real when we remember what kind of King we worship: one who came among us in humility, who called himself the good shepherd, who laid down his life for us. That so many men and women have chosen to follow this King is also a sign of hope for the human family.  We call to mind the many blessings which a loving God has showered upon us and we lift our voices in prayer and praise.  
HYMN -  O Worship the king
Fr Tim
PRAYER - 
Almighty ever living God whose will is to restore all things in your beloved Son, the King of the universe,  grant, we pray, that the whole creation, set free from slavery, may render your majesty service and ceaselessly proclaim your praise. Through our Lord Jesus Christ, your Son, who lives and reigns with you in the unity of the Holy Spirit, one God, for ever and ever.
R: Amen
Fr William
This famous Holy Name Church was once a thriving parish in the midst of a huge area of terraced houses along Manchester's Oxford Road. The houses have long gone and now the church stands among the buildings of a modern university community. There are libraries, administrative buildings and lecture halls, science labs and facilities for engineering studies; there's a hospital complex right behind the church with a world-famous medical school. The church itself is a great cathedral-like structure – the largest church in Manchester, and  a monument of high Victorian gothic. It was the Jesuits in the 1870s who first established the Holy Name mission in the years of Manchester's industrial growth. The church then was a symbol of hope in the midst of poverty and social inequality. Today the church stands solidly in the centre of a community of over 80,000 students, one of the largest student populations in Europe. The university is like a microcosm of the planet and it is here that many young adults experience for the first time the breaking down of old prejudices and the possibilities of a more united world. When this experience is grounded in Faith, it moves beyond mere optimism to real hope.  It is a story told throughout the Bible. God chooses the weak and makes them strong. He raises the lowly and gives them a place of honour in his Kingdom. Let's hear now from the Book of Samuel the story of the shepherd boy David and how he came to be anointed king of Israel. It's read by Vinaya who is a student from India doing an MSc in Accounting and Finance.
READER                                                                                           (2 SAMUEL  5:1-3)
In those days, all the tribes of Israel came to David in Hebron and said:  "Here we are, your bone and your flesh. In days past, when Saul was our king, it was you who led the Israelites out and brought them back.  And the LORD said to you, 'You shall shepherd my people Israel and shall be commander of Israel.'"  When all the elders of Israel came to David in Hebron, King David made an agreement with them there before the LORD, and they anointed him king of Israel.
The Word of the Lord – Thanks Be to God  
Responsorial Psalm  (Choir)
"I rejoiced when I heard them say" - Farrell
Fr William
Today, on the Feast of Christ the King, we remember that our king wore a crown of thorns and that his throne was a cross of death and shame. "Are you a king?" asked Pontius Pilate. "My kingdom is not of this world," Jesus replied. So, what kind of kingdom is this and where is it to be found?...  His is "an eternal and universal kingdom, a kingdom of truth and life, a kingdom of holiness and grace, a kingdom of justice, love and peace." No political programme, no utopian scheme could ever build such a kingdom. "The Kingdom of Heaven is within you - it is among you." Only on the foundations of faith and hope and love can such a kingdom be built. We see, for example, in Pope Francis a love which radiates out to touch the lives of many - including many who are not of his faith. We see in the lives of those who work for the poor and the needy, this message of hope. We see that wherever there is a tender and compassionate regard for one who suffers, there the gates of Paradise are opened. This is the sublime promise, which we hear in our Gospel this morning, made by Christ to the thief who hung beside him at the crucifixion. The Gospel is read by Fr Tim Byron, chaplain to the Universities in Manchester, who will also be preaching for us this morning.
SUNG ALLELUIA (CHOIR)
Fr Tim
The Lord be With You   
R:   And with your Spirit
Reading from the Holy Gospel According to Luke
R: Glory to you Lord
The rulers sneered at Jesus and said, "He saved others, let him save himself if he is the chosen one, the Christ of God."
Even the soldiers jeered at him. As they approached to offer him wine they called out, "If you are King of the Jews, save yourself."
Above him there was an inscription that read, "This is the King of the Jews."
Now one of the criminals hanging there reviled Jesus, saying, "Are you not the Christ?  Save yourself and us." The other, however, rebuking him, said in reply, "Have you no fear of God, for you are subject to the same condemnation? And indeed, we have been condemned justly, for the sentence we received corresponds to our crimes, but this man has done nothing criminal. "Then he said, "Jesus, remember me when you come into your kingdom. "He replied to him, "Amen, I say to you, today you will be with me in Paradise."
The Gospel of the Lord R: Praise to you Lord Jesus Christ 
SUNG ALLELUIA (CHOIR)
Fr Tim
There is a profound difference between optimism and hope. Today is about hope - the feast of Christ the Universal King – He is the reason for our hope.  Being around so many students here in Manchester fills me with optimism – their energy, their idealism, their passion.  But optimism can be fragile - we can easily get sucked down into swamps of cynicism, or wallow in a culture that delights in mocking.  We have just heard how they mocked Jesus on the cross '  If you are the King of the Jews save yourself'  Jesus is not the king of one ethnic group he is the universal King – In the midst of his suffering even the good thief senses this and rebukes them from his own cross – 'Have you no fear of God?  - and his reward is the promise of Jesus the King of Heaven  – ' Today you will be with me in paradise'.  Can you imagine how the good thief's heart soared with Hope on hearing this unexpected promise? Hope is deeply rooted, Hope is more resilient than optimism, it doesn't snap in the face of storms, nor does it wither away amidst hostility.   Christian Hope is anchored in two places – firstly our belief in the bodily resurrection of Jesus, so we can hope in the face of inevitable death, we can even hope in the face of disaster.  And secondly today we anticipate what the Catholic writer J.R.R Tolkien calls the 'Return of the King'.  That we look forward to Christ the King returning to bring about a new era of justice and peace for all people.  When it seems that there is too much suffering and evil is flourishing, leaders are getting away with oppressing and killing their own people – belief in the return of Jesus is not just wishful thinking, delusional – but is a wellspring of hope. 
As a university chaplain I see the potency of that hope every day.  Here in Manchester, our chaplaincy family consist of students from all over the world. They come from so many different situations, and what unites them is their faith, sometimes in the face of terrible persecution. Last week a young man from Pakistan told me how his family home was burnt down 6 months ago in anti-Christian Riots, students from Nigeria tell me with pride about the courage of their families who are going to church today even though there is a continual threat of bombing, the faith and devotion of a student from Syria, who is trying to help her family in Damascus is a constant inspiration.  These are intelligent, professional, scholars, many of them scientists who appear to have an unshakeable hope in their hearts.
Here in Britain we need communities of hope – our students here in Manchester have started the first student-run foodbank in the country.  It is needed because so many have lost the support of family – have no extended family they can turn.   But the student community here gives them hope, when they have to choose between heating their homes and eating – it is our foodbank that they can turn to which helps them through a short-term crisis, without creating dependency and also signposting them to other voluntary support groups.   And it is remarkable how much of this civil society is faith based.  They are communities of hope.
We are called to build communities of hope, the church is called to take risks and we can't just do it from the safety of the internet. There is a fascinating book by Sherry Turkle, an MIT Professor, called Alone Together - Why We Expect More from Technology and Less from Each Other.  So let us expect and give more to each other. Pope Francis is challenging us to get out of our digital bubbles, and also to stop hiding behind our ceremonies – and go out and spread our hope especially to the poor. He has said the Church that remains in the Sacristy gets sick.  We are being challenged to become a church that carries the hope that is rooted in our hearts to the edges and margins of society. Are we up to that challenge?
Fr William
The choir now sing Benjamin Britten's 'Hymn to St Columba', which tells of the missionary fire of St Columba for the 'King of Kings and Lord most high'.


Anthem   Hymn to St Columba – Benjamin Britten (CHOIR)
Fr William
We may feel at times that we are far from Heaven, we may feel that our prayers are not heard. Praying with others gives us courage. Let us support one another in faith as, led by members of our student community here at the Holy Name, we offer our prayers now for the needs of the world and for ourselves:
Ellie:
My name is Ellie from Lincolnshire studying English Literature.  We pray for greater hope in the community – may all our days, especially the darkest ones be lit by the light and the power of Christ's Resurrection, which brings us hope even in death.
Lord Hear Us - Lord Graciously Hear us.
Amani: My Name is Amani from Syria currently studying a PHD in theatre studies.  On this feast of the universal kingship of Christ we pray that we may have a growing awareness of His Power and see him as a uniting force in our world, to inspire peace and harmony among all people.
Lord Hear Us - Lord Graciously Hear us.
Adaobi:
I'm Adaobi from Nigeria currently studying a postgraduate course in Law.              We pray for the Church – all over the world, that she may continue spreading God's kingdom to every corner of the earth.  That her churches, schools and hospitals may be places of justice, peace and healing.  Places where people may feel the closeness of God.
Lord Hear Us -  Lord Graciously Hear us.
My name is Edwin, I am a Jesuit working in Guyana, South America and studying for a PHD in geo-microbiology.   We pray for those whose lives are dominated by material power – may they know that all things are passing and that the really strong are those who acknowledge and confess their weakness before God.  We pray for all leaders, that their words and actions may bring wisdom and justice.  We pray for all faith leaders, especially today Pope Francis and Archbishop Welby
Lord Hear Us -  Lord Graciously Hear us.
Our Father, Who art in heaven
Hallowed be Thy Name;Thy kingdom come,
Thy will be done, on earth as it is in heaven.
Give us this day our daily bread, and forgive us our trespasses,
as we forgive those who trespass against us; and lead us not into temptation,but deliver us from evil. Amen.
Fr William
Father, may our prayers on earth be united with those of all the saints, so that what we ask may be granted.  Through Christ Our Lord…. Amen
Anthem -Teach us good Lord  - Ogden   (CHOIR)    
Fr William
As we finish with the prayer of St Ignatius ringing in our eyes – we ask the lord for  that strength to be generous, to give and not to count the cost, to toil and not to seek for rest.
The Lord be with you   R: And with your spirit
May Almighty God Bless you the Father, the Son & the Holy Spirit
Go in peace & Give God Glory with your lives
Hymn  - Christ Triumphant
Organ voluntary
Broadcast