Main content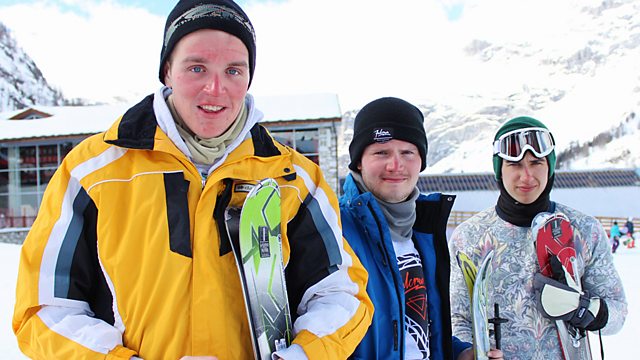 Parents secretly keep an eye on what their teenage kids get up to on their skiing holidays. Olly and Jake head to the French Alps for fun, with their mums watching on.
Series following three groups of holiday-making friends as they descend upon the ski and party capitals of Europe on a quest for freedom, temptation and excess in the winter holiday hotspots of Val d'Isere and Tignes, where the action on the slopes is nothing compared to what happens when the sun goes down.
But what these snow bounds kids don't know is that their parents are coming too, secretly spying on them, eager to see if their little ones can stand on their own two feet and behave responsibly. But are they ready for what they might see après ski? And how will their offspring cope when they get the shock of their lives?
In Val d'Isere, muscle man Olly, party boy Jake and four of their university mates are set for a week of anarchy in the Alps. There's snow, seduction and serious drinking, but it's Jake and Olly who are under the spotlight with their mums watching their every move.
20-year-old Olly was brought up in Lancaster by his doting single mum Fiona. He left home for university two years ago and his mum has no idea what he gets up to. Fiona couldn't be prouder of Olly, but she does fear that he could be drinking too much. Also getting ready for the big trip is 21-year-old Jake from Wakefield. Jake has lived away from home for two years, but his mum Libby still worries about his behaviour. She expects Jake to be respectful to other holidaymakers and not drink to excess. Joining ski addicts Jake and Olly are university mates Rossy, Moran, Katherine and Emily.
Arriving in France for a week of non-stop partying, the students waste no time getting wasted. As the drinks flow, things quickly spiral out of control. It is complete mayhem as their rowdy behaviour leads to their apartment being trashed and the neighbours complaining. And it doesn't end there - their noisy antics result in the local police getting involved. As mums Libby and Fiona watch on, seeing Jake and Olly's reckless and drunken behaviour proves very difficult viewing, and with Olly's 21st birthday celebrations still to come things could get much worse.
Credits
| Role | Contributor |
| --- | --- |
| Executive Producer | Jo Scarratt |
| Series Producer | Romy Page |