Main content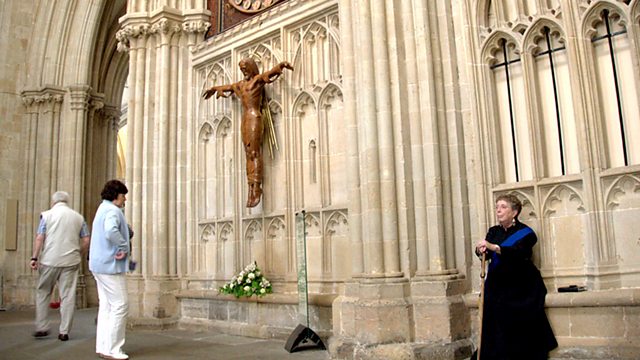 Series exploring the workings of three Church of England cathedrals continues by looking at what draws people to Wells, one of the wonders of English sacred architecture.
Wells Cathedral is one of the wonders of English sacred architecture, but what exactly is it that draws people here? What happens to them when they enter the cathedral? What needs does it meet? How deep does it go?
In the second of his trilogy of films about England's cathedrals, acclaimed documentary maker Richard Alwyn visits Wells Cathedral in Somerset to explore the peculiar pull that sacred buildings can have - their habit of stopping, stilling and prompting reflection.
Alwyn explores these questions in a series of moving conversations with people he meets at the Cathedral. Some are visitors, occasional or frequent. Others have a formal relationship with the cathedral - a volunteer 'welcomer' and the senior organ scholar. Some are Christian; others have no allegiance to any church at all.
In addition to these one-off encounters, Alwyn meets a volunteer day chaplain, Sue. Now in her 60s, Sue first visited Wells as a child with her family and later lived there with her husband. She got a job as a cleaner at the cathedral, but this was at a time when her life was falling apart as she developed a drug addiction that would last for 25 years - 'it was like living next door to paradise, I could see it but couldn't get in'.
Recurring throughout the film, Alwyn's encounters with Sue become an intensely personal reflection on the battles in her life and the part the cathedral played in her survival. For Sue, a lifelong Christian, language is inadequate to communicate her experience of God and religion, but the cathedral is at the heart of it - 'whatever it is, this thing that I can't find words for, I don't think there are words for, includes Him and probably includes the word 'God'. But there is still this more, and what happens for me when I come in here is that I get that part of the more is here. Part of the more is here.'
Sue's extraordinary, inspiring story forms the backbone of this moving and beautiful portrait of Wells Cathedral and the people who are drawn to it.
Music Played
Timings (where shown) are from the start of the programme in hours and minutes
Credits
| Role | Contributor |
| --- | --- |
| Producer | Richard Alwyn |
| Director | Richard Alwyn |
| Executive Producer | Archie Baron |