Main content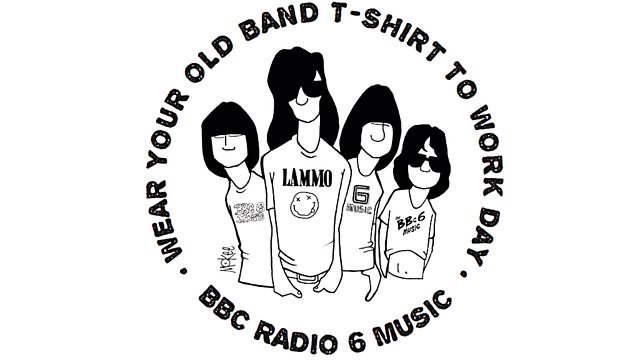 Wear Your Old Band T-Shirt to Work Day VI #tshirtday
It is the sixth annual Wear Your Old Band T-Shirt to Work Day, so join thousands of 6 Music listeners by wearing one of your favourite band t-shirts to work.
Today 6 Music celebrates its annual 'Wear Your Old Band T-Shirt To Work Day'. Now in its sixth year, the station asks listeners to participate in the day by simply wearing one of their favourite band t-shirts to work.
In recent years, t-shirts have been worn under lab coats, in classrooms and by whole offices. Those getting involved are asked to send in pictures of themselves in their t-shirts to the 6 Music website and via Twitter and Facebook.
This year sees a brand-new 6Music T Shirt design being produced and created by Sheffield artist Pete McKee. Pete has a long history designing for music, having worked with Oasis when Noel Gallagher asked him to design tour posters for the band and his solo shows. Pete has gone onto work with The Arctic Monkeys and Richard Hawley as well as hosting exhibitions based around great moments in popular music, Teenage Kicks and Mods. He will be joining Steve Lamacq in the build-up to Wear Your Band T-Shirt To Work Day to unveil the brand-new 6 Music design.
So, 6 Music says get involved, dig out your t-shirts and be proud! Bring back the lost art of showing people 'I was there at the Brixton Academy in 1998' or 'I travelled all the way to Wolverhampton on a Tuesday in November and still have the shirt to prove it!
#tshirtday.
Last on
Clips

Music Played
Arctic Monkeys

One For The Road

Beastie Boys

(You Gotta) Fight for Your Right (To Party!)

British Sea Power

Please Stand Up

Hank C. Burnette

Spinning Rock Boogie

The Clash

White Man In Hammersmith Palais (With Tom)

The Cooper Temple Clause

Blind Pilots

Rose Elinor Dougall

Future Vanishes

Foo Fighters

Learn To Fly

Fugazi

Merchandise - BBC Sesison 11/12/1988

Guns N' Roses

Welcome To The Jungle

Richard Hawley

Open Up Your Door

The Human League

The Sound Of The Crowd

Idlewild

You Held the World in Your Arms

DJ Jazzy Jeff

&

The Fresh Prince

Boom! Shake the Room

K‐Klass

Rhythm Is A Mystery

The Kinks

All Day And All Of The Night

Lush

500 (Shake Baby Shake)

Midlake

The Old And The Young

New Model Army

March in September

Pixies

Another Toe in the Ocean

Smokey Robinson

&

The Miracles

Going To A Go-Go

Dan le Sac vs. Scroobius Pip

Letter From God To Man

Sex Pistols

I'm Not Your Stepping Stone

Frank Turner

I Still Believe

CD SINGLE.
XTRA MILE RECORDINGS.
1.
Broadcast