Main content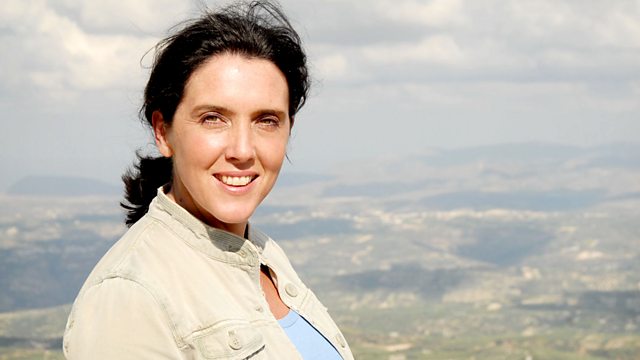 Roman Voices
Historian Bettany Hughes explores why Britain became part of the Roman Empire in 43AD and what it was like for the soldiers, women and the children who lived here at this time.
Historian Bettany Hughes explores what made Britain so attractive to the ancient Romans that they made it a province of their great empire. Bettany visits the Roman fort at Vindolanda, the sacred baths at Aquae Sulis and the Corinium Museum, to find out what life was like for the Roman soldiers, women and children who lived in Roman Britain. Looking at stunning artefacts, from a ring inscribed with 'mum and dad', to pieces of lead inscribed with sadistic curses and a beautiful piece of painted glass depicting gladiatorial fights, Bettany unravels how people lived at this time. We see archaeologists in action and find out what Romano-British homes of the wealthy would have looked like, and learn how their elaborate under-floor heating systems - known as hypocausts - worked, and were also a daily potential hazard.
Bettany has a go at writing on a wax tablet, just like the ones children would have practised on in Roman Britain, and nearly gags when she sniffs the fermented fish sauce that the Romans loved so much. We learn about the unusual delicacies the Romans loved to eat, such as dormouse sprinkled with honey and poppyseeds, as well as the foods they brought to our country, which we now think of as being so typically British - apples, peas and cabbage.
The highlight of the films is undoubtedly the postcards from the past - the Vindolanda letters. Written on slivers of birch or alder wood, these letters to and by the Roman soldiers and their families tell us of birthday celebrations and the need for underpants - the actual words of the people who lived in Britain around 2,000 years ago.
This fascinating compilation of films builds a picture of not only what life was like in Roman Britain, but also the lasting legacies of the Roman Empire.
Credit
| Role | Contributor |
| --- | --- |
| Presenter | Bettany Hughes |
Featured in...
KS2. Engaging short films about history specially made for 7-11 year-olds.