Main content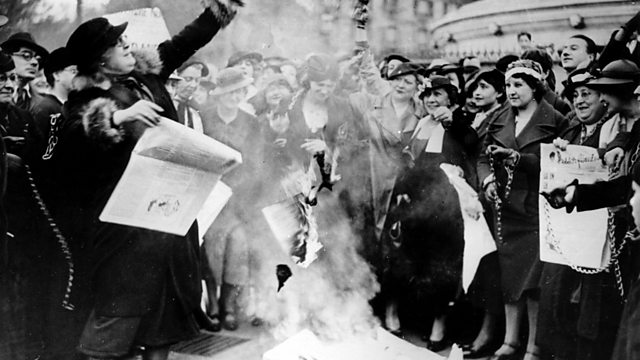 Rebranding feminism; WH power-lister Pinky Lilani
Jane Garvey on rebranding feminism, 100 plays that put women centre-stage, and what is being done to assist the women who have been left 'painfully vulnerable' in the Philippines.
Does feminism need a rebrand? Thousands of girls and women have been left "painfully vulnerable" in the typhoon-struck Philippines, according to the International Development Secretary Justine Greening - we hear the latest from the region. Why the Royal College of Obstetricians and Gynaecologists is proposing restrictions on labiaplasty in both NHS and private clinics following a rise in the number of women seeking the procedure. Plus Powerlister Pinky Lilani on the importance of networking in helping you achieve success and a hundred plays that showcase women's talents putting them centre stage.
Presented by Jane Garvey
Produced by Ruth Watts.
Clips

Chapters
Block Of Child Abuse Searches Online

Jim Gamble, former head of CEOP - the Child Exploitation and Online Protection agency

Duration: 04:29

Labiaplasty – NHS Restrictions

Dame Suzi Leather of the RCOG & Consultant Gynaecologist Sarah Creighton of UCL Hospitals

Duration: 09:21

Women And Girls In The Philippines

Karin Van der Hor of Plan International on the danger to women & girls after the typhoon

Duration: 03:16

Power Lister Pinky Lilani OBE

The Asian Women of Achievement Awards Founder & Spice Magic CEO on networking & cooking

Duration: 07:41

Does Feminism Need Rebranding?

Lorraine Candy, Editor In Chief of Elle UK, and Caroline Criado-Perez of the Women's Room

Duration: 10:26

Nobel Prize Winning Feminist Author Doris Lessing

Doris Lessing – who has died at 94 – speaks to Jenni about her novel The Golden Notebook

Duration: 03:45

Power Lister Pinky Lilani OBE

Power Lister Pinky Lilani OBE cooks Bombay potatoes in the studio

Duration: 01:39

Block Of Child Abuse Searches Online

Leading search engine companies Google and Microsoft have agreed measures to make it harder to find child abuse images online. As many as 100 000 search terms will now return no results, and will trigger warnings that child abuse imagery is illegal. Jane is joined on the line by Jim Gamble, former head of CEOP - the Child Exploitation and Online Protection agency.

Labiaplasty – NHS Restrictions

Labial reduction procedures have risen five-fold in the NHS over the past 10 years, with over 2000 operations performed in 2010. But, say the Royal College of Obstetricians and Gynaecologists and the British Society for Paediatric and Adolescent Gynaecology, little research exists about the clinical effectiveness and risks in female genital cosmetic surgery. Dame Suzi Leather, Chair of the Royal College of Obstetricians and Gynaecologists Ethics Committee, and Consultant Gynaecologist Sarah Creighton from University College London Hospitals join Jane Garvey to discuss their concerns.

 

Women And Girls In The Philippines

As thousands of girls and women have been left "painfully vulnerable" in the typhoon-struck Philippines, according to the International Development Secretary Justine Greening, we hear the latest from the region.

 

To donate to the DEC appeal, visit the committee's website.

Pinky Lilani

Pinky Lilani OBE has founded a number of awards and initiatives to champion women and to celebrate their achievements, including the Women of the Future Awards and Ambassadors programme. She believes in the importance of building relationships and putting people in touch with each other across business, politics, the arts, sciences, and society – and spends both her professional and personal time doing so. Jane speaks to Pinky Lilani, Founder and Chair of the Asian Women of Achievement Awards and Chief Executive of Spice Magic.

Does Feminism Need Rebranding?

Does Feminism need rebranding? With many women reluctant to call themselves a feminist and arguments about who gets to call themselves one, is it time to reassess the appeal of feminism? Elle magazine hired an advertising agency to see what could be done to attract women to identify with feminist concerns like the 15 per cent pay gap, and tonight they'll be hosting a debate about whether feminism needs rebranding. Jane talks to Lorraine Candy, Editor in Chief of Elle UK and to Caroline Criado-Perez, co-founder of the Woman's Room and the feminist campaigner who fought to keep women on banknotes.

Pinky Lilani's Recipe For Spicy Bombay Potatoes

1 lb potatoes (new potatoes are great, because they don't fall apart if you over cook)

2 tbsp vegetable oil

A few curry leaves (don't panic if you don't have any - they can be left out)

Half tsp mustard seeds

1 tsp freshly ground garlic

2 tbsp coriander/cumin powder

Quarter tsp chilli powder

Half tsp turmeric

1 tbsp tomato puree

Salt to taste

A handful of finely chopped coriander leaves.

Boil potatoes with their skin on, until fully cooked. Let them cool slightly and remove skin with your fingers (not with a knife). The skin will peel off very quickly if the potatoes are still warm.

Dice the potatoes into 1 inch pieces.

Mix the coriander/cumin powder, chilli powder, turmeric, and tomato puree with half a cup of water

Heat the oil, and drop the mustard seeds in when the oil is hot (it should sizzle)

Add the garlic, and also the spice mixture. Stir around and add the potatoes.

Cook for 2 to 3 minutes, ensuring all the potatoes are covered with the spice mixture. Add salt and garnish with coriander leaves.

If you would like more sauce, just add some more water.

Credits

| Role | Contributor |
| --- | --- |
| Presenter | Jane Garvey |
| Interviewed Guest | Lorraine Candy |
| Interviewed Guest | Caroline Criado-Perez |
| Interviewed Guest | Lucy Kerbel |
| Interviewed Guest | Diane Samuels |
| Interviewed Guest | Pinky Lilani |
| Interviewed Guest | Suzi Leather |
| Interviewed Guest | Lih-Mei Liao |
| Producer | Ruth Watts |