Main content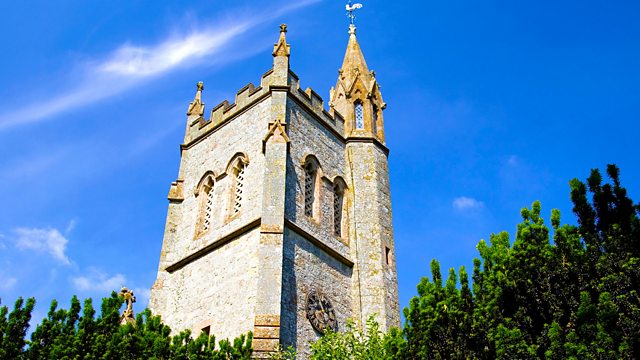 A Vision of Heaven
CS Lewis's biographer Prof Alister McGrath marks the 50th anniversary of the author's death, live from Lewis's parish church of Holy Trinity, Headington.
'A Vision of Heaven.' CS Lewis' biographer Professor Alister McGrath preaches live from Lewis' Parish Church of Holy Trinity Headington Quarry on the outskirts of Oxford in this service marking the fiftieth anniversary of the author's death. With Canon Angela Tilby and the Vicar of Holy Trinity The Revd Tim Stead. Director of Music: Sarah Lister. Producer: Philip Billson.
Last on
CS Lewis - Headington Parish Church 17/11/13
Please note:

This script cannot exactly reflect the transmission, as it was prepared before the service was broadcast. It may include editorial notes prepared by the producer, and minor spelling and other errors that were corrected before the radio broadcast.

It may contain gaps to be filled in at the time so that prayers may reflect the needs of the world, and changes may also be made at the last minute for timing reasons, or to reflect current events. 
"A VISION OF HEAVEN"
OPENING from Continuity: BBC Radio 4. It's ten past eight and time now for Sunday Worship which comes live from the Oxford parish church where CS Lewis worshipped. The preacher is the Revd Professor Alister McGrath. The service is led by Canon Angela Tilby and begins with Tallis' anthem: 'If ye love me'. 
Choir: If ye love me Tallis
AT: Good morning and welcome to Oxford and to Holy Trinity Church, Headington Quarry for A VISION OF HEAVEN – a service in celebration of C.S Lewis in the year which marks the 50th anniversary of his death. Later we'll hear from Alister McGrath who has written a recent and much –acclaimed biography of him. Clive Staples Lewis is best known for his Narnia novels and for his Christian apologetics - writings based on radio talks which he gave during and after the Second World War.  Lewis was originally from Northern Ireland and became one of Oxford's greatest literary scholars though he was never wholly at ease among the 'dreaming spires'. The story of his gradual conversion to Christianity is told in his autobiography Surprised by Joy. He always claimed to be an 'ordinary' Christian, not a theologian or a closet pastor – in fact some found him a rather abrasive personality. He had no time for half hearted Christianity. For him faith changed everything bringing a new hope to all who dared to acknowledge that God is God.
Hymn: All my hope on God is founded.
AT: With me now is the Revd Tim Stead who is the vicar of Holy Trinity Church and he will lead us in our opening prayers.
TS: Grace, mercy and peace from God our Father and the Lord Jesus Christ be with you: and also with you.
Let us hear our Lord's blessing on those who seek to follow him:
1. Blessed are those who mourn
    for they shall be comforted.
2. Blessed are the merciful,
    for they shall obtain mercy.
3. Blessed are the peacemakers,
    for they shall be called 'Children of God'
and so let us confess our sins and our failure to keep this way of truth and life:
ALL:
Most merciful God,
      Father of our Lord Jesus Christ,
      we confess that we have sinned
      in thought, word and deed.
      We have not loved you with our whole heart.
      We have not loved our neighbours as ourselves.
      In your mercy        forgive what we have been,
      help us to amend what we are,
      and direct what we shall be;
      that we may do justly, love mercy,
      and walk humbly with you, our God.
      Amen.
The Lord enrich you with his grace
and nourish you with his blessing;
the Lord defend you in trouble
and keep you from all evil;
the Lord accept your prayers
and release you from your sins,
for the sake of Jesus Christ, our Saviour. 
ALL: Amen
O God of searing truth and surpassing beauty,
we give you thanks for Clive Staples Lewis
whose sanctified imagination lights fires of faith
in young and old alike;
Surprise us also with your joy
and draw us into that new and abundant life
which is ours in Christ Jesus,
who lives and reigns with you and the Holy Spirit,
one God, now and for ever.
ALL: Amen.
Collect for C.S. Lewis, The Episcopal Church (USA)
CHOIR: Psalm 121 (Walford Davies)
AT: After his conversion C.S Lewis became a regular church goer. He worshipped in his college chapel, Magdalen and here at Holy Trinity, where he liked to sit behind a pillar where he couldn't be seen. Church going was not easy for him. He hated organ music, thought the words of most hymns were a literary disgrace and was irritated by sermons that he thought were poorly argued. He was critical of the theological tendencies of his time, especially of the prevailing Biblical scholarship which he thought unnecessarily sceptical. In his Christian writings he wanted to prod people into questioning the kind of easy agnosticism which was fashionable among his contemporaries. He was particularly aware of the way belief in an afterlife had come to be ridiculed  by critics of Christianity as 'pie in the sky when you die'  - an imaginary compensation for those who had a raw deal in this life, a compensation designed to keep the poor compliant and humble instead of fighting for justice. Lewis's response was to argue that hope for a better world could never deliver unless it was grounded in something more than the here and now.
Mike Stranks: [edited for copyright reasons]
Taken from CS Lewis Mere Christianity. London: HarperCollins, 2002, 134; 136-7.
HYMN:  Praise my soul the King of Heaven
AT Although C.S Lewis liked to appeal to reason in his Christian writings his thoughts on hope are not just a matter of argument – hope was something to be practiced. He knew how many people despair of themselves and find it difficult to accept God's forgiveness. After all, he had to live with himself, his bad temper, and frequent lack of charity. XXX [who] will read from John's Gospel [knew him personally]:
READER 2 A reading from John Chapter 6 beginning at verse 43
43 Jesus answered them, "Do not complain among yourselves. 44 No one can come to me unless drawn by the Father who sent me; and I will raise that person up on the last day. 45 It is written in the prophets, 'And they shall all be taught by God.' Everyone who has heard and learned from the Father comes to me. 46 Not that anyone has seen the Father except the one who is from God; he has seen the Father. 47 Very truly, I tell you, whoever believes has eternal life. 48 I am the bread of life. 49 Your ancestors ate the manna in the wilderness, and they died. 50 This is the bread that comes down from heaven, so that one may eat of it and not die. 51 I am the living bread that came down from heaven. Whoever eats of this bread will live forever; and the bread that I will give for the life of the world is my flesh."
HYMN: Bread of the world in mercy broken (Louis Bourgeois – lovely),
SERMON (The Revd Prof Alister McGrath):
May I speak in the name of God, Father, Son and Holy Spirit. Amen.
The Christian faith is often compared to a journey through this world to the New Jerusalem. And as we travel, we often look backwards to those who have made this journey before us; to those who have helped us in our journey of faith. C. S. Lewis worshipped here in this Oxford church from 1930 until his death fifty years ago this month. Though one of the most celebrated writers of his age, he was happy to be an ordinary member of this congregation. Some here today will remember him personally, sitting in the same pew every Sunday with his brother Warnie.
But others now will know him through his books. And curiously, that's probably how Lewis would want to be remembered. In the 1930s, Lewis declared that a writer is not a spectacle, who says "Look at me!" Rather, a writer is more like a set of spectacles, who says "Look through me!" Lewis himself gives us a way of looking at the world and ourselves which has proved deeply satisfying to both the mind and the soul. In one of his more memorable quotes, Lewis declared that his faith in Christianity lay in its ability to illuminate reality. "I believe in Christianity", he wrote, "as I believe that the sun has risen – not only because I see it, but because by it I see everything else."
The Christian faith, Lewis discovered, gave him a lens that brought things into focus. It was like turning a light on, and seeing things properly for the first time. The powerful image of the sun rising and illuminating a dark landscape captures Lewis's basic conviction that Christianity makes sense of things—far more sense than the atheism he had embraced as a younger man. One of the themes that came to mean so much to him was the hope of heaven.
Like many other Christian writers before him, Lewis declares that the hope of heaven enables us to see this world in its true perspective. This life is the preparation for that greater reality. It is, as Lewis put it, the cover and title page of the "Great Story," in which every chapter is better than the one which went before.
For Lewis, this world is God's world, and is to be valued, appreciated, and enjoyed. Yet it is studded with clues that it is not our real home; that there is a still better world beyond its frontiers; and that one may dare to hope to enter and inhabit this better place. Lewis affirms the delight, joy, and purposefulness of this present life. Yet he asks us to realize that, when this finally comes to an end, something even better awaits us. Lewis believed that the secular world offers people only a hopeless end and he wanted them to see and grasp the endless hope of the Christian faith, and live in its light.
Does this mean that Lewis is a "world-denying" writer, who treats this world as devoid of value? No. Lewis was clear that to "aim at Heaven" is not to neglect this world or earthly concerns. Rather, it is to raise our horizon and elevate our expectations—and then to behave on earth in the light of this greater reality. We must try and infuse earth with the fragrance of heaven. The true believer is not someone who disengages with this world in order to focus on heaven, but the one who tries to make this world more like heaven. Lewis is surely right when he declared that "the Christians who did most for the present world were just those who thought most of the next."
As we look backwards to remember Lewis, let us, like him, also look forward to anticipate heaven. As Lewis once remarked, "I must keep alive in myself the desire for my true country." Some lines from The Last Battle, the concluding novel of the "Chronicles of Narnia", capture this point particularly well. On seeing the "new Narnia," the Unicorn declared: "I have come home at last! This is my real country! I belong here. This is the land I have been looking for all my life, though I never knew it till now." For Lewis, the Christian hope is about returning home to where we really belong.
Lewis was no killjoy. He does not deny that we experience desire in this life, nor does he suggest that these desires are evil or a distraction from the real business of life. His point is that our desires cannot be, and were never meant to be, satisfied by earthly pleasures alone. They are "good images" or signposts of something "further up and further in." They are foretastes of the true source of satisfaction that we will find in the presence of God. For Lewis, heaven is the "other country" for which we were created in the first place. We should, he declares, "make it the main object of life to press on to that other country and to help others do the same."
This rich vision of heaven, deeply rooted in the New Testament, was something that brought Lewis hope, especially in the final years of his life. The Christian hope, Lewis insisted, was not, as he put it, some "form of escapism or wishful thinking," but was rather "a continual looking forward to the eternal world."  Hope is a settled state of mind, in which we see this world in its true light, and look forward to our final homecoming in heaven. We trust in Jesus Christ, who our gospel reading declared to be "the living bread that came down from heaven". Our hope is based on him – the one who came into this world, and conquered death. Lewis would surely have echoed the famous statement of Cyprian of Carthage, who was martyred for his faith in North Africa in the third century: "Paradise is our native land."  Lewis shared Cyprian's hope at the thought of returning to his true homeland. And he would want us to share that hope as well.
Amen.
AT:  That very vivid hope of heaven belongs to the roots of Christianity and it's something Lewis would have shared with the composer John Tavener who died last week, just after speaking on Radio 4 about his thoughts on death. Tavener converted to Orthodoxy and much of his music reflects the chants of Eastern Christianity. Like the icons of the saints with their golden background the music of the Eastern Church evokes a longing for heaven and a sense of the eternity for which we are created. Here's part of his famous Song for Athene.
CHOIR: Extract of Song for Athene (Tavener)
Alleluia. May flights of angels sing thee to thy rest.
Alleluia. Remember me, O Lord, when you come into your kingdom.
Alleluia. Give rest, O Lord, to your handmaid, who has fallen asleep.
Alleluia. The Choir of Saints have found the well-spring of life and door of Paradise.
Alleluia. Life: a shadow and a dream.
Alleluia. Weeping at the grave creates the song: Alleluia. Come, enjoy rewards and crowns I have prepared for you.
Alleluia.
AT: In our age it is tempting for Christians to justify their faith as useful or helpful without engaging with whether or not it is actually true. C.S Lewis reminds us that a faith that is not based on truth cannot really bring us the fulfilment which he believed we are made for. In our life, as in our prayers we need to start from the end; from Gods will to bring his creatures to glory.
PRAYERS: Revd Tim Stead + one female voice?
And so, giving thanks for the hope which C.S.Lewis both wrote about and believed in, we pray that we, too, would be inspired by a vision of heaven on earth and would offer our own lives to bring that vision to our world.
Lord of heaven and earth: Bring hope to your people.
Praying especially for all those caught up in the devastating hurricane in the Philippines, we stand with those for whom there appears to be no hope: those who have lost loved ones, homes, and whose whole communities have been destroyed. We pray that even small seeds of hope might grow and grow and so inspire all as they work to rebuild their lives and communities in the coming weeks, months and years.
Lord of heaven and earth: Bring hope to your people.
We pray for all who have found new hope in Jesus Christ and in the Christian vision. We pray especially for those who will be confirmed in this church next Sunday by the Bishop of Oxford.
Lord of heaven and earth: Bring hope to your people.
We pray for those who struggle to hold on to hope – whose vision of a better world has been marred by failures and broken dreams. We pray that in the quietness the still small voice of calm would speak to us of outrageous possibilities and bring new courage to all who wait upon the Lord.
Lord of heaven and earth: Bring hope to your people.
Finally we pray also for this church community and her witness to the local area – that we might be a beacon of hope – an open door between heaven and earth, showing God's love for all.
Lord of heaven and earth: Bring hope to your people.
ALL: OUR Father, who art in heaven, Hallowed be thy Name. Thy kingdom come. Thy will be done, On earth as it is in heaven. Give us this day our daily bread. And forgive us our trespasses, As we forgive those who trespass against us. And lead us not into temptation, But deliver us from evil. For thine is the kingdom, and the power, and the glory, for ever and ever. Amen.
Revd Tim Stead
May Christ who makes saints of sinners,
Who has transformed those we have remembered today,
Raise and strengthen you that you may transform the world.
And the blessing of God, Father, Son and Holy Spirit
Go with you and stay with you now and evermore.
ALL: Amen.
HYMN: Light's Abode, Celestial Salem (Regent Square)
VOLUNTARY
Broadcast