Winged Buffet
Every autumn Spurn Point National Nature Reserve is inundated with small migrating birds from continental Europe. Exhausted from their journey across the North Sea blackbirds, redwings, stonechats and other small birds make easy picking for one of the UK's most charismatic birds of prey. Also the smallest falcon in the UK, merlin are dynamic and quick - blink and you'll miss them as they dash past on the hunt.
Chris Sperring meets Peter Wright, former head ranger of the Yorkshire Dales National Park and an expert in merlin having studied them in their upland breeding habitat for many years. Chris and Peter join Andy Gibson, the Outer Humber officer for the Yorkshire Wildlife Trust who shows them what attracts merlin - and other birds of prey to Spurn Point National Nature Reserve.
Last on
Peter Wright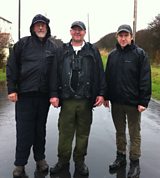 Peter Wright (left) was born and brought up in Skipton on the edge of the Yorkshire Dales and from an early age developed a passion for bird watching, particularly on the open moorland where he first encountered the Merlin.
After 13 years as a draftsman for Rolls-Royce Aero-engines Peter had a complete change of career spending the following twenty years working for the Yorkshire Dales National Park, initially as an Area Ranger in Lower Wharfedale and subsequently as Head Ranger for the National Park.
 
Peter has published two papers on the Merlin: the first in the BTO's journal 'Bird Study' and the second in their journal 'Ringing and Migration' these papers are combined to form the basis of the book - 'Merlins of the South-east Yorkshire Dales'.
Picture shows from left to right, contributors Peter Wright and Andrew Gibson with presenter Chris Sperring.

Andrew Gibson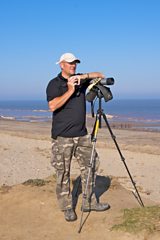 Andrew Gibson came to Spurn first as a child and remembers little more than it being a large sand dune; returning in the mid 1970's looking for birds. Growing up in Hull and starting his bird watching around the western edge of the city there soon developed the desire to travel to the coast and it was Spurn that offered the spectacle of bird migration. That was the start of Andrew's association with this unique Yorkshire land form. Working in building services as a design and contracts engineer provided the funds to travel in pursuit of bird watching but always returning to Spurn.
In 2002 Andrew became a warden with Yorkshire Wildlife Trust, based at Spurn Point. He now finds himself not just working and living at Spurn but working his way back to Hull along the North bank of the Humber, putting grazing back on the saltmarshes.
Andrew believes that Spurn is the best place to watch the migration on the east coast of England and it is also a place to watch the landscape migrate, but that's a story for another time.

Outside Spurn Lighthouse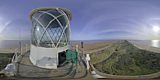 Image courtesy of Mike McFarlane
Male merlin in their moorland breeding habitat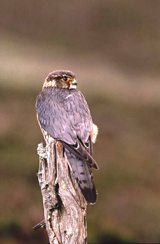 Image courtesy of Peter Wright.

Peter weighing a merlin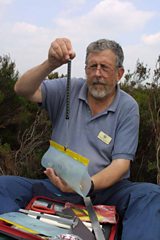 Image courtesy of Peter Wright
Dunlin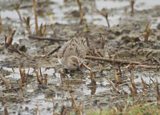 Dunlin photographed at Spurn. 
Image courtesy of Chris Sperring.