Main content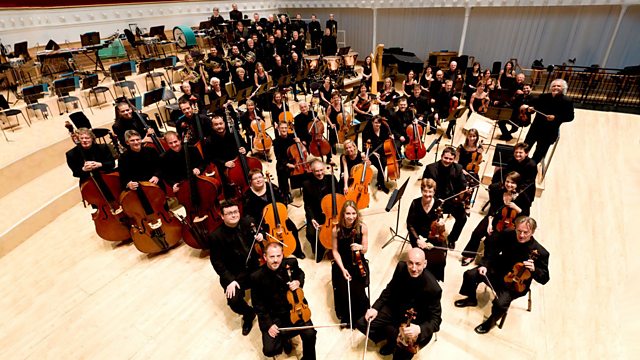 Britten 100: BBC SSO - Britten, Mahler
From City Halls, Glasgow, BBC SSO under Martyn Brabbins in a Britten celebration. Britten: Gloriana; 4 Chansons Francaises (with Elizabeth Watts: soprano). Mahler: Symphony No 4.
Britten 100 Live in Concert. Martyn Brabbins and the BBC Scottish Symphony Orchestra mark Benjamin Britten's centenary by performing his works alongside the 4th Symphony of Mahler.
Live from City Halls, Glasgow
Presented Jamie MacDougall
Britten: Gloriana Symphonic Suite
Britten: Quatre Chansons Françaises
8.15
Interval Music
Jamie MacDougall explores the musical links between Britten and Mahler
8.35
Mahler: Symphony No 4
Elizabeth Watts (soprano)
BBC Scottish Symphony Orchestra
Martyn Brabbins (conductor)
The BBC Scottish Symphony Orchestra is conducted by Martyn Brabbins in a concert which forms part of events marking the centenary of Benjamin Britten: with two of the composer's works and a symphony by one of his heroes, Gustav Mahler. The concert opens with Britten's Symphonic Suite 'Gloriana', extracted from his coronation opera, it depicts scenes of Elizabethan tournaments and courtly dance.
The orchestra is joined by soprano Elizabeth Watts for a performance of Britten's early song cycle, written before his 15th birthday, the 1928 Quatre Chansons Françaises. In this quartet of songs, Britten sets atmospheric French texts by Victor Hugo and Paul Verlaine, ranging in theme from the heady scents of a summer night to the rough tossing of an autumn wind.
The second half of the concert features a symphony first encountered by Britten only two years after the composition of the 4 French Songs, Mahler's Symphony No 4, to which the young composer responded: '...what I heard was not what I had expected to hear ... the scoring startled me... The colouring seemed calculated to the smallest shade, and the result was wonderfully resonant.'.