Main content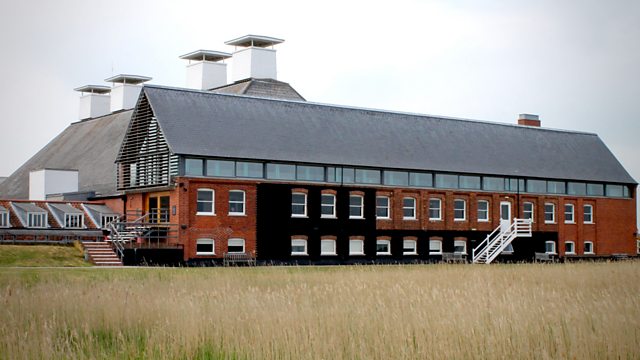 In Tune: Britten Centenary Weekend Launch
Sean Rafferty begins the Britten centenary celebrations with live music, including two world premieres, guests and more from the Britten Studio at Snape Maltings, Suffolk.
Sean Rafferty launches BBC Radio 3's weekend marking Britten's centenary with a special edition of In Tune, live from The Britten Studio at Snape Maltings. There's live performance from Aldeburgh Strings, tenor Allan Clayton and horn player Richard Watkins. And linking up to London and Salford, the BBC Singers perform Britten's Hymn to St Cecilia and the BBC Philharmonic join the celebrations with two newly orchestrated songs from his 'Friday Afternoons' sung by 230 voices from the Greater Manchester Music Hub Junior Choir. Sean and his guests will be reflecting on the integral connection between Britten's music and his Suffolk surroundings, and two local children's choirs will give the world premieres of works by young composers Tom Rose and Emily Hall.
From the actual afternoon of Benjamin Britten's 100th birthday on Friday 22 November until the following Sunday evening, Radio 3 will be relocating to Suffolk, the county of Britten's birth and where he felt most firmly rooted. Based in Snape Maltings, where Britten created one of the UK's finest concert halls, it will be a weekend packed with broadcasts of live and specially recorded performances from Suffolk venues, including those in Aldeburgh, Snape, Orford and the town of Britten's birth, Lowestoft.
There will also be features, discussions, contributions from those who knew and worked with Britten, plus his recordings both of his and others' music, bringing to life Britten the composer, Britten the performer and Britten the man.
The weekend will include selections from two sepcially recorded interviews excerpted for broadcast and available online in full:
Pianist Murray Perahia talks about his unique insight into Britten's extraordinary piano playing. When he took over from Britten as Peter Pears' accompanist, Perahia received personal coaching from the composer.
Marion Thorpe, one of Britten's closest friends, reveals a very personal portrait of the composer she knew so well.
Twelve mini-features get closer to Britten the man. 'Britten at Home' looks at Britten and Cars, Sport, Pets, Food, Clothes, Games, while 'Britten's Suffolk' explores the importance to Britten of his environment and look at The Sea, Churches, Lowestoft and Greshams, Aldeburgh, The Red House, The Maltings.
Regular Radio 3 presenters Suzy Klein, Tom Service, Sean Rafferty, Louise Fryer and Andrew McGregor are joined by Britten expert John Bridcut for an unmissable weekend.
Photos and comments from the Britten Centenary Weekend, based at Snape Maltings
Music Played
Britten's Suffolk: Snape Maltings