Main content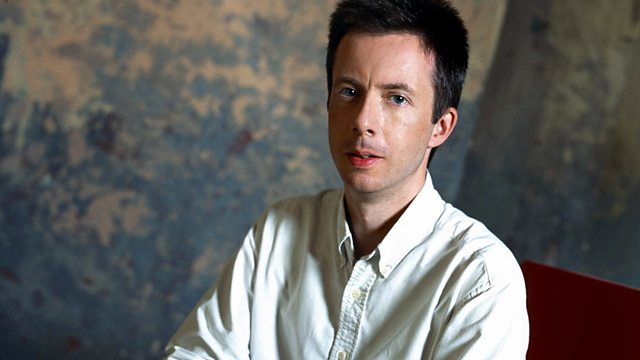 17/11/2013
John Shea's selection includes Mozart's Violin Concerto No 1, with Gramophone Award winner Patricia Kopatchinskaja joining the Suisse Romande Orchestra under Neeme Jarvi.
Gramophone Award winner Patricia Kopatchinskaja is the soloist in Mozart's 4th Vioin Concerto, with the Suisse Romande Orchestra and Neeme Jarvi. John Shea presents.
1:01 AM
Dvorák, Antonín [1841-1904]
Nocturne in B major (Op.40)
Orchestre de la Suisse Romande, Neeme Järvi (conductor)
1:09 AM
Mozart, Wolfgang Amadeus (1756-1791)
Violin Concerto no.4 in D major (K.218) ]
Patricia Kopatchinskaja (violin), Orchestre de la Suisse Romande, Neeme Järvi (conductor)
1:31 AM
Bartók, Béla [1881-1945]
Bagpipes and Pizzicato, from 44 Duos for Two Violins (Sz. 98)
Patricia Kopatchinskaja & Abdel-Hamid El Shwekh (violins)
1:34 AM
Mozart, Wolfgang Amadeus (1756-1791)
Serenade no.10 in B flat major K.361 for 13 wind instruments, 'Gran Partita'
Orchestre de la Suisse Romande, Neeme Järvi (conductor)
2:09 AM
Bach, Johann Sebastian [1685-1750]
Partita for keyboard no. 1 (BWV.825) in B flat major
Sanziana Mircea (piano)
2:27 AM
Franck, César [1822-1890]
Prelude, Chorale and Fugue (M.21)
Sanziana Mircea (piano)
2:45 AM
Bruhns, Nicolaus (1665-1697)
Cantata: 'O werter heil'ger Geist'
Greta de Reyghere (soprano), James Bowman (countertenor), Guy de Mey (tenor), Max van Egmond (bass), Ricercar Consort
3:01 AM
Brahms, Johannes [1833-1897]
Sextet no. 1 in B flat major Op.18 for strings
Marianne Thorsen (violin), Viktor Stenhjem (violin), Rachel Roberts (viola), Radim Sedmidubsky (viola), Alasdair Strange (cello), Henrik Brendstrup (cello)
3:41 AM
Elgar, Edward [1857-1934]
In the south (Alassio) - overture (Op.50)
BBC Symphony Orchestra, Jirí Belohlávek (conductor)
4:03 AM
Quantz, Johann Joachim [1697-1773]
Trio (QV 218) in E flat major
Nova Stravaganza
4:12 AM
Rosenmuller, Johann [c.1619-1684]
De profundis - Psalm 129 (130)
Johanna Koslowsky (soprano), David Cordier (countertenor), Gerd Türk (tenor), Stephan Schreckenberger (bass), Cantus Cölln, Konrad Junghänel (director and lute), Carsten Lohff (organ)
4:25 AM
Ysaÿe, Eugène (1858-1931)
Caprice d'après l'Etude en forme de Valse, op.52 no.6, de Saint-Saens
Karol Danis (violin), Iveta Sabová (piano)
4:34 AM
Gratton, Hector [1900-1970] arr. Passmore, David
Quatrieme danse canadienne arranged for piano trio
Moshe Hammer (violin), Tsuyoshi Tsutsumi (cello), William Tritt (piano)
4:38 AM
Bersa, Blagoje (1873-1934)
Capriccio-Scherzo (Op.25c) (1902)
Croatian Radio Symphony Orchestra, Mladen Tarbuk (conductor)
4:47 AM
Berlioz, Hector (1803-1869)
Overture to Les Franc-juges (Op.3)
Bergen Philharmonic Orchestra, John Nelson (conductor)
5:01 AM
Moniuszko, Stanislaw (1819-1872)
Ballet Music for the Merry wives of Windsor by Otto Nicolai
Polish Radio Symphony Orchestra, Lukasz Borowicz (conductor)
5:10 AM
Arban, Jean-Baptiste [1825-1889]
Variations on "Casta diva... Ah! Bello" from Bellini's 'Norma'
Alison Balsom (trumpet), John Reid (piano)
5:17 AM
Haydn, Joseph [1732-1809]
Trio for keyboard and strings in C major (H.15.27)
Ondine Trio
5:34 AM
Fesch, Willem de (1687-1757)
Concerto in B flat major (Op.10 No.2)
Manfred Kraemer and Laura Johnson (violins), Musica ad Rhenum
5:44 AM
Ravel, Maurice [1875-1937] arranged by Zoltán Kocsis
Pavane pour une infante défunte
Zsolt Szatmári (clarinet), Zoltán Kocsis (piano)
5:51 AM
Verdi, Giuseppe (1813-1901)
Pater noster for chorus
Radio France Chorus, Donald Palumbo (conductor)
6:00 AM
Beethoven, Ludwig van (1770-1827)
Symphony No.1 in C major, Op.21 ]
Netherlands Radio Chamber Philharmonic, Frans Brüggen (conductor)
6:29 AM
Schubert, Franz (1797-1828)
3 Lieder: Die Forelle (Op.32); Nacht und Träume (Op.43 No.2); Der Musensohn (Op.92 No.1)
Barbara Hendricks (soprano), Leif Ove Andsnes (piano)
6:37 AM
Hammerschmidt, Andreas (1611/12-1675)
Suite in D minor for gambas - from the collection 'Erster Fleiß'
Hesperion XX, Jordi Savall (director)
6:53 AM
Bernat Vivancos (b.1973)
El cant del ocells
Ieva Ezeriete (soprano); Latvian Radio Choir; Sigvards Klava (conductor).