Main content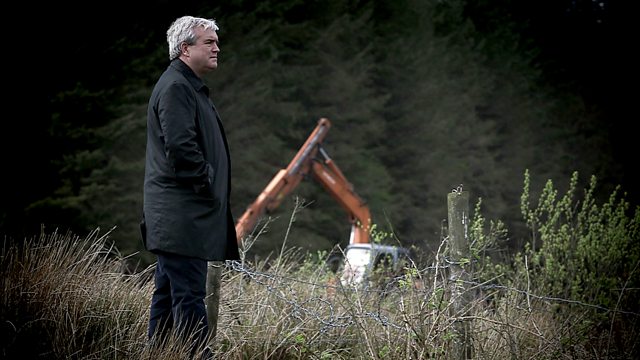 The Disappeared
Darragh MacIntyre recounts how people were killed and secretly buried by the IRA and investigates the alleged involvement of Gerry Adams in one of the killings.
The Disappeared is the dramatic story of those killed and then secretly buried by the IRA. Darragh MacIntyre reveals the continuing trauma of the relatives of those taken, killed and buried, and investigates the alleged involvement of Republican leader Gerry Adams in one of the killings.
At least 15 people were 'disappeared' by the IRA during the Troubles in Northern Ireland. Some of them are still missing. The most recent search was for the remains of 19-year-old Columba McVeigh who was disappeared in 1975. A specialist forensic team spent five months in 2013 digging in a bog in County Monaghan, but found nothing.
The film highlights the powerful story of the life and harrowing death of widow and mother-of-ten Jean McConville. She was dragged from the arms of her young children by an IRA gang in 1972, then shot and buried. Her body was finally recovered in 2003.
Michael McConville explains how at 11 years of age he was tied up and beaten when he threatened to tell police about what had happened. His sister Agnes recalls the abuse they got from other children afterwards, before the siblings were shipped off to various orphanages.
The IRA policy of disappearing victims dates back to 1972 when four people were taken from Belfast. It is said to have ended in 1981 after an order from the IRA's governing Army Council. A policy of lies and intimidation appears to have run in parallel with the policy of disappearing people. One family after another explain how they were virtually silenced by a climate of fear. They also had to cope with rumours claiming their loved one was alive and well. The evidence suggests these rumours were invented by the IRA to keep the families away from the truth.
A forensic detective outlines the mechanics of the killings and burials. He tells how most of the victims were shot once in the back of the head and then dumped in shallow graves. In some cases the bodies were weighted down with stones in case they rose to the surface if the bog dried out.
A former IRA leader is outraged when told that Sinn Fein blame an older generation of Republican leaders for the practice. Billy McKee, a founding member of the Provisional IRA, says that is a 'damned lie'. McKee says that he would have executed Jean McConville, but he wouldn't have 'disappeared' her.
Sinn Fein president Gerry Adams is challenged about allegations that he ordered the disappearance of Jean McConville. Adams, today a member of the Irish parliament, is also probed about his knowledge of the fate of two IRA men who were disappeared in the same way that same year.
Clips

Credits
| Role | Contributor |
| --- | --- |
| Reporter | Darragh MacIntyre |
| Producer | Alison Millar |
| Director | Alison Millar |
| Executive Producer | Sam Collyns |