Rochdale Pioneers Museum
Eric Robson and the team visit the birthplace of the modern co-operative movement at the Rochdale Pioneers Museum. Taking questions are panellists Christine Walkden, Bob Flowerdew and Pippa Greenwood.
Produced by Howard Shannon
A Somethin' Else production for BBC Radio 4.
Q. Could the panel recommend a plant that will discourage Leek Moth?
A. A lot of pests find their host plant by searching for its scent, so growing something pungent nearby can work to distract them. Carrots work well to keep pests away from Allium. You can't completely rely on this technique though. If you don't dig up all of last year's Leeks and wait until they have flowered, you can plant the bulbs at the end of August. This way your Leeks will be growing outside of the Leek Moth season. Fleecing or mesh over the crop will prevent the female moth from laying her eggs.
Q. House sparrows have made a recent return to the Rochdale area after a number of years. Could you suggest any flowers or shrubs that will encourage them to stay?
A. A diverse garden is key to maintaining wildlife throughout the year. Choose plants with late berries and flowers. Cyclamen and the winter flowering bulbs will all attract insect life. It is also important to create a habitat that will suit them, such as ivy or installing boxes. If you have the room, you could plant Wheat seeds. The birds will have a store of seeds to feed from over the winter. You could also try Milk Thistle Silybum Marianum which produces very oily seeds.
Q. I have a cutting of a Himalayan Honeysuckle. Where should I put it, what are its preferred growing conditions and what size will it grow to?
A. They are very tolerant plants and will grow in a range of different soil types. They are often used as hedging and are very easy to nurture. They can grow to quite a size (up to 10ft/3m across) but are very easy to cut back.
Q. I have planted Snow Queen Rose in a tub with compost and manure. It is in a north-facing garden and is positioned by the house for shelter. How should we care for it?
A. It will be completely reliant on you for moisture and for food. You should start to feed it from mid-spring next year. It will dry out very easily in a container. In the winter months, insulate the pot so that the compost doesn't freeze.
Q. How can I prevent nettles from repeatedly growing back on a patch of scrubby land?
A. If they are growing happily, they will grow back each time you chop them down. You could plant grass for the first year and mow it weekly. Or try digging them out in January/February when the ground has thawed and the roots give way easily. A herbicide will require two to three applications in August and September, but it does make the garden look a mess.
Q. I have a steep, west-facing slope backing onto moorland. Can you suggest any plants that will survive in this exposed position and spread horizontally so as to subdue the grass that is still trying to grow?
A. Cornuses or suckering plants would work. Try Willows, Dogwoods or Alders which will stabilize the ground and provide colourful stems. You could introduce Rubus Cockburnianus or Biflorus. Conifers always provide reliable evergreen cover. Osmaronia or Nutalia is a suckering shrub that doesn't get too tall and has wonderful white flowers in the spring. You also can't go wrong with the hardy Juniper Horizontalis.
Q. We planted a Silver Birch - Betula Pendula Golden Beauty - in a pit of heavy, clay soil about four years ago. It has not really grown and the canopy diminishes each year. What could we do to encourage it?
A. The pit in which you planted it will have turned into a sump. The tree will be drowning. You could try digging it out and replanting it at a higher position. Fill the pit with stony waste and stake the Birch really well.
Last on
Pioneering horticulturist Edward Owen Greening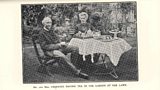 Edward Owen Greening and his wife enjoying a tea party in their garden.