Main content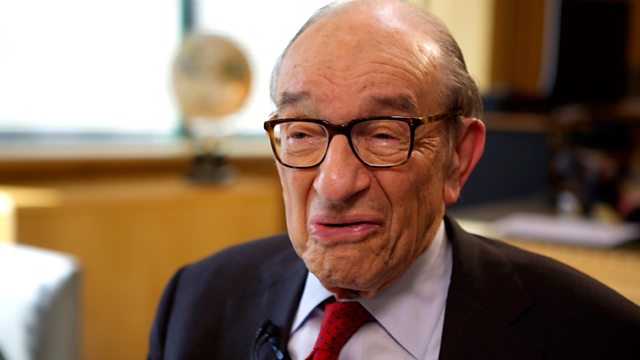 Evan Davis Meets Alan Greenspan
Alan Greenspan was Chairman of the US Federal Reserve for nearly two decades. Evan Davis asks him for his take on the state of the world's economies.
Alan Greenspan was the world's most powerful central banker for nearly two decades. As Chairman of the US Federal Reserve, he was a believer in free markets and was sceptical of regulation. He famously warned about the dangers of "irrational exuberance" in financial markets yet presided over several years of boom, and a US housing market bubble.
The financial crisis which hit the world three years after Alan Greenspan left office, has forced him to question his earlier economic assumptions. The results of this rethink are detailed in his new book, The Map and the Territory: Risk, Human Nature, and the Future of Forecasting.
Evan Davis, Today programme presenter and former BBC Economics Editor, travelled to Washington to talk to Alan Greenspan about his part in the crash of 2008 and his predictions for the future of the world's economies.
Producers: Simon Hamer, Kent DePinto, Charlotte McDonald.
Last on

From Keynes to Hayek to debunking economics altogether, Analysis covers all corners.

From the basic concept of money through to the big issues affecting big business.
Broadcast