Main content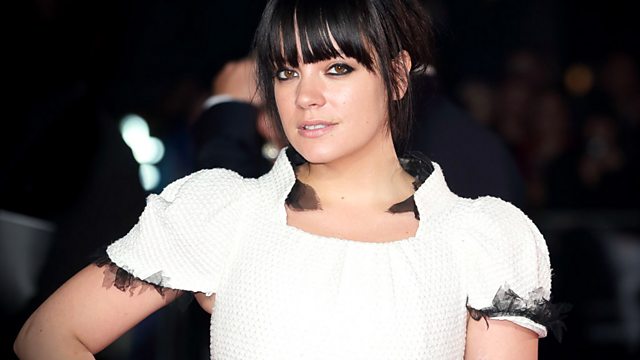 Lily Allen; Nadine Shah
Is Lily Allen's new video 'proudly feminist' or reinforcing stereotypes of misogyny and race within the music industry? Jenni Murray presents the female perspective.
Is the video for Lily Allen's first single in four years feminist, or further reinforcement of misogynistic attitudes throughout the music industry, as well as reinforcing stereotypes of race and class.
Why women with asthma may struggle to get pregnant according to a new Danish study. So should women with the condition consider trying to start a family earlier?. We hear from 78 year old Dr Sylvia Earle one of the world's great oceanographers, and Eliza Rebeiro of "Lives not Knives" winner of the Young Star Award at the Women of the Future Awards. And singer songwriter Nadine Shah performs live in the Studio.
Presenter Jenni Murray.
Producer Steve Williams.
Chapters
Lily Allen: "Mess of a message"?

Is Lily Allen's new video feminist or does it reinforce stereotypes of misogyny and race?

Duration: 09:57

Asthma and Fertility

A new study says that women with asthma were likely to take longer to become pregnant.

Duration: 04:18

Dr Sylvia Earle - Age of Reason

Dr Earle is one of the world's great oceanographers and at the age of 78 is still diving.

Duration: 09:09

Nadine Shah

Singer songwriter Nadine Shah joins us to play her track Aching Bones live in the studio.

Duration: 11:02

Eliza Rebeiro

Eliza set up the charity Lives not Knives to educate teens on the impact of gang violence

Duration: 22:14

Lily Allen's New Video

Is the video for Lily Allen's first single in four years feminist? Or does it reinforce misogynistic attitudes throughout the music industry, as well as stereotypes of race and class? Sophie Heawood, Kieran Yates and Reni Eddo-Lodge join Jenni to discuss.

Asthma and Fertility

A new study published today in the European Respiratory Journal says that women with asthma were more likely to take more than a year to become pregnant. The Danish investigation looked at 15,000 sets of twins. So should women with this condition consider trying to start a family earlier? Jenni is joined by Dr Elisabeth Gade, the lead author for this research.

Dr Sylvia Earle - Age of Reason

Dr Sylvia Earle has been exploring the seas for over half a century and at the age of 78 is still diving. She's one of the world's great oceanographers and was described as 'the first hero of the planet' by Time Magazine for her conservation work. She's lead more than sixty expeditions worldwide and in 1970 she literally lived on the ocean floor, heading up a team of women 'aquanauts' on a two week underwater trip. When she and her team resurfaced they were given a ticker tape parade. Dr Earle spoke to Jane Little as part of the World Service series, The Age of Reason - interviews with women in their 70s and 80s who are global leaders in their field. Jane met Dr Earle at San Francisco Bay, where she visited DOER Marine, the company Sylvia Earle founded. It builds mini submarines for exploration. Jane asked Dr Earle what choices were available to girls who wanted to be scientists in the 1940s.

 

You can hear the full interview with Dr Sylvia Earle on the BBC World Service. The Age of Reason is broadcast at 19.00 GMT on Saturday November 16th and is repeated at 12:00 GMT on Sunday November 17th.

Nadine Shah

Singer songwriter Nadine Shah - who's been compared to PJ Harvey and Nick Cave - joins us to play her track Aching Bones live in the studio. She talks to us about the influences behind her often dark music, recording her album in a curtain superstore, and her musical upbringing - when her Pakistani father would sing Urdu poetry about love and loss in their home in Tyne and Wear.

 

Nadine Shah's debut album Love Your Dum and Mad is out now, and her latest single, Aching Bones, taken from the album, is out on 25 November. 

Eliza Rebeiro

At 13 Eliza Rebeiro was excluded from school and exposed to gang culture. But when one of her close friends was involved in a brutal stabbing, she became determined to do something to stop to knife-related violence. She set up her own charity, Lives not Knives to educate teenagers about the real impact of gang violence and the choices they have. She now visits schools and organises discussions between students and former victims of knife crime. She joins Jenni to talk about being awarded the Young Star Award at the 2013 Women of the Future Awards.

Credits

| Role | Contributor |
| --- | --- |
| Presenter | Jenni Murray |
| Interviewed Guest | Renni Eddo |
| Interviewed Guest | Kieran Yates |
| Interviewed Guest | Sophie Heawood |
| Interviewed Guest | Elisabeth Gade |
| Interviewed Guest | Nadine Shah |
| Producer | Steven Williams |