Main content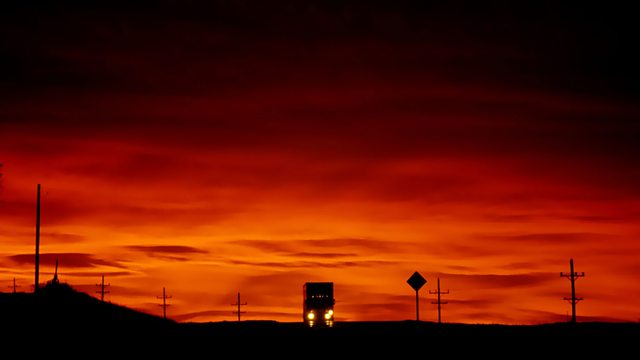 Aldeburgh World Orchestra
Including a concert given at the 2012 Proms, featuring Mark Elder conducting the Aldeburgh World Orchestra in music by Britten, Mahler, Stravinsky and Charlotte Bray.
The Aldeburgh World Orchestra is conducted by Mark Elder in Britten, Mahler, Stravinsky and Charlotte Bray in a concert from the 2012 BBC Proms. Presented by Jonathan Swain.
12:31 AM
Britten, Benjamin [1913-1976]
Sinfonia da Requiem
12:51 AM
Mahler, Gustav [1860-1911]
Symphony No. 10 - Adagio
1:14 AM
Bray, Charlotte [1982- ]
At the Speed of Stillness
1:25 AM
Stravinsky, Igor [1882-1971]
The Rite of Spring
Aldeburgh World Orchestra, Sir Mark Elder (conductor)
2:00 AM
Elgar, Edward (1857-1934)
Enigma Variations (Op.36)
BBC Philharmonic, Yan Pascal Tortelier (conductor)
2:31 AM
Bach, Johann Christian (1735-1782)
Quartet for flute/violin and strings (T.309/3) in A major
Sofia Soloists Chamber Ensemble, Plamen Djurov (conductor)
2:48 AM
Mendelssohn, Felix (1809-1847)
Trio for piano and strings no.2 (Op.66) in C minor
Leonidas Kavakos (violin), Eckard Runge (cello), Enrico Pace (piano)
3:17 AM
Delibes, Leo [1836-1891]
Sylvia - suite from the ballet
Slovak Radio Symphony Orchestra in Bratislava, Oliver Dohnányi (conductor)
3:35 AM
Tchaikovsky, Pyotr Il'yich (1840-1893)
Slavonic March in B flat minor 'Marche slave' (Op.31)
BBC Philharmonic, Rumon Gamba (conductor)
3:45 AM
Handel, Georg Frideric [1685-1759]
Organ Concerto No.1 (Op.4 No.1) (HWV.289)
Concerto Copenhagen, Lars Ulrik Mortensen (organ and director)
4:01 AM
Cassado, Gaspar (1897-1966)
Requiebros for cello and piano
Il-Hwan Bai (male) (cello), Dai-Hyun Kim (male) (piano)
4:07 AM
Schütz, Heinrich (1585-1672)
Two madrigals (SWV 1 and 2)
Cantus Cölln: Johanna Koslowsky (soprano), David Cordier (counter tenor), Gerd Türk and Wilfried Jochens (tenors), Stephan Schreckenberger (bass), Konrad Junghänel (lute and director)
4:13 AM
Chopin, Frédéric (1810-1849)
Polonaise in A flat major (Op. 53) "Polonaise héroïque"
Jacek Kortus (piano)
4:20 AM
Ranta, Sulho (1901-1960)
Finnish Folk Dances - suite for orchestra (Op.51)
Finnish Radio Symphony Orchestra, Jukka-Pekka Saraste (conductor)
4:31 AM
Schmelzer, Johann Heinrich [c.1620-1680]
Sonata in D for 3 violins and continuo
Il Giardino Armonico
4:38 AM
Reinecke, Carl (1824-1910)
Ballade for flute and orchestra
Matej Zupan (flute), Slovenian National Radio Symphony Orchestra, David de Villiers (conductor)
4:46 AM
Liszt, Franz (1811-1886)
Gnomenreigen - from Two Concert studies for piano (S.145)
Lana Genc (piano)
4:50 AM
Schubert, Franz (1797-1828)
Quartet for strings in C minor (D.703) 'Satz'
Tilev String Quarte
5:01 AM
Bartók, Béla (1881-1945)
2 Pictures for orchestra (Sz.46) (Op.10)
Slovak Radio Symphony Orchestra in Bratislava, Bystrik Režucha (conductor)
5:17 AM
Mozart, Wolfgang Amadeus (1756-1791)
Piano Sonata in C major (K.545)
Vanda Albota (piano)
5:28 AM
Rautavaara, Einojuhani (b. 1928)
Canticum Mariae virginis
Jutland Chamber Choir, Mogens Dahl (director)
5:36 AM
Wieniawski, Henryk (1835-1880)
Concerto for violin and orchestra No.2 in D minor (Op.22)
Bartlomiej Niziol (violin), Sinfonia Varsovia, Grzegorz Nowak (conductor)
6:00 AM
Suk, Josef (1874-1935)
Serenade for string orchestra (Op.6) in E flat major
BBC National Orchestra of Wales, James Clark (conductor).