Biddy Baxter, Blue Peter legend; Breast cancer; Vintage clothes
Biddy Baxter, legendary Editor of Blue Peter on her pioneering career. Ann Cairns of Mastercard on being part of the WH Power List. Vintage dressing - what and where to buy. New approaches to breast cancer - will a single large dose of radiation prove more effective than a long course of treatment? With Jenni Murray.
Last on
Biddy Baxter
Biddy Baxter, Editor of Blue Peter and children's TV pioneer is to be presented with a Special Award at this year's Children's BAFTAs in recognition of her outstanding contribution to children's media and the entertainment. Biddy edited the programme between 1962 and 1988 and is credited with inventing the format which the programme, and many others, still follow today. She revolutionised children's broadcasting with the Blue Peter Badge, the expedition and the annual appeal. She joins Jenni Murray to talk about her extraordinary career and the importance of never talking down to children. 
TARGIT Breast Cancer Therapy
Could daily radiotherapy for breast cancer soon be a thing of the past for some women?  A study published in The Lancet medical journal this week shows that targeted radiotherapy delivered during surgery as part of risk-adapted radiotherapy could be a viable alternative to daily radiotherapy. Professor Jayant Vaidya from University College London is in the studio to discuss TARGIT – a process which involves delivering radiation to the tumour site via a miniature X-ray emitting device. Jenni Murray is also joined by Rita Rose, a two-time recipient of this treatment.
Power-lister Ann Cairns
Ann is the daughter of a Newcastle shoemaker, became one of the first women to be qualified to work on offshore oil and gas rigs and, after a successful career in banking, she now works at the finance company MasterCard where she manages a staff of 4000.
Journey of a Vintage Dress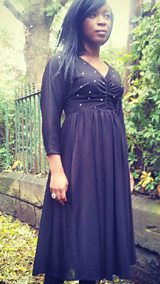 Vintage clothing fan Ena Miller bought a vintage dress from Austria over the internet.  The label said 'Shubette of London'.  Intrigued, she researched the brand and found the fashion house was still around, still making clothes, still based in London and still being run by the same family.  So she packed up the dress, boarded the train and went to see if anyone there remembered the dress and could tell her a little bit more about it.  She met the Managing Director of Shubette, Gary Offenbach.
The Vintage of Vintage Fashion
So we heard the story and the heritage of one vintage dress, but what can other vintage pieces from across the eras tell us? Is their worth in the tailoring? The designer? The era? Their uniqueness? Or is it also in the stories they tell? And what should we look out for in our attics, in shops, at fairs and markets, at car boot sales, or even auctions? Kerry Taylor is a vintage fashion expert and auctioneer, who has sold iconic dresses worn by Diana, Princess of Wales, Audrey Hepburn, Kate Middleton, and more, and next month will sell a gown of Diana's designed by David and Elizabeth Emanuel. She joins Jenni to explain what she looks for in a vintage piece and what makes it truly special.
Vintage Fashion & Couture: From Poiret To McQueen by Kerry Taylor is published by Octopus Books.
Credits
| Role | Contributor |
| --- | --- |
| Presenter | Jenni Murray |
| Interviewed Guest | Biddy Baxter |
| Interviewed Guest | Ann Cairns |
| Interviewed Guest | Jayant Vaidya |
| Interviewed Guest | Kerry Taylor |
| Producer | Louise Corley |