Fairy Rings
Both mysterious and fascinating fairy rings are steeped in mythology and. In this episode of the Living World Chris Sperring accompanies fungi expert Lynne Boddy from Cardiff University to the National Botanical Garden of Wales to bust the myths and explore the little known subterranean world of fairy rings. Each ring is formed of a single individual fungus and are at their most obvious when their mushrooms appear above ground on pasture and in woodland.
Chris discovers that while the short-lived fruiting bodies, which often appear in the autumn, may be the most noticeable indicator of the presence of fairy rings the real action is taking place all year round below ground. A network of fungal tubes called mycelia make up the bulk of each individual fungi. This network spreads out underground decomposing, parasitizing, or forming mutualistic relationships with trees and grasses depending on the species of fungi. And when two fairy rings meet a battle ensues that often results in mutual annihilation. In learning about fairy rings Chris also finds out just what an important role fungi play in the world's ecosystems.
Last on
Professor Lynne Boddy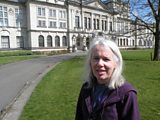 Lynne is Professor of Mycology at Cardiff University, where she teaches and researches into fungal ecology.
Fungi have fascinated her for over 35 years, and she is an ardent communicator of their mysteries and importance.
Large Fairy Ring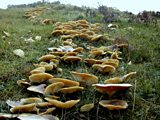 The image shows a Lepista panaeloa fairy ring in Ogmore Down near Bridgend.
Image courtesy of David Mitchell.