Main content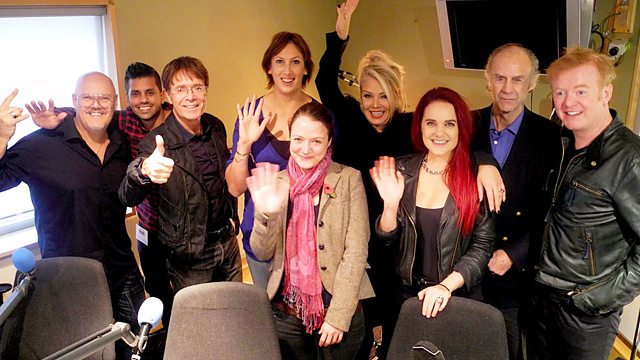 Sir Cliff, Sir Ranulph, Kim Wilde and Miranda Hart!
Chris and the gang kick off that Friday feeling by welcoming Sir Cliff Richard, Sir Ranulph Fiennes and Miranda Hart, plus there is live music from Kim Wilde!
Chris and the gang kick off that Friday feeling with a wealth of wonderful guests.
Today, he's joined by a baronet no less, Sir Ranulph Fiennes, a man described by the Guinness Book of Records as "the world's greatest living explorer".
Pop nobility is amongst us, Sir Cliff Richard, the most successful British male singles artist of all-time, who's poised to release his one hundredth album!
We have LIVE music from a queen of the 80s, Kim Wilde.
And comic queen of the small screen, Miranda Hart, joins us to talk about Maracattack, her blend of tom-foolery and fitness.
Last on
Music Played
Bad Company

Can't Get Enough

Driving Rock (Various Artists).
Global Records & Tapes.
1.

Barenaked Ladies

One Week

New Hits 99 (Various Artists).
Sony Music TV.

Black Eyed Peas

I Gotta Feeling

(CD Single).
Interscope.
4.

Russ Conway

Side Saddle

The Best Of The EMI Years.
EMI.

Coolio

Gangsta's Paradise (feat. L.V.)

(CD Single).
Tommy Boy Music.

Culture Club

Karma Chameleon

Fantastic 80's Disc 1 (Various Artis.
Columbia.

Sammy Davis Jr.

The Candy Man

Hits Of 1971 & 1972 (Various Artists).
Polydor.

Bryan Ferry

Let's Stick Together

Bryan Ferry/Roxy Music - Street Life.
Eg.

The Foundations

Baby Now That I've Found You

Fifty Number Ones Of The 60's (Variou.
Global Television.

The Monkees

Daydream Believer

The Definitive Monkees.
Warner Strategic Marketing.
5.

Kacey Musgraves

Follow Your Arrow (Radio 2 Live In Hyde Park, 14 Sep 2014)

One Direction

Story Of My Life

Pet Shop Boys

Thursday (feat. Example)

(CD Single).
x2 Recordings.
001.

Pratt & McClain

Happy Days

Television's Greatest Hits Volume 3 70s & 80s.
Silva Screen Records Ltd.

Elvis Presley

vs

Junkie XL

A Little Less Conversation

Cliff Richard

We Don't Talk Anymore

Cliff Richard - Private Collection.
EMI.

Cliff Richard

Wired For Sound

Cliff Richard - Private Collection.
EMI.

Cliff Richard

Devil Woman

Cliff Richard - 40 Golden Greats.
EMI.

T. Rex

Get It On

Million Sellers Vol.19 - The Seventie.
Disky.

Kim Wilde

You Keep Me Hangin' On

Now 8 (Various Artists).
Now.
1.
Pause for Thought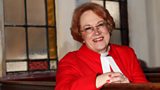 From Canon Ann Easter, Chief Executive of a Charity and Chaplain to the Queen:
I like doing Pause for Thought on Fridays because I know that I'll always be in the company of some fascinating people – as well as you, Chris, of course!
And today we've got legends! Luminaries who have entertained and amazed people all over the world with their various talents; and each of them so very special. I'm sure that as we've been listening to Sir Cliff and Miranda and Sir Ranulph talking to you, we've remembered some of the tunes, and the laughs, and the gasps of wonder that they've brought to us.
And when we hear of people doing extraordinary things, I guess we can feel either 'Oh, I'd like to do that too – let's get down to some music lessons immediately', or we can feel – and maybe more of us do – 'It's all right for them but they're different. I could never do anything like that', and while I imagine that most of us couldn't aspire to such world class heights, that's not actually what we are called to, thank goodness.
We're put here on this earth to be the best version of ourselves that we can manage; and when I think of the foster parents who have given families and homes to hundreds of children; when I think of our service personnel, far from home and facing danger every moment; when I think of people who are carers, who go on looking after a loved one year after weary year; those, and all the other so called ordinary people, they've achieved every bit as much as our guests; they're special too.
I'm such a wimp and I couldn't imagine myself at the North Pole – it's so cold! so uncomfortable! so far from the shops! – but I make a mean pear pie and they say I do a lovely funeral. Like Lady Gaga says – You have to be unique, and different, and shine in your own way' – and she should know!
Broadcast