Main content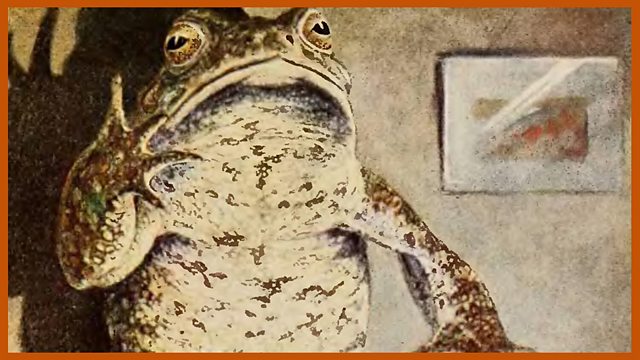 6. Mr Toad
Rat, Mole and Badger try to reform Toad…but Toad escapes and sets off on his extraordinary adventures.
Chapters
'The hour has come!'

Mr Badger decides that the hour has come to take Toad 'in hand'.

Duration: 03:59

'It's for your own good, Toady, you know'

Toad is held hostage by his three friends...but Toad escapes.

Duration: 06:21

'Toad the terror, the traffic-queller...'

Toad steals the motor car, goes to court, and is sent to prison.

Duration: 04:22

Synopsis

Mr Badger presents himself at the River Bank and announces the hour has come to take Toad in hand. The three friends march to Toad Hall...but discover an unrepentent Toad is unwilling to give up his love of fast cars.

Consequently the friends imprison Toad in his own home until such time as he sees sense...but the cunning Toad finds a way to escape by exploiting the good nature of his captors.

Toad is enjoying himself at the local inn when a car pulls up outside. 'As if in a dream' Toad finds himself first seated in the driver's seat...then speeding recklessly along the open road. But Toad is caught and finds himself 'a helpless prisoner in the remotest dungeon of the best-guarded keep of the stoutest castle' in England.