Main content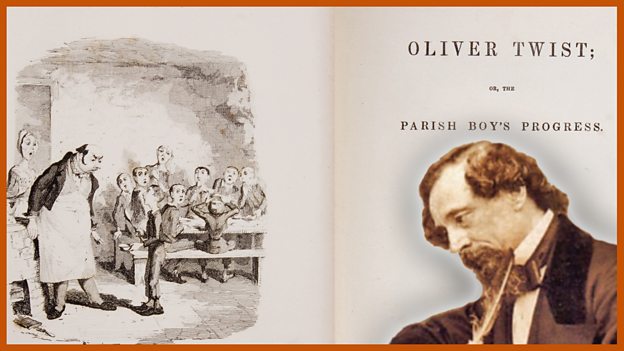 Oliver Twist
An adaptation of Charles Dickens' classic novel in 10 episodes.
A full-cast adaptation of Charles Dickens' classic novel about a young boy's adventures and mishaps in Victorian London. The 10 episodes are faithful to the plot and language of Dickens' original story. Please note: the adaptation includes some scenes - from the original story - which depict violence and crime.
Supporting Content
Episode summaries

Oliver is born in a workhouse, where his mother dies giving birth to him. He leaves the workhouse to start work for the abusive Mr Sowerberry and later runs away to London.

In Barnet Oliver meets a boy calling himself the Artful Dodger. Dodger takes Oliver to a run-down house in London where a group of boys live with Fagin. Oliver is unaware of his circumstances until he sees the Dodger and Charley Bates pick a man's pocket - but it is Oliver who is taken before the magistrate.

Oliver appears in court where Mr Brownlow - the victim of the theft - pleads for leniency. Oliver goes to stay with Mr Brownlow but later, when out on an errand, he is spotted by Nancy and taken back to Fagin's den, a prisoner.

Mr Brownlow hears about Oliver's past from Mr Bumble and declares he wants nothing more to do with the boy. Oliver is forced to take part in a robbery and is wounded and abandoned by Sikes. At the workhouse an old lady on the point of death reveals she stole important items from Oliver's mother.

Fagin learns that Oliver has been abandoned after the robbery and is furious. He goes in search of Monks - and it becomes clear they both have an evil interest in Oliver. Meanwhile Oliver throws himself on the mercy of Mrs Maylie and Rose and is looked after by them and Dr Losberne.

Continued

Rose falls dangerously ill and Harry - Mrs Maylie's son - is sent for. Oliver wakes from sleep to see a shadowy figure at the window: it is Fagin come to confirm Oliver's whereabouts. At the workhouse Mr Bumble is now in charge with Mrs Corney and Monks visits, seeking information about Oliver's birth.

Mr Bumble and Mrs Corney meet with Monks. They give him some items from Oliver's mother which Monks destroys. Nancy learns more of Oliver's circumstances and gives the information to Rose and Mrs Maylie. Nancy agrees to future meetings with them...if she is able to make them.

Oliver is reunited with Mr Brownlow and he learns everything that has happened from Rose and Mrs Maylie. Noah Claypole arrives in London where he is ensnared by Fagin. Claypole's first job for Fagin is to trail Nancy to her late-night meeting with Rose and Mr Brownlow, where she will reveal more information. 

Nancy meets with Rose and Mr Brownlow and reveals where they can find Monks. The details of the meeting are passed to Fagin who in turn passes them to Sikes - thus sealing Nancy's fate. Monks is brought to Mr Brownlow's house and the full details of the plot to disinherit Oliver begin to be revealed.

Mr Brownlow continues his revelations and Monks is forced to confess his guilt. Sikes dies on the point of being captured...Fagin is imprisoned and condemned...and all the other characters receive their just rewards.