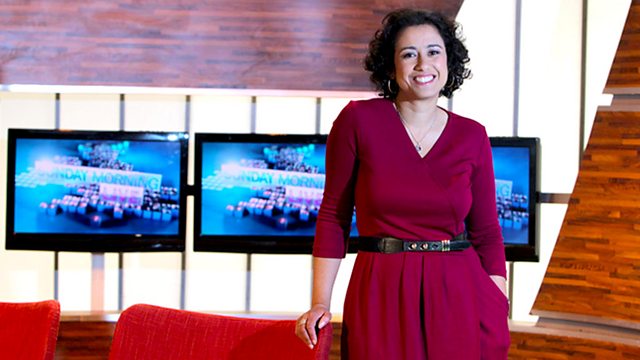 Samira Ahmed and her guests discuss the ethical issues of the week. On this week's panel - talent manager Professor Jonathan Shalit, presenter and comedian Hardeep Singh Kohli, broadcaster Nikki Bedi, Anglican priest the Reverend Kate Bottley, author and journalist Geoffrey Wansell and broadcaster and blogger Charlie Wolf.
Topics include -has pop music become too sexualised, is it right to hunt old Nazis and are Godparents still relevant?
Last on
Has pop music become too sexualised?
Pop star Annie Lennox has described the sexualised imagery of modern pop videos as "dark" and "pornographic".
"I'm all for freedom of expression," she said, "but this is clearly one step beyond, and it's clearly into the realm of porn."
The singer has called for pop videos to be rated in the same way as films. Her comments fuelled a debate started by Miley Cyrus's performance at the MTV awards last month, in which she danced provocatively and made suggestive gestures. 
Sinead O'Connor, Charlotte Church and Cher have all shared concerns about the sexual images in music. Singer-songwriter Suzi Quatro joins the chorus of disapproval as she shares her thoughts on Sunday Morning Live.

So do we need a decency barrier when it comes to pop music? Or are we being too prudish? 
You can vote online on this question right now - and join in the debate from 10am this Sunday on BBC1.
Is it right to hunt old Nazis?
The funeral service for Nazi war criminal Erich Priebke in Italy was halted amid angry protests this week.
More than 500 people shouted "murderer" and "executioner", and clashed with Nazi sympathisers, as his coffin passed. 
The former German SS officer, who was sentenced to life imprisonment  in 1998 over the massacre of more than 300 civilians, died aged 100 last week.   
This summer a poster campaign was launched in Germany aimed at tracking down the last surviving Nazi war criminals. 
The US-based Simon Wiesenthal Center, which is behind the campaign, is offering rewards for  information leading to prosecution.
Should Nazis face justice, no matter how long ago their crimes were committed? Or is it time to draw a line under the past?
Are godparents still relevant?
The royal christening takes place at St James Palace next Wednesday. Prince George will reportedly have six godparents as part of the ceremony.
Godparents were traditionally mentors to ensure the next generation succeed in life. They were guides to spiritual beliefs. But do people take this role seriously now - and is this once sacred duty becoming an empty gesture?
This week's panellists
Joining Samira this week are: Jonathan Shalit,  the talent manager who launched the careers of Charlotte Church and Tulisa; presenter and comedian Hardeep Singh Kohli; arts and entertainment broadcaster Nikki Bedi; biographer and crime writer Geoffrey Wansell; American broadcaster and blogger Charlie Wolf; and the Reverend Kate Bottley, an Anglican priest from Nottinghamshire.
Credits
| Role | Contributor |
| --- | --- |
| Presenter | Samira Ahmed |
| Series Editor | Dave Stanford |
| Producer | Kuljinder Khalia |
| Participant | Nikki Bedi |
| Participant | Charlie Wolf |
| Participant | Kate Bottley |
| Participant | Hardeep Singh Kholi |
| Participant | Geoffrey Wansell |
| Participant | Jonathan Shalit |