Main content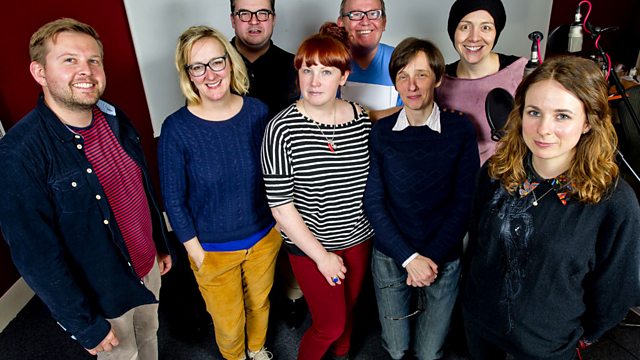 Victoria arrives in Auld Reekie
A Victorian vampire yarn set in Edinburgh in 1844, written by AL Kennedy and starring Greg McHugh, Ford Kiernan, Karen Dunbar and Cariad Lloyd.
1/4
A Halloween treat for BBC Radio Scotland! Starring Greg McHugh, Ford Kiernan, Karen Dunbar, Cariad Lloyd and Gavin Mitchell, Legend of the Holyrood Vampires is a Victorian vampire yarn with a modern edge set in Edinburgh in 1844, the year of the Scott Monument's erection. Victoria Van Helsing - a 18th Century Buffy the vampire slayer played by Cariad Lloyd (2011 Best Newcomer nominee at the Fosters Edinburgh Comedy Awards) - has returned to the city of her forebears to destroy the dreadful Grafin Von Schwartzbergen, a centuries-old vampire who seeks to turn Scotland's Capital into a city of dreadful night...working on the assumption that no one would really notice.
As it's August in Auld Reekie, the only accommodation Victoria can find is in Madame MacLaverty's Tea and Sundries Parlour - a resort for many gentlemen callers who enjoy the odd apple charlotte or even a double éclair with its enthusiastic and limber girls. Also in Edinburgh we find Hughie Strang, an Affliction Assessor. (Played by Greg McHugh, Gary: Tank Commander, Fresh Meat) He travels the city in search of paupers so afflicted that they are deserving of assistance - it's sometimes tricky to find people sufficiently afflicted who aren't also dead such is the stringent nature of the Victorian benefits system. As more and more of the city's denizens become vampires Hughie - who is terrified of women and who screams like a girl - finds himself caught up in Victoria's quest, being saved from certain death on a regular basis, fired from his job and inspected for vampire bites in a personal way.
Also stars Gabriel Quigley and Sally Reid.
In this opening episode Victoria Van Helsing arrives in Edinburgh with a mission to rid the city of an invasion of blood sucking vampires
Overflow and notes:
Episode 1 credits:
Victoria Van Helsing: Cariad Lloyd
Madame MacLaverty: Karen Dunbar
Mysterious Gentleman: Ford Kiernan
Grafin Von Schwartzbergen: Gabriel Quigley
Hughie Strang: Greg McHugh
Rainford: Gavin Mitchell
Bella: Sally Reid
Senga: Molly Vevers
Written by AL Kennedy
Produced by Gus Beattie
Legend of the Holyrood Vampires is a Comedy Unit production for BBC Radio Scotland.
More episodes
Previous
You are at the first episode