Main content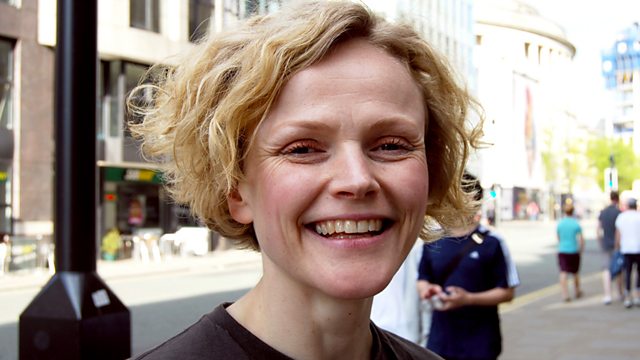 Teenagers and domestic violence; Maxine Peake; Sue Bailey
Maxine Peake, teenagers and domestic violence, and forensic pyschiatrist Sue Bailey. Jenni Murray presents the programme that offers a female perspective on the world.
Maxine Peake talks about the new radio drama she has written about the four miners' wives who occupied Parkside Colliery in Merseyside for four nights in the early nineties. Among the protesters was Anne Scargill who will also be interviewed.
A new report claims that a large number of children as young as 13 and 14 have experienced domestic abuse - many of them not just being the victims but the abusers. The authors of the report are calling on the Government for major reform in the way that these young men are dealt with to stop them carrying out the abuse.
And leading forensic psychiatrist Sue Bailey talks about her work and what it's like being on the Woman's Hour power list.
Presenter:Jenni Murray
Producer:Bernadette McConnell.
By Maxine Peake. Four miners' wives occupy a coal mine to save 31 pits from closure.
Clips

Chapters
Teenagers and Domestic Violence

Prof David Gadd from Manchester Uni. & Ben Jamal, Domestic Violence Intervention Project

Duration: 12:14

Power List Interview: Professor Sue Bailey

Professor Sue Bailey is a consultant child & adolescent forensic psychiatrist.

Duration: 08:58

Maxine Peake, Queens of the Coal Age

Jenni talks to Maxine, who's dramatized Queens of the Coal Age for R4, & Anne Scargill

Duration: 10:55

Anti-Social Behaviour

Jenni talks to Cath Prisk, director of Play England & social commentator Angela Epstein.

Duration: 09:26

Teenagers and domestic violence

A new report claims that a high proportion of children aged 13 to 14 have experienced domestic abuse either as witnesses, victims or those carrying out the abuse.  More than a thousand school children were involved in the survey.    A quarter carried out at least one abusive act-often emotional abuse or controlling behaviour-against a boyfriend or girlfriend. Other parts of the report talked to young men up to the age of 21 who had experienced domestic abuse. The authors of the report are now calling on the Government for major reforms in the way that these children are dealt with. Jenni talks to Professor David Gadd from Manchester University who led the research and Ben Jamal, the chief executive of the Domestic Violence Intervention Project in London.

For more information, help and support you can contact the This Is Abuse campaign or Women's Aid.

Power lister Sue Bailey

Professor Sue Bailey is a consultant child and adolescent forensic psychiatrist who has worked in the field for more than 30 years. She has worked on cases involving youngsters like Jon Venables, one of the boys found guilty of the murder of two year old James Bulger in Liverpool in 1993.  In 2011 she was appointed president of the Royal College of Psychiatrists and she is also on the Woman's Hour Power list. Jenni talks to Sue about her work and being on the power list. 

Maxine Peake - Queens of the Coal Age

In the early nineties, four miners' wives made the news when they attempted to save 31 pits from closure by occupying Parkside colliery in Merseyside. Among them was Anne Scargill who at the time was married to the miners' leader Arthur Scargill. Their protest lasted four nights. Maxine Peake has now dramatized the story and "Queens of the Coal Age" will be broadcast at 2.15pm on Radio Four on Monday, November 4th.   Jenni speaks to Maxine Peake and Anne Scargill about the production.

Anti-social behaviour

On Tuesday members of the House of Lords debated the Anti-Social Behaviour, Crime and Policing Bill. The bill has already been through the House of Commons and, if it is passed, could mean an overhaul of the way incidents of Anti-Social Behaviour are dealt with by police and the criminal justice system. At the moment, Anti-Social Behaviour is defined as that which has caused "harassment, alarm and distress", but the bill proposes that it is changed to "conduct capable of causing nuisance and annoyance". Anyone over the age of 10 deemed to be doing this can be brought before a judge and served with an IPNA – an Injunction to Prevent Nuisance or Annoyance – which replaces the current ASBO. 

Critics say the change will mean children end up penalised just for playing outdoors and potentially "annoying" their neighbours, and that minor disputes will be escalated to the police too quickly. The government says the bill will tighten the law on Anti-Social Behaviour, making it easier for victims to get positive action in their community. Jenni is joined by Cath Prisk, the director of Play England, and social commentator Angela Epstein.

 

Credits

| Role | Contributor |
| --- | --- |
| Presenter | Jenni Murray |
| Interviewed Guest | Maxine Peake |
| Interviewed Guest | Sue Bailey |
| Producer | Bernadette McConnell |