Main content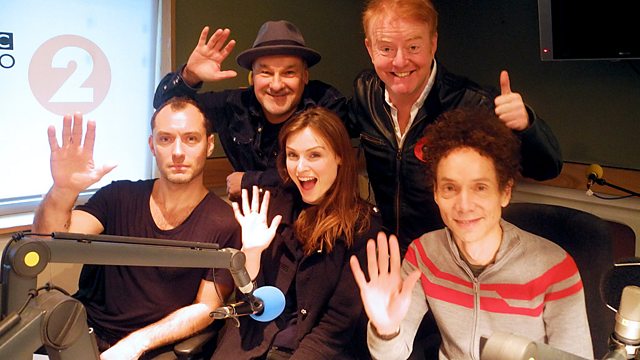 Jude Law, Paul Carrack, Sophie Ellis-Bextor and Malcolm Gladwell join us for Breakfast!
We welcome acting hunk Jude Law, ace (get it?) singer-songwriter Paul Carrack, the dancefloor-filling Sophie Ellis-Bextor and super-author Malcolm Gladwell!
Chris and the gang kick off that Friday feeling with a whole host of guests in the studio and on the phone, from the famous to the quirky, and a chunk of live music thrown in too! Expect a few surprises and loads of great tunes to start the weekend!
This week we welcome acting hunk Jude Law, ace (get it?) singer songwriter Paul Carrack, the dancefloor-filling Sophie Ellis-Bextor, and super-author Malcolm Gladwell!
Clips

Pause for Thought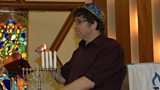 With Rabbi Pete Tobias of the Liberal Synagogue, Elstree.
Well Chris, one of the advantages of being on sabbatical is that I have time to watch daytime TV. Before any of my congregation who happen to be listening protest that this is not appropriate use of study leave, please let me point out that the TV I am watching is the excellent series The World at War on a history channel.
I remember watching this when it first appeared back in the early 1970s. It comprises twenty episodes reporting various aspects of the Second World War, using an enormous amount of contemporary footage, wonderfully narrated by the late Sir Laurence Olivier.
It was originally shown on ITV, at a time when it was the only commercial channel. I can still clearly recall that there was an announcement before the episode entitled 'Genocide', which dealt with the Nazis' 'Final Solution', which contained graphic images of the Holocaust. Viewers were told that because of the nature of what was about to be broadcast, there would be no commercial breaks during the programme.
That episode was shown last week. The images were just as horrific, the story just as shocking. But it was punctuated by adverts promoting new cars, modern bathrooms and credit cards. The same is true of all the other episodes, of course: brutal images of death and destruction interspersed with attempts to persuade us to purchase luxury goods.
That, of course, is the reality of our modern world – and it is still true today when stories of human cruelty on the news are punctuated by similar adverts or light-hearted entertainment programmes. But it's November now, and poppies are around to remind us of the suffering that war brings to our world, and of those who died in World War Two and other conflicts.
Of course we cannot spend every moment reflecting on the courage and sacrifice of those who gave their lives. But in the coming days, as we see the poppies around us, let's allow ourselves an occasional break from our busy lives to reflect and remember them.