Main content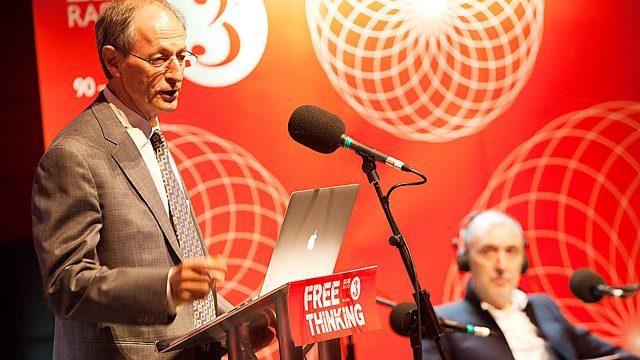 Michael Marmot on Self-Control
From Sage Gateshead, the opening lecture from Free Thinking 2013: renowned medical researcher Professor Michael Marmot asks 'is self-control the key to a long life?'.
Sir Michael Marmot delivers the opening lecture of the BBC Radio 3 Free Thinking Festival 2013, exploring the traits that determine a healthy life span and arguing that we need to rethink the relationship between health, wealth and self-control.
Professor Marmot is one of the global pioneers of research into health inequalities - how stress, status and diet can affect our wellbeing. His ground-breaking Whitehall Studies followed the health and stress levels of British civil servants over a decade and he coined the term "status syndrome" to describe his discovery that being lower down the pecking order leads to a shorter life span.
Sir Michael Marmot's talk about whether self-control is the key to a long life was recorded earlier tonight in front of an audience at Sage Gateshead and presented by Philip Dodd. It marks the start of three weeks of Free Thinking broadcasts on BBC Radio 3.
This year's festival theme is "Who's in Control". A weekend of provocative debate, new ideas, music and performance will hear from Lionel Shriver, Patrick Ness, Dame Sally Davies, Chris Mullin, Professor Barbara Sahakian, Professor Sugata Mitra, Kathryn Tickell, Penny Woolcock, Dame Fiona Reynolds, Kevin Whately.
Now in its eighth year, the Free Thinking Festival of ideas takes place at Sage Gateshead 25-27 October and is produced and broadcast by BBC Radio 3. It's a platform for today's innovative thinkers, who debate the ideas shaping our world.
Credits
| Role | Contributor |
| --- | --- |
| Speaker | Sir Michael Marmot |
| Presenter | Matthew Sweet |
Featured in...
Teju Cole, Zadie Smith, Umberto Eco, Peter Singer, David Grossman, Edna O'Brien