Main content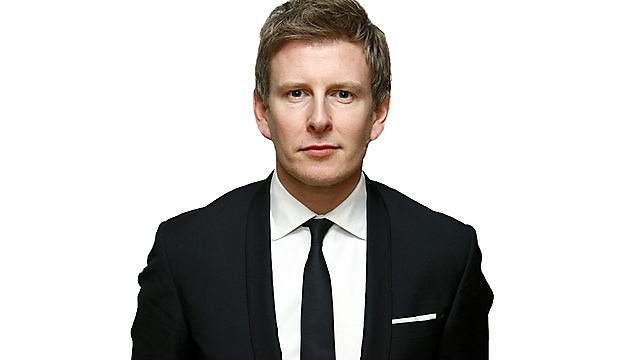 29/10/2013
Fred talks to Patrick Kielty and hears from Mark Beaumont, who is travelling the Commonwealth with the Queen's Baton.
Last on

Clips

Jak O'Donnell's Chili Con Carne
2LB Steak mince
1/4 cup Summer harvest rapeseed oil
2  chopped white onions
6 large garlic cloves crushed
½ tsp garlic powder
2 teaspoons  chilli powder
1 teaspoon chilli flakes crushed
1 teaspoon cayenne pepper, or to taste
2 teaspoons ground cumin
1 green pepper, seeded and diced
1  bay leaf
 2 tins tomatoes, chopped with their liquid
Salt and freshly ground black pepper
1/2 cup strong coffee best double espresso
1 tin kidney beans
2 tablespoons chopped basil leaves
Serve with:
 Sour cream
Grated Cheddar
Diced tomato
 Tortilla chips
Guacamole
DIRECTIONS 
Heat the oil in a very large heavy-bottomed pot and quickly brown the meat,
Transfer to a separate bowl and set aside. Fry  the onion and garlic in the same oil over medium heat until limp, but not brown, about 6 minutes. Add the chili powder, pepper flakes, cayenne pepper and cumin and cook  for 1 minute. Add the green pepper, bay leaf,  tomatoes with their juice, the reserved meat, 1 tteaspoon of salt and 1 teaspoon pepper and bring to a boil. Reduce the heat, cover the pot with a tight fitting lid and simmer for 2 1/2 hours, stirring occasionally. Taste and season with salt, to taste. Add the coffee, cover the pot and simmer for 1 more hour.
Add the  kidney beans and basil, and warm through. Transfer the chili to a large serving bowl and serve with sour cream, grated Cheddar, diced tomato, tortilla chips and  guacamole 
Mark Beaumont
Scottish adventurer and friend of the show - Mark Beaumont - brings Fred upto speed with his journeys around the Commonwealth following the Queen's Commonwealth Baton Relay.
Turnip Time with Karon Grieve
TURNIP JAM AND TARTS
500g turnip (neep!)
200ml water
1/4 tsp ground ginger
1/4 tsp ground cinnamon
5 cloves crushed
1/4 tsp vanilla extract
Juice and zest 1 lemon
250g sugar
pinch salt

Peel turnip and bring to boil with the water and all spices, juice and zest of lemon and salt, then simmer approx 20 mins till tender.
Use a potato masher to mash the turnip in the pot.
Add the sugar and stir until disssolved.
Bring to boil and boil till you reach the setting point. (test on a chilled saucer, if it cools with a skin and crinkles when you draw finger through it is ready)
Spoon into 3 small sterilised jars and pop on the lids.
Spoon 1 tsp into shortcrust pastry cases and bake for 15 mins for yummy turnip tarts!

PINK PICKLED TURNIPS
250g chopped peeled turnip
1 clove garlic sliced
1 tbsp beetroot chopped
200ml whilte wine vinegar
1 tbsp salt

Peel and chop turnip and cut into 1cm cubes. Pack into sterilised jar with all other ingredients.
Set aside on windowsill for 1 week and watch it turn bright pink!.
It is now ready to eat. Store in fridge for up to 6 weeks.

TURNIP CRISPS

Use a mandoline grater to finely slice peeled turnip. You can either deep fry in veggie oil or bake in oven.
Sprinkle with chilli and salt to serve.

TURNIP CARVING
Use a very sharp large knife to cut top off turnip. Using the same knife cut silces into the flesh inside the turnip going from one side to the other, turn it around and do the same thing. You want to criss cross the cuts like knots and crosses board.
Then get the knife into the slits and pop out chunks of turnip flesh.
Now you can get a smaller knife and a spoon and start digging in there and removing the flesh. Save it for soup of course.

When it is completely hollowed out draw eyes, nose and mouth on one side and using the small knife carefully cut out the shapes.
Pop a tealight candle inside and a wire handle on top and you have a traditional Jack O'lantern
Broadcast