Billy Zane swaps acting for painting and talks to Claudia about his new art exhibition
Joanna Trollope launches the Austen Project as she re-invents Sense and Sensibility for the 21st century
Jim Broadbent and Lindsay Duncan reveal all about their new film Le Weekend
Ballerina Carlos Acosta takes the Arts Show on a tour of the Royal Opera House ahead of his performance in Don Quixote
And author Kim Newman shares his pick of the thriller and chiller movies in our Hallowe'en film review
Plus books with Chris White and our weekly arts news round up.
Last on
Billy Zane talks about Seize the Day Bed, his first solo art exhibition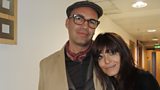 The exhibition features an entirely new collection of signature paintings that have drawn comparisons to both Abstract Expressionism and the Neo Expressionist movements.
Zane began painting during his seven months of filming the blockbuster movie Titanic in 1997, utilising only locally sourced materials to create a series of abstract paintings. His interest for painting quickly developed from being a pastime to a real passion and he now sets up an art studio in each location he films.
Billy Zane's solo exhibition  Seize the Day Bed  is on at the Rook and Raven Gallery in London until 7th November
Jim Broadbent and Lindsay Duncan on their new film Le Weekend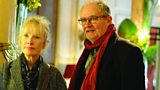 You've been married for thirty years, your relationship is flagging and you're basically sick to death of each other. It's the subject of Le Weekend a new film starring Jim Broadbent and Lindsay Duncan who go to Paris to try and recapture the happiness of their honeymoon some thirty years ago. Made by Roger Michell and Hanif Kureishi Le Weekend is showing across UK cinemas.
Kim Newman shares his favourite spookiest films for Hallowe'en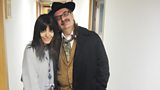 1. BFI:  Nosferatu (silent version 1922)
Director: FW Murnau
Cast: Max Schreck, Gustav von Wangenheim, Greta Schröder
Max Schreck's first screen vampire is in many ways still the scariest. Not yet prettied up, he is the archetypal Gothic monster from the dark past – hideous with long skeletal fingers, bat-like ears and buck teeth; his disease, vampirism, is equated with plague and rats. Murnau's beautifully paced direction of this 'symphony of horrors' ensures that Nosferatu will return to haunt you.
Nosferatu: A Symphony of Horror, is in cinemas now and at the BFI until 7 November

2. BFI:  Nosferatu (Werner Herzog remake with Klaus Kinski)
 
Director: Werner Herzog
Cast: Klaus Kinski, Isabelle Adjani, Bruno Ganz, Roland Topor
While echoing both Bram Stoker's Dracula and Murnau's Nosferatu, Herzog's version of the Harker's encounter with the Transylvanian count is more than just another horror movie. Klaus Kinski's painstakingly detailed playing of Dracula produces rich undertones of melancholy – could the warmth of human intercourse compensate for the chilly tedium of immortality? While Isabelle Adjani's tremulous, wide-eyed performance brings a profound intensity both to Lucy's anxieties and to her courage in protecting her husband Jonathan (Bruno Ganz). For Herzog, what's at risk is not so much a hitherto happy marriage as humanity itself.
Nosferatu the Vampyre is at the BFI from 31 October until 28 November and in cinemas around the country.
 
3.  We Are What We Are
Director: Jim Mickle
Cast: Bill Sage, Ambyr Childers, Julia Garner, Kelly McGillis
A seemingly wholesome and benevolent family, the Parkers have always kept to themselves, and for good reason. Behind closed doors, patriarch Frank rules his family with a rigorous fervour, determined to keep his ancestral customs intact at any cost. As a torrential rainstorm moves into the area, tragedy strikes and his daughters Iris and Rose are forced to assume responsibilities that extend beyond those of a typical family. As the unrelenting downpour continues to flood their small town, the local authorities begin to uncover clues that bring them closer to the secret that the Parkers have held closely for so many years.
We Are What We Are is out now

4. A Magnificent Haunting
Director: Ferzan Ozpetek
Cast: Elio Germano, Margherita Buy, Vittoria Puccini
Pietro (Elio Germano) spends his evenings working nightshifts in a local bakery, and has just moved to an old apartment in Rome which has an unbelievably cheap rent. Soon after settling in, he notices that objects get moved around and there are strange noises coming from the empty rooms. He discovers other worldy beings who have lived in the house since World War Two.  They all settle into domesticity but Pietro wants to know what is the secret behind the tragedy of this ghostly theatre company. 
A Magnificent Haunting is in cinemas now

5. The Curse Of Chucky - DVD / Blu-ray
Director: Don Mancini
Cast: Chantal Quesnelle, Fiona Dourif, Jordan Gavaris
After her mother's mysterious death, Nica begins to suspect that the talking, red-haired doll her visiting niece has been playing with may be the key to recent bloodshed and chaos
The Curse Of Chucky is out on DVD and Blu-ray now.
6. The Witches (Hammer 1966) - DVD / Blu-ray
Director: Cyril Frankel
Cast: Joan Fontaine, Kay Walsh, Alec McCowen
Following a horrifying experience with the occult in Africa, a schoolteacher moves to a small English village, only to discover that black magic resides there as well.
The Witches is out on DVD and Blu-ray now

Joanna Trollope has written a modern version of Sense and Sensibility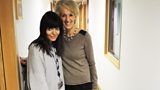 Jane Austen's favourite themes of money, love and class are timeless, which is probably why her books are now being re-imagined as modern day tales. Joanna Trollope was the first to be signed up to the Austen project and she has re written Sense and Sensibility
Sense and Sensibility by Joanna Trollope is out now, published by Harper Collins.
Carlos Acosta directs his first ballet Don Quixote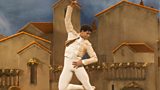 Carlos Acosta began life in Cuba, the youngest of 11 children, today he is one of the most influential dancers of recent times. He's been compared to Mikhail Baryshnikov and Rudolf Nureyev and has encouraged a whole new generation of male ballet dancers. Now a resident of London he's directing his first ballet Don Quixote. 
Don Quixote is at the Royal Opera House in London until the 6th November.  Carlos has also just written his first fiction book called the Pig's Foot which is set in Cuba, published by Bloomsbury and out at the end of this month. Photograph courtesy of Johan Persson /ROH
Chris White reviews the latest books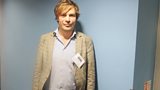 1.  Testament Of Mary  A strange and haunting tale of a mother's grief. In prose of breathtaking precision, Colm Toibin retells the most familiar story of all and makes it fresh. Ideas of power, fanaticism and revolt are all dealt with in a book of barely one hundred pages.
Testament of Mary by Colm Toibin is published by Penguin, out now.
 
2. The Circle
It imagines a time in the near future when all social media giants have merged into one enormous corporation: The Circle. This book is  1984 written for the dot.com generation.
Young Mae Holland, can't believe her luck when a college friend lands her a job at The Circle but doesn't embrace the company's ethic and following an incident she's asked to go clear. She wears a camera around her neck at all time so that a life can be led in complete transparency 
She encourages all people to live life in the open. Both a satire on the culture of the modern workplace, particularly those of the social media giants, and a dystopian portrait of where that culture is leading us,
The Circle by Dave Eggers is published by Hamish Hamilton, available now
3. Crossing to Safety
This book follows the life of two couples from their early life as young academics all the way to the decline of their later years. Very little drama actually occurs barring one incident, which is central to the development of the book's second half, when the events which occur are largely of the everyday variety. Stegner manages to evoke the internal drama which his characters feel so deeply and which his readers will recognise so keenly.

Crossing to Safety by Wallace Stegner is published by Penguin Modern Classics, available everywhere
Anna Bailey brings latest news from the Arts Desk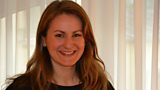 Theatre: American drama at the Octagon Theatre in Bolton with Long Day's Journey into Night. Eugene O'Neil's study of sickness and addiction: until 2nd November.
Dance:  The English National Ballet is staging Le Corsaire (The Pirate) a ballet featuring pirates, shipwrecks and lots of swashbuckling drama. At the Mayflower Theatre in Southampton on 26th October and then touring Oxford, Bristol, London and Manchester. 
Art:  An exhibition of Louise Bourgeois sculptures and installations is at the Scottish National Gallery of Modern Art in Edinburgh until May next year. Graeme Wilcox is the 2013 winner of the Towry Art Award. Graeme's work is on display at the National Open Art Exhibition at the Royal College of Art in London from 25th October.
Comedy:  Irish comedian Ed Byrne covers computer games, dating in his Twenties and getting through his Forties in his one-man show at St George's Hall in Bradford on 26 October and then touring Southampton, Leicester, Carlisle and Glasgow.
Photography:  Step into the natural world with the annual Wildlife Photographer of the Year competition. At the Natural History Museum in London until March 2014.
Hallowe'en exhibition:  Staying in the capital the Hunterian Museum is opening its doors for a late night macabre exhibition featuring pickled tumours and dissected brains. They even suggest you bring your own jar. From 30th October