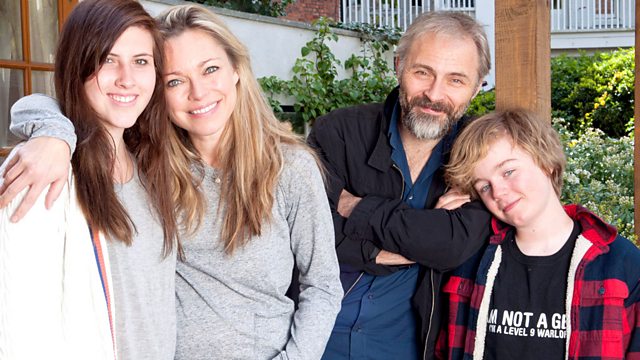 Mimi is having a hard time. She's freshly divorced and scared of her eggs going stale so she's decided to freeze them. But she didn't realise she had to give herself hormone injections. What's the divorced etiquette of asking an ex-husband to inject your torso? And how come she's not the favourite parent? Could it be because she was a complete failure trying to convince the mother of Tom's best friend that skateboarding was safe?
Joe is flailing too. And very broke. When Lucy sees him posing at her life drawing class she bolts. Does he think he can do a Lena Dunham and go naked at his age? She switches her allegiance to Mimi and gives her a make-over that turns her into Ernie from Sesame Street.
Meanwhile Tom is still proud of Dad. Joe talked Jennifer into letting Freddy skateboard. But his mum makes him wear so much protective gear he and Tom look like Team Pathetic. And with his big chrome bucket of a helmet, Freddy looks like Darth Vader - but stupid. Now the pair of them get pelted with KFC cartons and cans.
Maybe Mum can help. If she can recover from the smell of the vegan dog food Jennifer has given her.
Cast:
Joe...................Mark Bonnar
Mimi..................Sarah Alexander
Tom..................Finlay Christie
Lucy..................Phoebe Abbott
Tuberose..........Charlotte Richie
Jennifer.............Emily Bruni
Freddie..............Harry Nowell
Writer: Marcella Evaristi
Director: Marilyn Imrie
Producer: Gordon Kennedy
An Absolutely production for BBC Radio 4.
Last on
Credits
| Role | Contributor |
| --- | --- |
| Joe | Mark Bonnar |
| Mimi | Sarah Alexander |
| Tom | Finlay Christie |
| Lucy | Phoebe Abbott |
| Ruth | Valerie Cutko |
| Mr Thompson | David Troughton |
| Director | Marilyn Imrie |
| Producer | Gordon Kennedy |
| Writer | Marcella Evaristi |