Main content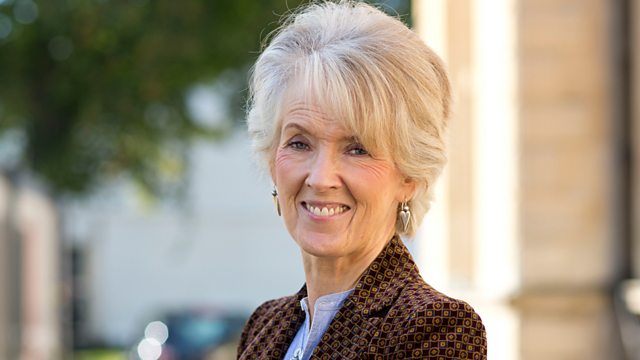 Joanna Trollope; Natalie Coleman
Joanna Trollope on rewriting Austen; The Alzheimer Conundrum; MasterChef winner Natalie Coleman cooks the perfect scallops; Rugby League World Cup CEO Sally Bolton.
Joanna Trollope on rewriting Austen and her version of Sense and Sensibility. Canadian Anthropologist Margaret Lock discusses her latest book, The Alzheimer Conundrum with Alison Cook from the Alzheimer's Society. Are we in danger of turning parts of natural ageing into illness, and is research being carried out in the right areas of dementia?
Masterchef winner Natalie Coleman Cooks the Perfect...scallops. Sally Bolton, CEO of the Rugby League World Cup on organising the event. Gaiutra Bahadur tells us about her family history that led to her book "Coolie Woman" about the indentured workers who replaced slaves on sugar plantations.
Presented by Jenni Murray
Produced by Rebecca Myatt.
Chapters
Joanna Trollope

Duration: 09:38

Alzheimer Conundrum

Duration: 08:08

Natalie Coleman Cooks the Perfect...Scallops

Duration: 07:48

Rugby Women: Sally Bolton

Duration: 07:50

Coolie Women

Duration: 08:30

Joanna Trollope

Joanna Trollope has written a contemporary version of Jane Austen's Sense and Sensibility - complete with twitter, sports cars and sex. The publication launches the Austen Project, which has commissioned six bestselling authors - including Val McDermid, Alexander McCall Smith, and Curtis Sittenfeld - to update Austen's six finished novels. But should we re-write Austen? Jenny talks to Joanna about why she embraced the literary challenge.

 

Sense & Sensibility by Joanna Trollope is published by Harper Fiction

The Alzheimer Conundrum

According to the Alzheimers Society there are 800 000 people with dementia in the UK, with numbers set to rise to over one million by 2021. In her new book, The Alzheimer Conundrum – Entanglements of Dementia and Aging, Margaret Lock looks at disagreements between the scientific community about what causes it, and how it's treated. She says it's almost impossible to know the true extent of the problem and the number of people suffering from the condition – and to distinguish between what counts as normal aging and what's abnormal.   Jenni is joined by Margaret Lock, and by Alison Cook, Director of External Affairs at the Alzheimer's Society.

 

The Alzheimer Conundrum – Entanglements of Dementia and Aging by Margaret Lock is published by Princeton University Press

Natalie Coleman Cooks The Perfect…Scallops

Natalie Coleman won Masterchef in May this year. She's 30 and comes from Hackney in London. She used to work as a credit controller and was a part-time club DJ. Now she's left that behind to pursue a career in food, and today she's going to Cook The Perfect Scallops.

Rugby Women: Sally Bolton

The 14th Rugby League World Cup kicks off at Cardiff's Millennium this Saturday with an opening match between England and Australia. As general manager of the tournament, Sally Bolton is responsible for the successful planning of the event. Now one of the senior figures in Rugby League Football, she began her career as a marketing assistant for the 1995 World Cup. She oversaw the first Super League Grand Final at Old Trafford in 1998, has worked for Leeds Rhinos and has been Chief Executive of Wigan Rugby League Club. She joins Jenni to talk about her love of Rugby League and about the challenges of running a World Cup.

'Coolie Woman'

The book 'Coolie Woman,' is about the indentured workers who replaced slaves on sugar plantations after the British abolished slavery in 1833. Over the course of 80 years, the British ferried over a million such labourers to more than a dozen colonies across the globe, including British Guiana, Trinidad, Jamaica, Mauritius, and Fiji. In 1903, one indentured woman, Sujara, sailed from India to Guiana. She was pregnant and travelling alone. Nothing much was known about her until a century on, when her great-granddaughter Gaiutra Bahadur decided to trawl the colonial archives and research her life story. In doing so Gaiutra uncovered the repressed history of a quarter of a million other indentured women. Gaiutra joins Jenni to talk about these widows, runaways, and outcasts, and how they migrated on epic sea voyages to face hard labour, dismal living conditions, and sexual exploitation.

 

'Coolie Woman: The Odyssey Of Indenture' by Gaiutra Bahadur is published by Hurst & Company

Credits

| Role | Contributor |
| --- | --- |
| Presenter | Jenni Murray |
| Interviewed Guest | Joanna Trollope |
| Interviewed Guest | Margaret Lock |
| Interviewed Guest | Alison Cook |
| Interviewed Guest | Natalie Coleman |
| Interviewed Guest | Sally Bolton |
| Interviewed Guest | Gaiutra Bahadur |
| Producer | Rebecca Myatt |